Unvaccinated 72-year-old woman dies of COVID-19 complications; 906 new local cases in Singapore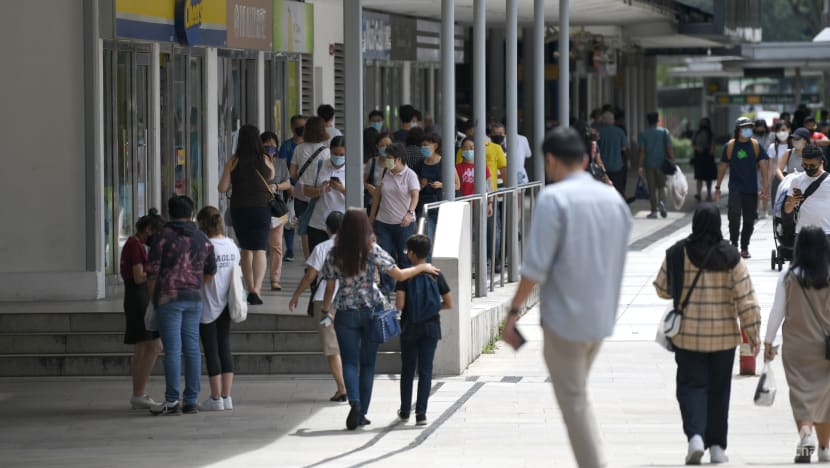 SINGAPORE: Singapore reported 906 new local COVID-19 cases and a death from the disease on Thursday (Sep 16).
The latest fatality, a 72-year-old Singaporean woman, was unvaccinated.
She developed symptoms on Sep 4 and tested positive for the coronavirus on Sep 6, said the Ministry of Health (MOH).
"She had not been vaccinated against COVID-19, and had a history of atypical chest pain, Graves' disease, hypertension and dyslipidaemia," the ministry added.
This takes Singapore's death toll from COVID-19 to 59.
The 906 new locally transmitted COVID-19 infections comprised 803 community cases and 103 dormitory residents.
Among the new local cases, 244 were seniors above the age of 60, said MOH. 
There were four imported cases, taking the total number of infections reported in Singapore on Thursday to 910.
LARGE CLUSTER AT A DORMITORY
A large cluster has been detected at Blue Stars Dormitory, which now has a total of 53 cases. 
There is intra-dormitory transmission among the residents and all residents are being tested, said the Health Ministry. 
MOH added that a total of 13 active clusters are currently being monitored.
The cluster at Ren Ci nursing home in Bukit Batok has grown to a total of 34 cases while the cluster at Orange Valley Nursing Home in Simei has grown to 14. 
The cluster linked to Chinatown Complex now stands at 242 cases comprising 183 stallholders and assistants, eight cleaners or safe distancing ambassadors, 50 household contacts of workers and one patron detected through testing operations. 
The DHL Supply Chain Advanced Regional Centre cluster at Greenwich Drive has grown to 83 infections after 11 secondary family and social contacts were added to it.  
HOSPITALISATION
There were 837 patients warded in hospital, most of whom were well and under observation, said MOH.
Of these, 77 cases of serious illness required oxygen supplementation and 12 were in critical condition in the intensive care unit (ICU).
Of those who have fallen very ill, 69 are seniors above 60 years of age.
Over the last 28 days, the percentage of local cases who were asymptomatic or had mild symptoms is 98.2 per cent.
VACCINATION
MOH said 82 per cent of Singapore's population have completed their full vaccination regimen or received two doses of COVID-19 vaccines as of Wednesday, while 84 per cent have received at least one dose.
More than 8.88 million doses of vaccines have been administered under the national vaccination programme, covering about 4.56 million people, of whom 4.43 million have completed the full regimen.
Another 180,118 doses of other vaccines recognised in the World Health Organization's emergency use listing have been administered, covering 86,813 people.
As of Thursday, Singapore has reported a total of 74,848 COVID-19 cases and 59 deaths from the disease.
Co-chair of the multi-ministry task force Lawrence Wong said last week that local cases would reach 1,000 a day "very soon". 
"All countries that have opened up have had to deal with such waves. For us, it's happening faster than we had expected," Mr Wong said in a press conference.
SENIORS SHOULD MINIMISE SOCIAL INTERACTIONS
The Agency for Integrated Care (AIC) said those aged 60 and above should minimise social interactions over the next two weeks amid a surge in COVID-19 community cases.
"Seniors are at a higher risk of developing serious health complications if they are infected with COVID-19," said the agency on Wednesday. 
Seniors are strongly encouraged to stay at home as much as possible and avoid crowded places. Those who need to go out for essential activities should wear a mask properly at all times and maintain good hygiene practices such as frequent handwashing, said AIC.
The agency also urged seniors who have not been vaccinated to do so as soon as possible as the risk of severe outcomes from the disease if unvaccinated is "six times higher".