Singapore reports 910 new local COVID-19 cases; 2 more fatalities take national death toll to 62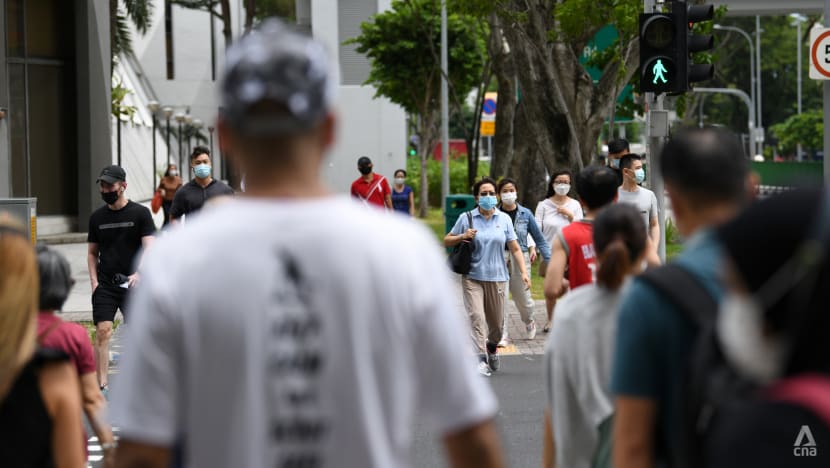 SINGAPORE: Singapore reported 910 new local COVID-19 infections as of noon on Monday (Sep 20), comprising 832 community cases and 78 dormitory residents.
Two patients also died on Sunday, bringing Singapore's total fatalities to 62.
One of the cases is an 84-year-old man who had been vaccinated against COVID-19.
The Singaporean was taken to Ng Teng Fong General Hospital on Sep 13 with symptoms and tested positive for COVID-19 on the same day, said the Ministry of Health (MOH). 
"He had been vaccinated against COVID-19, and had a history of heart disease, hypertension and hyperlipidaemia which, together with his advanced age, made him more susceptible to severe illness," added the ministry. 
The second case is an 85-year-old Singaporean who was partially vaccinated.
He tested positive for the disease on Sep 16 and was taken to Khoo Teck Puat Hospital two days later. He had no known medical conditions, added MOH. 
Monday's new local cases included 230 seniors above the age of 60, said the Health Ministry. 
There were also seven imported cases, taking the total number of new cases to 917. 
HOSPITALISED CASES
There were 1,055 patients warded in hospital, most of whom were well and under observation, said MOH.
Of these, 128 cases of serious illness required oxygen supplementation, and 18 were in critical condition in the intensive care unit (ICU).
Among those who fell very ill were 122 seniors above the age of 60.
Over the last 28 days, 98 per cent of the local cases were asymptomatic or had mild symptoms.
There were 210 cases who needed oxygen supplementation and 21 had been in the ICU. Of these, 54.5 per cent were fully vaccinated and 45.5 per cent were either partially vaccinated or unvaccinated.
LARGE CLUSTERS
SUN-DAC at Choa Chu Kang has been added to a list of 16 large clusters currently being monitored by MOH. 
The day activity centre serving those with disabilities currently has a total of 12 cases, comprising 10 clients and two staff members. 
The centre has been closed since Sep 17, said MOH. 
A total of 21 cases have been linked to a cluster at JMS Singapore in Ang Mo Kio. Transmission took place in the workplace with further spread to household contacts of cases. 
The cluster at Blue Stars Dormitory has grown to 120 after nine new cases were linked to it, while the cluster at Avery Lodge Dormitory expanded to 131 with 10 new cases. Residents of both dormitories are being tested.
Intra-dormitory transmission was also identified at Homestay Lodge, which has a total of 21 cases.
MOH said there was no evidence of spread beyond the dormitory. 
VACCINATIONS
MOH said 82 per cent of Singapore's population has completed their full vaccination regimen or received two doses of COVID-19 vaccines, while 84 per cent has received at least one dose as of Sunday.
More than 8.9 million doses have been administered under the national vaccination programme, covering about 4.5 million people, with 4.4 million having completed the full regimen of two doses.

Another 183,409 doses of other vaccines recognised in the World Health Organization's emergency use listing have been administered, covering 87,084 people.
As of Monday, Singapore has reported a total of 78,721 COVID-19 cases and 62 deaths from the disease.
NEW COMMUNITY CARE FACILITIES
MOH announced on Sunday that new community care facilities will be set up to provide clinical care to COVID-19 patients who are stable but have underlying conditions. 
Patients who will be admitted to such facilities include those who have symptoms or are generally clinically-well but have underlying conditions that require a closer monitoring of their disease course. 
MOH said this will augment Singapore's hospital capacity, so that only those who actually need close and specialised medical attention, such as oxygen supplementation and intensive care, receive their medical care in hospitals. 
Health Minister Ong Ye Kung said that accident and emergency departments and general wards in hospitals are coming "under pressure" amid a wave of COVID-19 infections. 
He added that MOH is encouraging younger, fully vaccinated people to recover from home.