Hospital wards 'under pressure', younger vaccinated COVID-19 patients encouraged to recover at home: Ong Ye Kung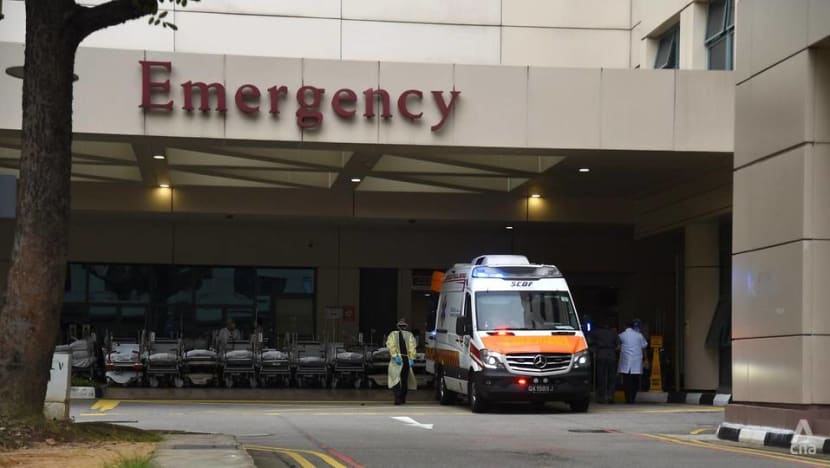 SINGAPORE: Accident and emergency (A&E) departments and general wards in Singapore's hospitals are coming "under pressure", said Health Minister Ong Ye Kung on Sunday (Sep 19), amid a wave of COVID-19 infections.
In a Facebook post, Mr Ong said the Ministry of Health (MOH) was encouraging younger, fully vaccinated people to recover from home.
This was because more than 98 per cent of cases have "no or mild symptoms, and tend to stay that way until they recover", said Mr Ong.
MOH was also admitting patients to community care facilities instead of hospitals, and setting up more community care facilities that will be ready in the coming week, he added.
"This is so that hospital beds, A&E services go to those who need it most. Our ICU capacity is still holding up, but it is A&E and general wards that are coming under pressure," said Mr Ong.
"Our hospitals and healthcare workers cannot be over burdened. At this point, this is MOH's biggest challenge and we are doing our best to solve this."
Singapore has reported rising locally transmitted COVID-19 cases in recent weeks, with new local cases topping 1,000 on Saturday.
RISK OF SEVERE ILLNESS
Referring to data released by MOH earlier this week, Mr Ong on Sunday said the figures showed that the chance of someone who has been infected with COVID-19 developing severe illness "depends a lot" on age and vaccination status.
A third factor - whether the patient has underlying illnesses - was not captured in the data, he added.
According to the data, for COVID-19 cases reported between May 1 and Sep 16 this year, no one who was fully vaccinated and under the age of 70 was admitted to the intensive care unit or died, said Mr Ong.
A fully vaccinated person in their 70s has better chances of not falling very sick compared to an unvaccinated person in their 30s, said the Health Minister.
"Similarly, a fully vaccinated person in his or her 80s becomes like an unvaccinated person in his or her 40s or 50s."
Conversely, unvaccinated seniors were at "significant risk" of falling very sick when infected, with the rate at more than 15 per cent for those above 80 years old, he said.
"There is no doubt that if our people had not come forward in big numbers to vaccinate ourselves, our healthcare system would have been overwhelmed by now," added Mr Ong.
LONGER WAIT TIME AS MORE TURN UP AT A&E
Three public hospitals have warned of a longer wait time at their respective A&E departments as more people seek medical attention amid the rise in COVID-19 cases. 
In separate posts on Facebook, Tan Tock Seng Hospital (TTSH), Khoo Teck Puat Hospital (KTPH) and the National University Hospital (NUH) urged members of the public to visit general practitioners or polyclinics if their condition was not an emergency. 
"The last week has been rough," said TTSH on Sunday. The hospital added that it has been receiving "higher than usual" positive and suspected cases via ambulances and walk-ins at its A&E.
"With the surge in community cases, we are working hard to open more waiting and screening spaces, and activating more wards and staff to augment our COVID-19 response. There may hence be inconveniences such as a longer wait time, a rescheduled clinic appointment or visit restrictions," it said. 
KTPH also said it has seen increased numbers at its emergency department.
"Priority is given to those who are critically ill and the waiting time for other patients is expected to be longer," the hospital said. 
In its post on Friday, NUH said it had put "extra precautionary measures" in place at its emergency department, lengthening waiting time.
"Priority will be given to those with more serious conditions and who require admission," added NUH. 
HOME RECOVERY SCHEME
MOH announced on Friday that it will expand the home recovery scheme for fully vaccinated patients to include those up to 69 years old, up from 50 years old.
Eligible patients were encouraged to adopt home recovery as the "default care management" for the virus.
To be eligible for the scheme, COVID-19 patients must be fully vaccinated, aged between 12 and 69 years old, and have no severe comorbidities or illnesses.
They must be able to self-isolate in a room, "preferably" with an attached bathroom, said MOH. 
There must also be no household members who are aged above 80 or in one of the vulnerable groups, such as pregnant women or those with weakened immune response.
Under the expanded scheme, people who test positive for COVID-19 and meet the criteria can begin home recovery immediately, without having to be taken to a hospital or a community care facility.