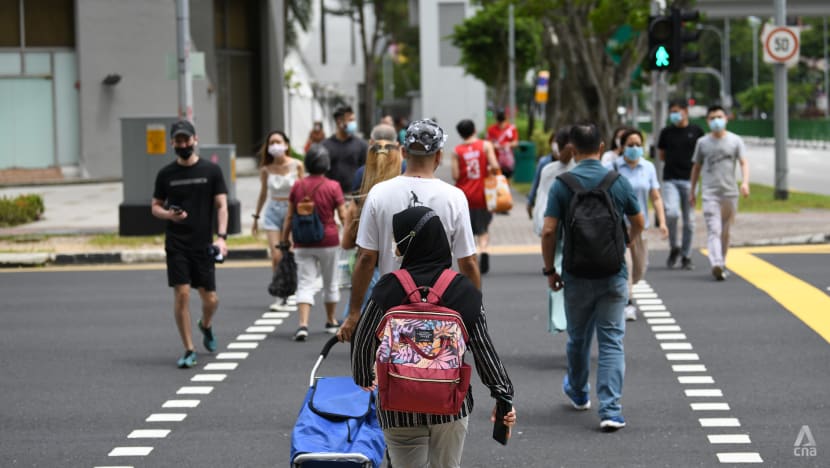 SINGAPORE: Singapore's daily count of local COVID-19 cases has topped 1,000, after three consecutive days of increases. 
A total of 1,004 new locally transmitted infections were reported as of noon on Saturday (Sep 18).
There was also another fatality - a 90-year-old Singaporean man who was unvaccinated. He had a history of cancer, heart disease and pneumonia, said the Ministry of Health (MOH).
The man tested positive for COVID-19 on Sep 17, after being taken to the National Centre for Infectious Diseases on the same day with symptoms. 
He is Singapore's 60th fatality from the disease.
Of the 1,004 new local COVID-19 infections, 926 are community cases and 78 are dormitory residents.
There were also five imported cases, taking Singapore's daily tally to 1,009. This is the highest number since Apr 23 last year, when there were 1,037 cases.
CASES OF SERIOUS ILLNESS
A total of 863 cases are currently warded in hospital. There are 105 patients with serious illness requiring oxygen supplementation, and 18 are in critical condition in the intensive care unit.
Of those who have fallen very ill, 100 are seniors above 60 years old.

Over the last 28 days, the proportion of local cases who were asymptomatic or had mild symptoms was 98.1 per cent.
The Health Ministry noted that some public hospitals have seen a surge in people with mild acute respiratory infection (ARI) symptoms seeking treatment at the A&E departments. 
"We urge those who have mild symptoms to avoid seeking treatment at the hospitals and instead consult a General Practitioner (GP) at a Swab and Send Home (SASH) clinic instead," said MOH.
"The SASH GPs are capable of assessing the severity of their symptoms and perform COVID-19 diagnostic tests when needed to confirm their status," it added.
"This allows those with more severe illnesses and who are in need of urgent care to be attended to quickly and helps to preserve hospital capacity for those who truly need hospital care."
LARGE CLUSTERS
Two more large clusters were included on MOH's list on Saturday - Pfizer Asia Pacific and NSL OilChem.
The cluster at Pfizer Asia Pacific has a total of 22 cases, comprising 20 staff members and two cleaners. The facility is not involved in vaccine production, said the ministry.
It added that there is no evidence of transmission beyond the worksite.
The cluster at NSL OilChem, a waste management company, has 27 cases. Twenty-five of them are employees and two are household contacts of cases.
These are among 10 large clusters that MOH is monitoring. 
The cluster at Sembcorp Marine Admiralty Yard has grown to 39 cases after two infections were added on Saturday.
A total of 270 cases are now linked to the Chinatown Complex cluster. All the new cases had been quarantined, said MOH.

The cluster at Blue Stars Dormitory has grown to 104 cases. All residents are being tested and there is no evidence of the virus spreading beyond the dormitory, said MOH.
This is the first time that Singapore is experiencing an exponential rise in COVID-19 cases in the community. But the current wave of infection is not unexpected, said Health Minister Ong Ye Kung on Friday.
Every country that has decided to live with the virus will have to undergo a "major wave of transmission", he told reporters, adding: "This is almost like a rite of passage, before humans and the virus achieve a new equilibrium and things stabilise."
Singapore's high vaccination rate has prevented many cases of severe illness, Mr Ong said on Friday.
"Nevertheless, we are still early in this new wave of transmission and must continue to stay vigilant," he added.
VACCINATION
In its daily update on Saturday, MOH said 82 per cent of the population has been fully vaccinated, while 84 per cent received at least one dose.

More than 8.9 million doses have been administered under the national vaccination programme, covering about 4.57 million people, with 4.44 million having completed the full regimen of two doses.

Another 182,716 doses of other vaccines recognised in the World Health Organization's emergency use listing have been administered, covering 86,968 people.

As of Saturday, Singapore has reported a total of 76,792 COVID-19 cases and 60 deaths from the disease.