Incidence of suspected adverse events after COVID-19 booster jabs similar to first two doses: HSA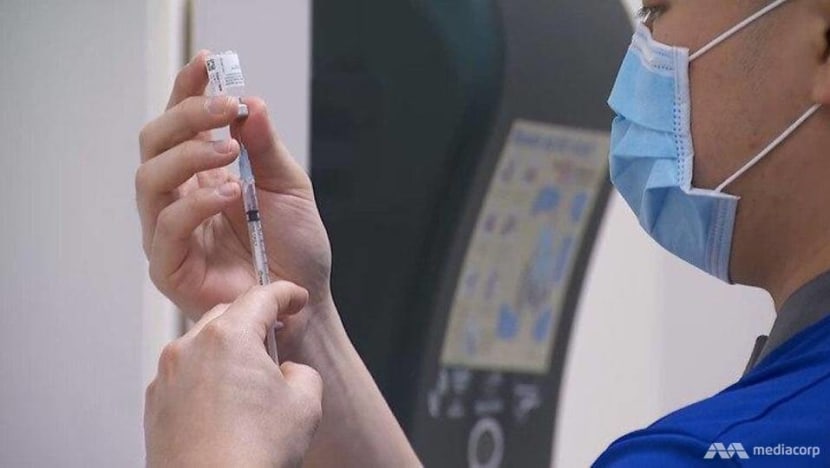 SINGAPORE: Suspected adverse events, as well as their frequency, reported in people who received booster jabs of the COVID-19 mRNA vaccines were similar to those associated with the first two vaccination doses, said the Health Sciences Authority (HSA) on Tuesday (Nov 16).
"There was no observed increase in frequency of events," HSA said in a safety update - its seventh - covering the period since the vaccine rollout on Dec 30 last year to Oct 31.
Two hundred suspected adverse events, or 0.02 per cent, were reported out of 854,268 individuals who have received the booster doses since they were rolled out on Sep 15. These were associated with the Pfizer-BioNTech/Comirnaty or Moderna/Spikevax vaccines.
The reports include swelling of eyelids, face and lips, chest discomfort, palpitation, shortness of breath, fever, generalised weakness and dizziness.
There were 10 serious adverse event reports, or 0.001 per cent of administered doses, describing myocarditis, seizures, blood clots, drop in platelet count, fluid overload and angioedema.
"As the booster dose programme was recently rolled out, HSA continues to closely monitor the adverse events and will inform the public on any significant events that are observed as well as take relevant regulatory actions as required," said the authority.
OVERALL MRNA FIGURES
More than 9.95 million doses of the Pfizer and Moderna vaccines have been administered, out of which 13,334 suspected adverse events were reported, or 0.13 per cent. This compared with 0.14 per cent as at Sep 30.
The most commonly reported adverse events were consistent with those typically observed following vaccination, said HSA. They include allergic reactions, dizziness, shortness of breath, chest tightness or discomfort, palpitations, as well as injection site reactions.
"These typically resolve within a few days," HSA added.
A total of 634 reports were classified as serious adverse events, mostly anaphylaxis and other severe allergic reactions. This makes up 0.006 per cent of all administered doses, unchanged from the previous update.
Anaphylaxis "is a known adverse reaction associated with vaccines in general. The incidence rate of anaphylaxis locally is similar to those reported overseas", said HSA.
For students aged 12 to 18, the authority has received 798 adverse event reports or 0.13 per cent since vaccination for this age group began on Jun 3.
Rare cases of myocarditis and pericarditis have been reported with mRNA COVID-19 vaccines both overseas and locally. They are caused by inflammation of the heart muscles and outer lining of the heart respectively.
"The risk of myocarditis and pericarditis is observed to be highest in young males aged 30 years and below who received the vaccine," said HSA, in guidance that was similar to that provided in the previous update.
"Most of the cases have responded well to treatment and have recovered or were discharged well from hospital."
Some vaccine recipients also experienced Bell's Palsy, facial muscle weakness caused by inflammation of the facial nerve.
"Generally, patients will recover completely even without treatment. The incidence rate of the event is within the background incidence," said HSA. 
It added that the benefits of the two mRNA vaccines "continue to outweigh the known risks in a pandemic".  
OTHER VACCINES
Following the administration of 206,722 doses of the Sinovac-CoronaVac vaccine, 171 suspected adverse events (0.08 per cent) including fourteen serious ones (0.007 per cent) were reported.
Seventeen suspected adverse events (0.03 per cent), including one serious adverse event (0.002 per cent), were reported after 48,697 Sinopharm vaccine doses were administered.
"It should be noted that the type and number of reports received for different COVID-19 vaccines are not directly comparable as the vaccines have been used in the vaccination programme for different durations of time," said HSA.
"The inactivated COVID-19 vaccines have been administered only to a very small proportion (less than 3 per cent) of the population compared to the much larger scale of deployment for the mRNA vaccines," it added.
Vaccination for the Sinovac-CoronaVac shot started on Jun 18, while the rollout of the Sinopharm vaccine began around two months later on Aug 30.