Pfizer-BioNTech vaccination with Moderna booster jab has 'slight edge' in reducing COVID-19 infection risk: Ong Ye Kung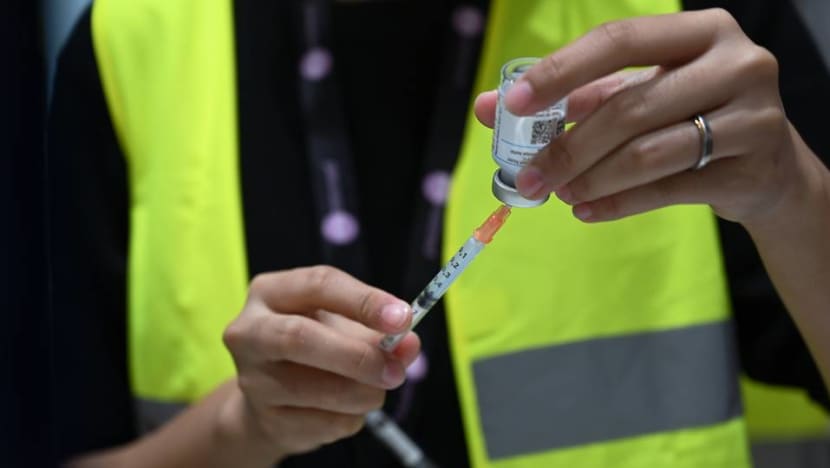 SINGAPORE: A combination of the Pfizer-BioNTech vaccination with a Moderna booster jab has a "slight edge" in reducing the risk of COVID-19 infection, Health Minister Ong Ye Kung said on Monday (Nov 15).
Quoting statistics from a study done by the Ministry of Health (MOH), Mr Ong said that this combination further reduces the risk of infection by 72 per cent.
In comparison, taking a Pfizer-BioNTech booster jab after Pfizer-BioNTech vaccination further reduces the risk of infection by 62 per cent.
Mr Ong and MOH's director of medical services Kenneth Mak took the Moderna booster jab after being inoculated with Pfizer-BioNTech's vaccine.
The results for other combinations, such as a Moderna booster jab with Moderna vaccination, "may not be as meaningful" as the sample sizes are "not very large", said Mr Ong at a COVID-19 multi-ministry task force press conference.
Some members of the public have asked MOH which mRNA booster jab they should take after taking two shots of an mRNA vaccine, he said.
Mr Ong said that the expert committee on COVID-19 vaccination has recommended that the two mRNA vaccines can be used interchangeably, regardless of whether the first two doses were Pfizer-BioNTech or Moderna.
"So, both mRNA vaccines work very well as boosters, with (Moderna as a booster jab after Pfizer-BioNTech vaccination) having a slight edge," he said.
"Regardless, the impact on the reduction of severity of illness is extremely high for both combinations."
"With boosters, the probability of infection and the probability of severe illness has been further drastically reduced ... for seniors, the impact has been stark and very significant," he added.
As of Saturday, 85 per cent of Singapore's population has completed their full regimen or received two doses of COVID-19 vaccines, while 20 per cent have received their booster shots.
MIS-C UPDATE
At the same press conference, Assoc Prof Mak gave an update on the number of cases of multi-system inflammatory syndrome in children (MIS-C). The number of cases is now six, up from the five that was previously announced.
MIS-C is a hyper-inflammatory syndrome that may occur in a child two to eight weeks after COVID-19 infection.
The six cases range from two months old to 11 years old, Assoc Prof Mak said. Of them, three have recovered and have been discharged, and remain on follow-up care with hospital specialists.
Of the remaining children, one had initially been admitted to the paediatric intensive care unit but has responded well to treatment.
"He has since been transferred to the general ward and may be discharged soon, if he continues his recovery uneventfully," Assoc Prof Mak said.
Another child is being monitored in the high dependency ward in a hospital and is being treated for other concurrent infections. The remaining child is stable in the general ward.
Watch the full news conference, including the Q&A session with journalists: