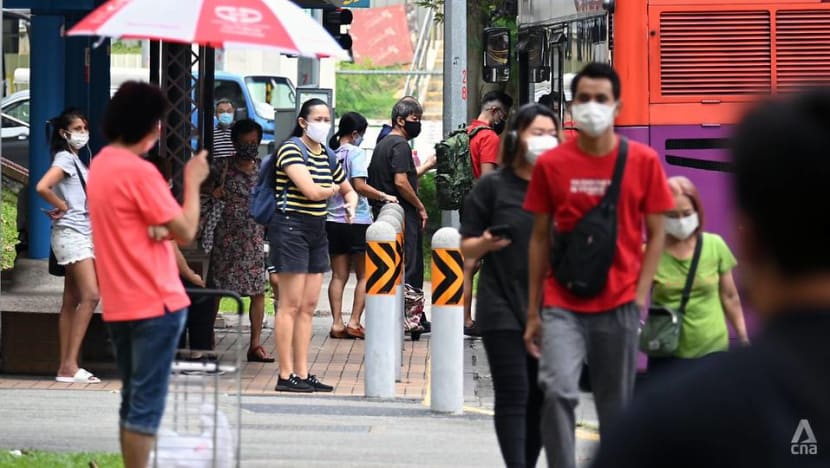 SINGAPORE: Singapore reported 2,263 new COVID-19 cases as of noon on Monday (Oct 11) as 10 more people died from complications due to the virus.
This is the second day that the caseload has gone below the 3,000 mark.
"Due to the 12pm cut-off for reporting of COVID-19 cases for the day, most cases in today's case count were tested over the weekend, when there are typically fewer swabs done at public health preparedness clinics (PHPCs) and polyclinics," said the Ministry of Health (MOH).
The fatalities are all Singaporeans or permanent residents, comprising seven men and three women. They were aged between 73 and 93, reported MOH in its daily update released to media at about 11.40pm.
Among them, four were unvaccinated against COVID-19, three were partially vaccinated and three were vaccinated. All of them had various underlying medical conditions.
This takes Singapore's death toll from the coronavirus to 172.
Among the new cases, 2,255 infections are locally transmitted, comprising 1,949 in the community and 306 in migrant worker dormitories. Eight are imported cases, said MOH.
As of Monday, Singapore has reported a total of 129,229 COVID-19 cases since the start of the pandemic.
HOSPITALISATIONS
There are 1,698 patients currently warded in hospital, said MOH. Among them are 308 patients who need oxygen supplementation and 42 in intensive care.
Over the last 28 days, out of 56,755 infected people, 1.2 per cent needed oxygen supplementation and 0.1 per cent needed intensive care. Of these, 49.3 per cent were fully vaccinated and 50.7 per cent were unvaccinated or partially vaccinated.
No new cases reported on Monday are linked to large clusters, said MOH.
TRAVEL FOR CHILDREN
Unvaccinated children aged 12 and below can travel to Singapore under the vaccinated travel lane scheme from Oct 19, the Civil Aviation Authority of Singapore (CAAS) said on Monday.
The decision comes after feedback from parents, and was made in consultation with MOH to facilitate family travel, said CAAS director-general Han Kok Juan.
The change means children can soon enter Singapore from vaccinated travel lane countries without quarantine or proof of vaccination.
However, they must travel with a fully vaccinated traveller on the vaccinated travel lane scheme.
They must also meet all other requirements of the scheme, such as negative COVID-19 tests before departure and upon arrival.
Singapore currently has two vaccinated travel lanes with Brunei and Germany and another nine in the pipeline, including the United States, Canada, South Korea and countries in Europe.