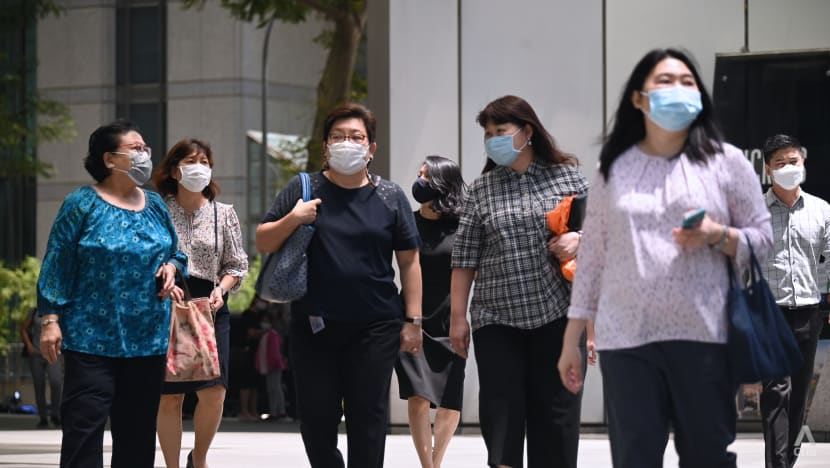 SINGAPORE: New COVID-19 cases in Singapore have stayed above the 3,000 mark for the third day in a row on Thursday (Oct 7), with three more deaths from complications due to the virus.
The fatalities involved two men and one woman aged between 57 and 90. They were identified as Cases 78362, 84535 and 100512. One of them was unvaccinated against COVID-19, while two were vaccinated. All had various underlying medical conditions.
This takes Singapore's death toll from the coronavirus to 136.
A total of 3,483 new infections have been reported as of noon on Thursday, a decrease from the 3,577 cases on Wednesday.
Among the new cases, 3,475 are locally transmitted, comprising 2,783 cases in the community and 692 in migrant worker dormitories.
Eight are imported cases, the Ministry of Health (MOH) said in its daily update released to media at about 11pm.
As of Thursday, Singapore has reported a total of 116,864 COVID-19 cases since the start of the pandemic.
HOSPITALISATIONS
A total of 1,534 patients are warded in hospital, most of them well and under observation, said MOH.
There are 297 patients who require oxygen supplementation and 40 in the intensive care unit (ICU). Of those who have fallen very ill, 281 are above the age of 60.
Over the last 28 days, there were 628 cases in need of oxygen supplementation and 61 in the ICU. Of these, 49.5 per cent were fully vaccinated and 50.5 per cent were unvaccinated or partially vaccinated.
ACTIVE CLUSTERS
MOH said it is "closely monitoring" five active clusters including Pasir Panjang Wholesale Centre, which added one new case on Thursday. The cluster has 326 infections.
A cluster involving United Medicare Care nursing home at Toa Payoh saw 15 new cases to reach a total of 50.
MOH said transmission was among residents and staff. Thirty-nine of the cases involve residents, while 10 are staff members and one is a household member.
Three dormitories are also among the active clusters. The largest of these is at Woodlands Dormitory, which reached 406 infections after adding 11 new cases.
Tampines Dormitory added 35 more infections while six more cases were identified at Jurong Penjuru Dormitory 2.
MOH said that the three clusters involve intra-dormitory transmission among residents with no evidence of spread beyond the dormitory.
RETURN TO SCHOOL, EXAMS CANCELLED
Home-based learning for primary school students will end this week, with a phased return to school from Oct 11. Students will be required to take an antigen rapid test before returning to school.
Primary and special education schools had been placed on home-based learning since Sep 27 amid a rise in COVID-19 community cases.
Although face-to-face classes will resume, year-end examinations for Primary 3 and Primary 4 students will be cancelled to allow for "curriculum recovery" due to disruptions from the pandemic, said the Education Ministry on Thursday.
Co-curricular activities and other after-school activities remain suspended for all levels, including secondary schools, junior colleges and Millennia Institute.