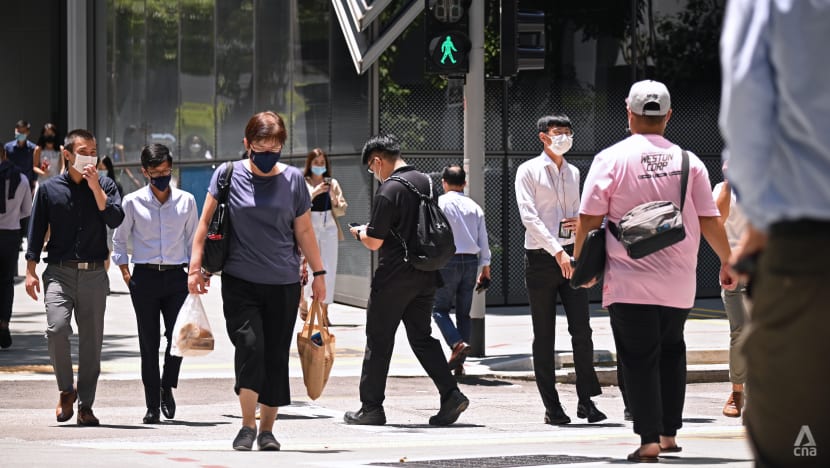 SINGAPORE: New COVID-19 cases in Singapore have stayed above the 3,000 mark for the fourth day in a row on Friday (Oct 8), with six more deaths from complications due to the virus.
The fatalities comprise three men and three women, aged between 67 and 93 years. Two were unvaccinated against COVID-19, three were partially vaccinated and one was fully vaccinated. 
Five of them had various underlying medical conditions while a partially vaccinated case had no known medical conditions.
This takes Singapore's death toll from the coronavirus to 142.
A total of 3,590 new infections have been reported as of noon on Friday,an increase from the 3,483 cases on Thursday.
All the cases are locally transmitted, comprising 2,825 cases in the community and 765 in migrant worker dormitories.
No imported cases were reported, the Ministry of Health (MOH) said in its daily update released to media at about 11.10pm.
As of Friday, Singapore has reported a total of 120,454 COVID-19 cases since the start of the pandemic.
HOSPITALISATIONS
A total of 1,564 patients are warded in hospital, most of them well and under observation, said MOH.
There are 307 patients who require oxygen supplementation and 41 in intensive care. Of those who have fallen very ill, 294 are above the age of 60.
Over the last 28 days, there were 659 cases in need of oxygen supplementation and 66 in intensive care. Of these, 49.7 per cent were fully vaccinated and 50.3 per cent were unvaccinated or partially vaccinated.
ACTIVE CLUSTERS 
MOH said it is "closely monitoring" five active clusters, including Pasir Panjang Wholesale Centre which added four new cases on Friday. The cluster has 334 infections.
A cluster involving MWS Christalite Methodist home in Marsiling saw 13 new cases, bringing the total number of cases there to 89. 
MOH said the transmission took place among residents and staff. Eighty-four of the cases involve residents, while five are staff members. New cases have already been quarantined. 
Two dormitories are also among the active clusters. ASPRI-Westlite Papan Dormitory at Jalan Papan added 32 new cases, bringing the total to 229. PPT Lodge 1B Dormitory saw an increase of 12 cases to take its total to 138. 
The two clusters involve intra-dormitory transmission among residents with no evidence of spread beyond the dormitories, said MOH.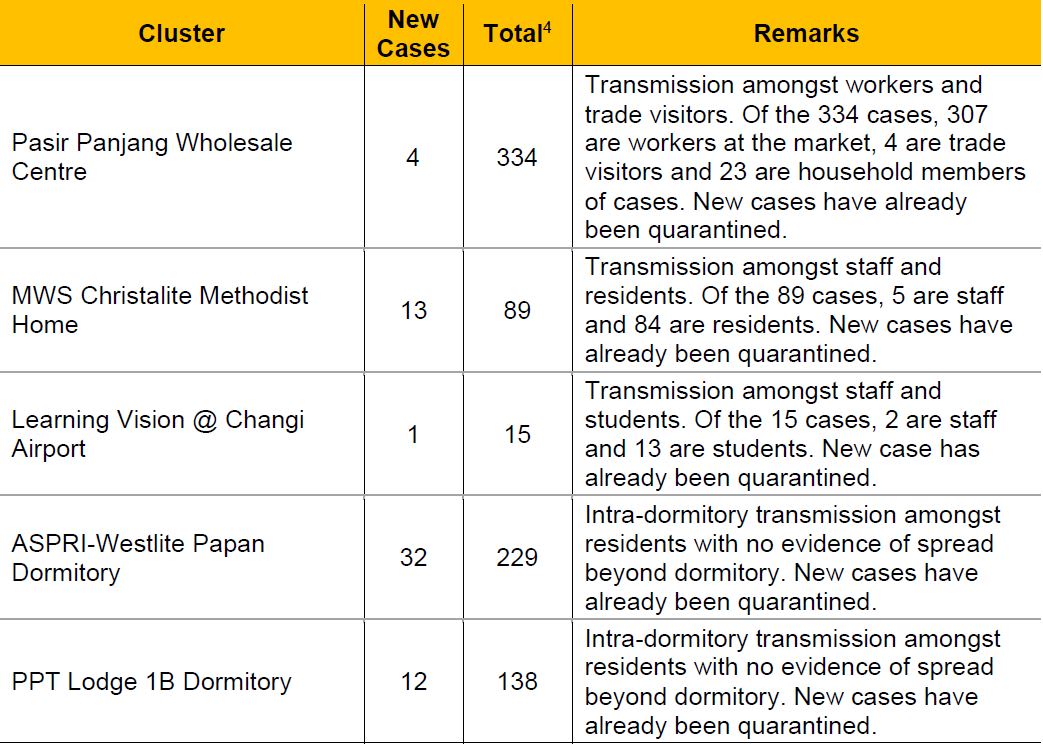 NEW VACCINATED TRAVEL LANE
On Friday, the authorities announced that Singapore and South Korea will launch a vaccinated travel lane from Nov 15. Instead of serving quarantine or a stay-home notice, travellers under the scheme will take COVID-19 polymerase chain reaction tests.
They have also agreed to recognise each other's COVID-19 vaccination certificates, allowing travellers to enjoy vaccination-differentiated measures in both countries.
This is Singapore's third vaccinated travel lane, after the schemes with Germany and Brunei were launched last month.
Singapore is also working on establishing a vaccinated travel lane with the United States before the end of the year, Minister for Trade and Industry Gan Kim Yong said on Thursday.