COVID-19 isolation bed occupancy at 85%; hospital manpower a 'key resource constraint': MOH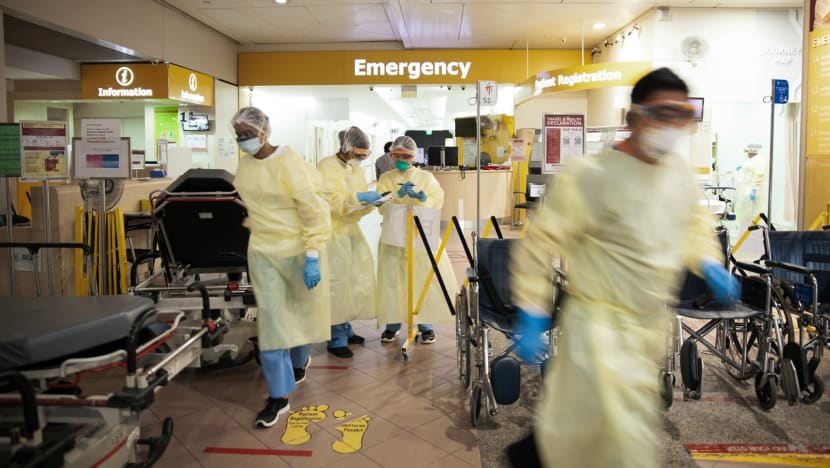 SINGAPORE: The occupancy rate for COVID-19 isolation beds in Singapore's hospitals has risen to 85 per cent in October despite efforts to set aside more beds.
This is up from the 62 per cent occupancy rate in July, the Ministry of Health (MOH) said in an update on hospitals' capacity and manpower situation on Friday (Oct 8).
While community cases have stayed around the 3,000 mark in recent days, the time period for infections to double has slowed from six to eight days three weeks ago, to about 10 to 12 days now, said the ministry.
Nonetheless, the large daily caseload has placed "significant strain" on Singapore's healthcare system, it said.
"A key resource constraint we now face is our healthcare manpower," said MOH.
Public healthcare institutions and private healthcare providers have redeployed staff and recruited additional short-term manpower to ramp up beds, it said.
"We are also bringing in more manpower by reaching out to individuals registered with the Singapore Healthcare Corps, including both healthcare professionals and laypersons," said MOH.
"We have also approached nurses who are registered with the Singapore Nursing Board but who are currently not in active practice."
About 900 people have stepped forward and are being referred to suitable roles in public hospitals, including possible deployments to the COVID-19 treatment facilities, said the ministry.
Those interested in signing up to help can do so online, added MOH.
MORE PATIENTS, LONGER WAITING TIMES
Over the past three months, there has been an eight-fold increase in the number of patients seeking medical attention at emergency departments after testing positive for COVID-19, said MOH.
It added that many of these patients were admitted, mostly for precautionary observation.
The waiting time for non-COVID-19 patients at public hospitals, from emergency departments to admission, has therefore risen by 34 per cent from July to September, said MOH.
The ministry said this was partly due to fewer beds available for non-COVID-19 patients.
CONDITION OF COVID-19 PATIENTS
The majority of COVID-19 patients, at 98.4 per cent, continue to be asymptomatic or have mild symptoms, said MOH. Only 1.3 per cent and 0.1 per cent require oxygen supplementation or intensive care unit (ICU) care respectively.
Around 7 per cent of COVID-19 patients are admitted into hospitals because of more severe symptoms or pre-existing medical risks that require close observation, said MOH.
As a result, about 20 per cent of hospital beds in acute and community public hospitals are taken up by COVID-19 patients.
As for ICU beds, these are "disproportionately" occupied by seniors aged 60 and above who are unvaccinated or partially vaccinated.
"They represent 1.5 per cent of our total population, but currently account for two-thirds of the patients requiring ICU care," said MOH, adding that the occupancy of critically ill cases in the ICU was 23.5 per cent on Thursday.
SETTING ASIDE MORE BEDS
MOH said it has been working with public, community and private hospitals to set aside more beds for COVID-19 patients.
Over the past three months, the number of COVID-19 beds has increased from 900 to 2,500. About 170 of these are beds in the ICU, while another 100 can be "stood up" to handle ICU cases at short notice, it said.
"At the same time, hospitals have been asked to prioritise resources for COVID-19 patients by reducing less urgent surgeries and appointments," said MOH.
"Our hospitals have thus cut down on non-urgent and non-life threatening care, deferring about 20 per cent of their total regular load, to alleviate the pressure on their capacity and manpower."
While home recovery is the default mode of care for many patients, the continued rise in cases will "most likely" mean a growing number of infections. This is especially among the vulnerable elderly who will need some level of care in hospitals or COVID-19 treatment facilities, said MOH.
To make the best use of hospital facilities and beds, MOH said it has been admitting those who are stable but require closer monitoring - due to advanced age or underlying medical conditions - to COVID-19 treatment facilities, where "their care and close monitoring needs will be better met".
It noted that five COVID-19 treatment facilities have become operational in the past two weeks and Singapore is on track to add 2,500 more beds by the end of October, bringing the total COVID-19 treatment facility capacity to 3,700 beds.
SOCIAL RESPONSIBILITY
"We strongly urge those who have non-emergency conditions to avoid seeking treatment at the hospitals and to consult their own family doctor or general practitioner instead," said the ministry, adding that it was continuing to strengthen support for those on home recovery.
Asymptomatic people who are concerned they may be infected with COVID-19 can perform their own antigen rapid test and self-isolate for 72 hours if their result is positive, MOH added.
"This allows those with more severe illnesses and who are in need of emergency care to be attended to quickly and helps to preserve our hospital capacity for those who truly need acute hospital care," it said.
The ministry also urged people in Singapore to play their part to protect the healthcare system, practising social responsibility through vaccination, regular testing and adherence to isolation protocols where needed.
"We assure all Singaporeans that everyone who requires medical care, whether for COVID-19 or other conditions, will continue to receive appropriate care even as we do our best to overcome the challenges arising from this current wave of COVID-19 infections."