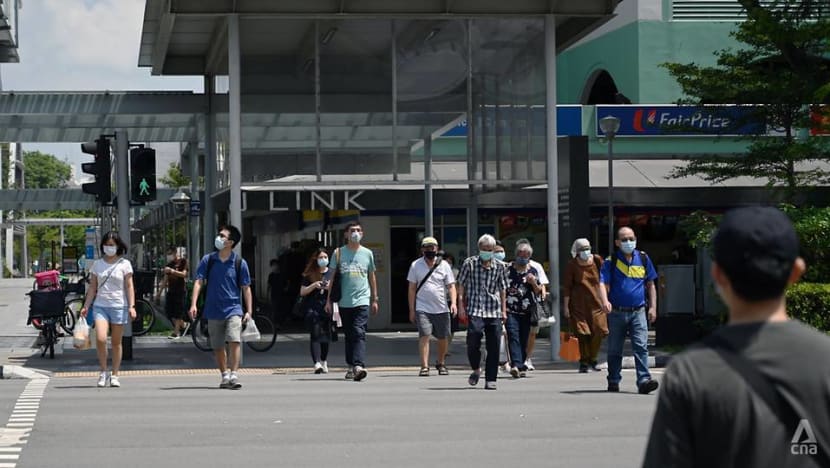 SINGAPORE: Singapore reported more than 3,000 new COVID-19 cases for a fifth straight day on Saturday (Oct 9) as 11 more people died from complications due to the virus. 
The fatalities are five men and six women aged between 56 and 90. Four of them were unvaccinated against COVID-19, three were partially vaccinated and four were fully vaccinated.
Ten of them had various underlying medical conditions, while one partially unvaccinated case had no known medical conditions.
The 56-year-old patient who died was partially vaccinated and had multiple underlying medical conditions, said the Ministry of Health (MOH).
This takes Singapore's death toll from the coronavirus to 153.
New infections inched up, with 3,703 cases reported as of noon on Saturday, the highest number so far. 
Among them, 3,700 infections are locally transmitted, comprising 2,868 cases in the community and 832 in migrant worker dormitories.
Three are imported cases, said MOH in its daily update released to media at about 11.20pm.
As of Saturday, Singapore has reported a total of 124,157 COVID-19 cases since the start of the pandemic.
HOSPITALISATIONS AND HOME RECOVERY
There are 1,569 patients currently warded in hospital, mostly for observation, said MOH.
Among them are 302 patients who require oxygen supplementation and 40 in intensive care.
Over the last 28 days, there were 672 cases in need of oxygen supplementation and 69 in intensive care. Of these, 49.5 per cent were fully vaccinated and 50.5 per cent were unvaccinated or partially vaccinated.
In Saturday's daily update, MOH included new data on the community cases in home recovery and other facilities.
Among all community cases that have been onboarded or admitted, 15,606 are recovering at home as of Saturday. This represents about 76.5 per cent of cases.
There are also 2,875 cases in community care facilities (14.1 per cent) and 360 (1.8 per cent) in COVID-19 treatment facilities. The rest, 7.7 per cent, are warded in hospital.
ACTIVE CLUSTERS
MOH said it is "closely monitoring" five active clusters, including the Toa Payoh/Kim Keat Avenue Dormitory which added 13 new cases on Saturday.
The ministry said that the cluster, which now has 40 infections, involves intra-dormitory transmission among residents with no evidence of spread beyond the dormitory.
There are three more cases at United Medicare Centre at Toa Payoh, while MWS Christalite Methodist Home added two more cases.
One new case was added to the clusters at Pasir Panjang Wholesale Centre and Learning Vision @ Changi Airport.
All the new cases in these clusters were already in quarantine, said MOH.
LIVING WITH COVID-19
Singapore is updating its pandemic response to simplify health protocols, as well as allow more people to recover at home. Booster jabs will be offered to more people, while those who are unvaccinated will be subject to more restrictions.
In a major step to reopening its borders, Singapore announced on Saturday vaccinated travel lanes with eight more countries, bringing the total to 11.
The wide-ranging changes come as Prime Minister Lee Hsien Loong urged Singaporeans to update their mindsets and not be paralysed by fear of the coronavirus.
With Singapore's high vaccination rate, COVID-19 has become a treatable, mild disease for most of the population, said Mr Lee in a televised national address.
He also said that Singapore will take at least three months, and perhaps up to six months, to reach a "new normal" of living with COVID-19.
That is when Singapore can ease restrictions and have "light" safe management measures, with cases stable at "perhaps hundreds a day, but not growing", the Prime Minister said.
Hospitals will also go back to "business as usual" and people can resume pre-pandemic activities and see crowds again "without getting worried or feeling strange".
Acknowledging that the next few months will be "trying", Mr Lee said that the surge in cases will "hopefully" level off and decline within a month or so.
"Sometimes it may not feel like it, but we are making steady progress towards the new normal," he said.