Singapore facing increasing likelihood of 'exponential rise' in COVID-19 cases, quick action needed: MOH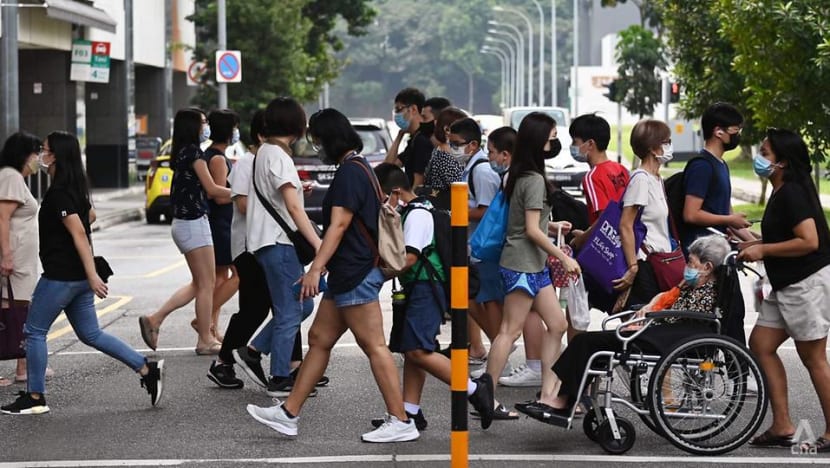 Health risk warnings will be sent out to people linked to COVID-19 clusters requiring them to be tested and to self-isolate
Frequency of rostered routine testing for people working in higher-risk industries to be increased from once a fortnight to once a week
Companies not subject to mandatory rostered routine testing will get eight antigen rapid test kits per employee for routine testing 
SINGAPORE: Singapore needs to "take quick action" to dampen the increasing likelihood of an "exponential rise" in COVID-19 cases, said the Ministry of Health (MOH) on Monday (Sep 6).
Speaking to reporters, Mr Lawrence Wong, co-chair of the COVID-19 multi-ministry task force, said the transmission rate of COVID-19 has to be slowed down.
Singapore will attempt to do so without going into another phase of heightened alert, he said. 
"What is of concern to us is not just the absolute number of cases, but the rate at which the virus is spreading. And that's the reproduction rate, or R. 
"Currently, the R is more than one. Cases are doubling every week. And if we continue on this trajectory of infection, it means we could have 1,000 (daily) cases in two weeks, or possibly 2,000 (daily) cases in a month." 
From the experience of other countries, when cases rise "so sharply" there will be many more cases in the ICU and more people succumbing to the virus, said Mr Wong, who is also the Finance Minister. 
"It's not just the unvaccinated seniors. Because even for vaccinated persons, there will be a small proportion of them falling severely ill, and if you have a very high infection caseload, the small proportion will translate to a sizable number of ICU cases and eventually fatalities," he added.
"So we have to slow down the transmission rate and bring R down. We will attempt to do so without going back to another heightened alert. And in particular, we will go for aggressive contact tracing and ringfencing of cases and clusters, and push for more pervasive testing." 
The number of new COVID-19 cases in the community has almost doubled to more than 1,200 in the past week, up from about 600 in the week before, said MOH in a separate press release. 
Unvaccinated people are still susceptible to severe illness and death from COVID-19. Over the last 28 days, 6.7 per cent of unvaccinated cases fell severely ill or died, MOH noted. 
"If the infection continues at this trajectory, we will see a doubling of cases every week. This means that we can expect to see more individuals suffer serious consequences due to COVID-19 infection," the ministry said. 
"We need to take quick action now to dampen the increasing likelihood of an exponential increase in cases. This will also buy us time to get more people, in particular seniors, vaccinated as soon as possible, and also to roll out our booster programme to those aged 60 and above." 
MORE FREQUENT ROUTINE TESTS 
The frequency of the mandatory fast and easy test rostered routine testing regime will be stepped up from once every two weeks to once a week from next Monday, said Mr Wong. 
The enhanced frequency will allow cases to be detected and ringfenced more quickly, said MOH. 
"This is particularly important given the infectiousness of the Delta variant, as observed locally where there have been shorter periods between each generation of infection," it said.
The testing regime is currently in place for higher-risk settings like F&B, personal care services and gym and fitness studios. 
It will be extended to more settings with "frequent community interactions", said MOH in the press release. This includes workers in retail, malls, supermarkets as well as delivery personnel and transport workers, said Mr Wong. 
These tests will continue to be administered primarily through the Employer Supervised SelfSwab. The Government will subsidise the costs of all tests under this enhanced surveillance regime for both vaccinated and unvaccinated people until the end of 2021. 
Regular testing for employees working onsite beyond these settings will also be stepped up, said Mr Wong. 
Antigen rapid test kits will be distributed to companies that are not already subject to mandatory rostered routine testing so that they can administer weekly tests for their staff over the next two months. 
Each company will receive eight kits per onsite employee for weekly testing of their staff over a two-month period, said MOH. 
All companies are expected to initiate weekly testing for their onsite staff, and the tests can be administered by the individuals by themselves at home or at the work premises. 
Employers should put in place a process to ensure that the tests are done properly and report the results to the respective government agencies, said MOH. 
"We hope that the distribution of ART kits to both households and companies will help to instil a culture of responsibility in administering regular self-tests. This will become an important tool in the new normal, so that we can dampen the impact of COVID-19 without having to impose heightened alerts," the ministry said. 
PUBLIC HEALTH ALERTS 
The Government will also send out health risk warnings and health risk alerts to people when a cluster of cases is identified, on top of quarantining close contacts. 
This will "cast a wide net" around the cases and contain the clusters quickly, MOH said, adding that with more cases in the community, more people will also be issued these warnings and alerts.
These are not quarantine alerts, but those who receive a health risk warning will be required by law to get a polymerase chain reaction (PCR) test and self-isolate until they receive a negative result from their first test, the ministry said. 
After that, they will need to continue to take antigen rapid tests, and then another PCR test on the 14th day, said MOH. 
People who receive a health risk alert are not subject to the same measures, but are "strongly encouraged" to go for a PCR test as soon as possible. Those who receive either alerts should also reduce their social interactions for 14 days. 
"With all of these measures, we hope that we can help to slow down transmission, without having to go back to the heightened alert, or the circuit breaker ... these are last resort measures that we will try our best to refrain from using them," said Mr Wong.
"But we should not rule them out entirely."
Urging people to scale back on non-essential social interactions, Mr Wong added: "You don't have to have the mindset that you are maximising to the limit, your ability to go out. Because yes, you can go out to dine, but scale back during this period because every effort counts. 
"And if all of us do our part by getting tested regularly by scaling back interactions we will be able to slow down the transmission." 
All announced activities, programmes and pilots will continue, including the vaccinated travel lanes with Germany and Brunei, Mr Wong said. 
"We are not stopping any of the things that have been announced. We are not going back to a heightened alert. We are not tightening up restrictions. We are not doing that. 
"What we are trying to do is to try our best to refrain from having to adopt a tightened posture, but still be able to slow down transmission as much as we can through more aggressive contact tracing, more widespread testing and finally by everyone doing their part in exercising social responsibility." 
This is a "reflection of our new phase" with a much higher level of vaccination coverage and protection, which is why Singapore does not have to go back to tightened measures, Mr Wong added. 
"If, despite our best efforts, we find that the number of serious cases needing oxygen and ICU care goes up sharply, then we may have no choice but to tighten our overall posture, so we should not rule that out," said the minister.

Editor's note: An earlier version of this story said all companies will receive eight test kits per employee. MOH has clarified that this excludes firms already under the rostered routine testing scheme.