Not just the Sound Blaster: 7 Creative Technology products remembered
From MP3 players to a chatbot, here's a look back at products by the late tech pioneer Sim Wong Hoo's Creative Technology.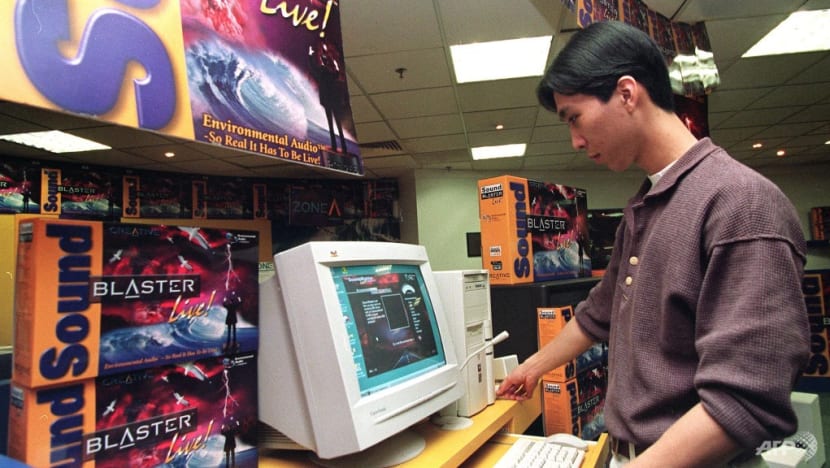 SINGAPORE: The death of Creative Technology founder Sim Wong Hoo on Wednesday (Jan 4) triggered memories for many in Singapore who used his company's products over the past four decades.
While Creative put Singapore on the world map with its Sound Blaster sound card in 1989, the company's tech products ranged from speakers and MP3 players to more unusual offerings like a chatbot.
Here is a look back at some of the company's innovations. 
Cubic 99
Introduced in 1984, the Cubic 99 was the first personal computer designed and made in Singapore.
Creative was a three-year-old company then and still years away from revolutionising the world of computers, but this was nonetheless a major milestone.
Known as the "talking computer", the Cubic 99 was valued for its functionality and affordability, according to the National Library Board's Singapore Infopedia.
Featuring a dual processor motherboard, the Cubic 99 had a vocal synthesiser which allowed users to record and reproduce words in English or Chinese, according to the website old-computers.com.
While the sound was of poor quality, it was the best in low-cost sound technology at the time, the website noted.
The Cubic 99 was followed by the Cubic CT in 1986. However, Creative's PCs ultimately did not succeed commercially.
Sound Blaster
Before the decade was over, Mr Sim had set up shop in San Francisco.
In 1989, Creative released the Sound Blaster PC sound card - the product that impressed the world and boosted the company's fortunes.
The technology was groundbreaking at the time, as Aloysius Low, co-founder and editor of tech review website Can Buy or Not, explained.
"Back then in the 1990s, most PCs were basically single-track speakers that only did like 'beeps' and 'boop boops'. So when you have a sound card installed, you have the audio that you are so used to hearing today – music, multi-track signals, real-world sounds basically," he said on CNA's Singapore Tonight on Thursday.
"So imagine going from beeps to boops to say, hearing a Backstreet Boys song, I think that was a massive game changer.
"That really put Creative on the tech world map – the eyes of the world focused on it. Everyone you knew back then had a Sound Blaster card and that's what really made your PC stand out."
By December 1990, the Sound Blaster had become the top-selling PC add-on product in the world, helping to grow Creative's revenue from US$5.4 million in 1989 to US$658 million in 1994.
Unfortunately for Creative, they did not fully capitalise on their first-mover advantage.
"The one major thing I think Creative failed to see was the opportunity to license its technology," Mr Low said.
"What happened back then was that sound cards were slowly becoming obsolete as onboard sound was becoming the norm. And because Creative didn't want to license its technology, Realtek, which is another semicon provider, came and took up that market," he added.
"So every motherboard, every PC component, uses Realtek technology instead of Creative. And that's a huge miss because Creative could have dominated the industry."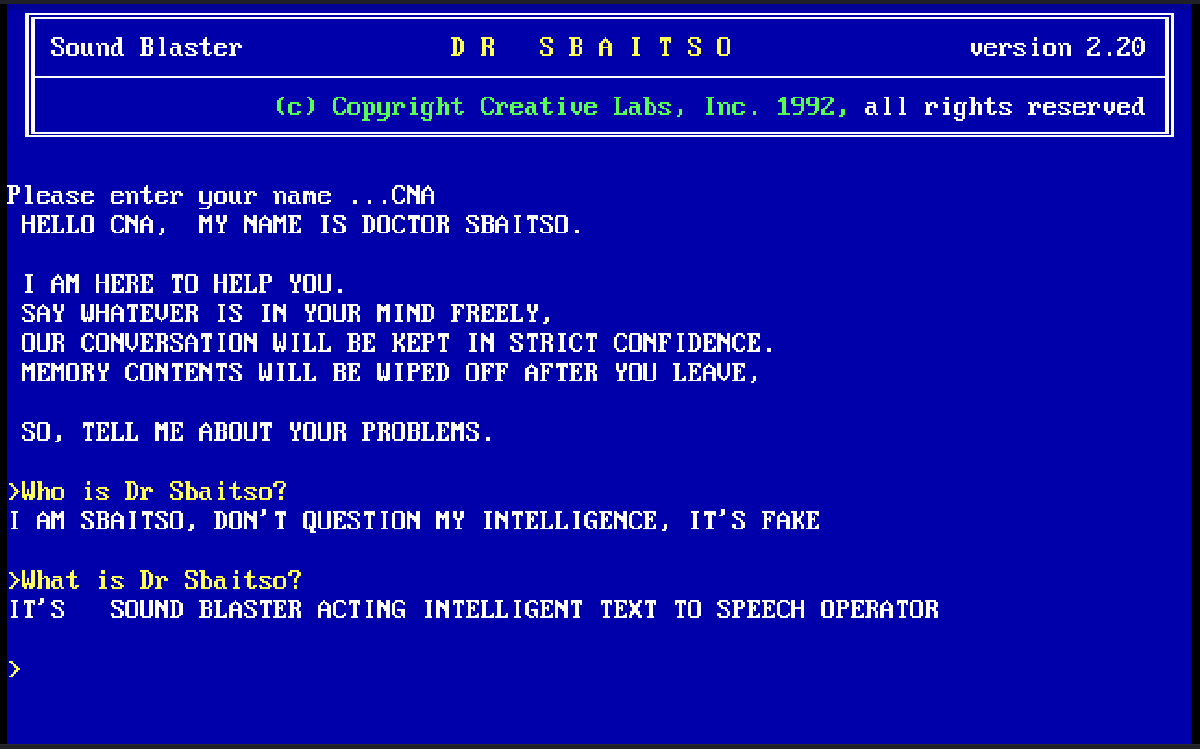 Dr Sbaitso
The artificial intelligence chatbot ChatGPT may have taken the world by storm towards the end of 2022, but did you know that just over 30 years earlier, Creative took a step into that realm with the introduction of Dr Sbaitso?
Among the software bundled with its Sound Blaster cards, Dr Sbaitso was something of a primitive AI psychiatrist, welcoming users with this message:
"I AM HERE TO HELP YOU.
SAY WHATEVER IS IN YOUR MIND FREELY,
OUR CONVERSATION WILL BE KEPT IN STRICT CONFIDENCE.
MEMORY CONTENTS WILL BE WIPED OFF AFTER YOU LEAVE,
SO, TELL ME ABOUT YOUR PROBLEMS."
While limited in terms of its responses and what questions it could actually answer, Dr Sbaitso provided 90s kids with plenty of entertainment while showcasing Creative's technology.
And if you ask it what its name means, "Sbaitso" stands for "Sound Blaster Acting Intelligent Text to Speech Operator".
HansVision
In October 1994, Creative launched HansVision, described by the company as "a comprehensive Windows-based Chinese document processing suite with 10 powerful software applications for office and home uses".
Four years later, they introduced HansVision Future 2000, an Internet-enabled bilingual software program.
HansVision Future 2000 featured a Chinese word processor called HansWord, an English-Chinese two-way dictionary called HansBrowser and an online translator of webpages from English to Chinese called HanSight.
It was rolled out in schools around Singapore in July 1998.
Nomad and Zen MP3 players
After several years in the wilderness following their Sound Blaster successes – an era where the company registered its first full-year net loss – Creative turned its attention to personal digital entertainment products.
A result of this pivot was the Nomad line of portable MP3 players, launched in April 1999 – more than two years before Apple's first iPod was unveiled.
In remembering Mr Sim on Thursday, former Singapore foreign affairs minister and current Creative board member George Yeo recalled this moment in time.
"Still remember the evening he presented me and President Ong Teng Cheong with a Nomad MP3 player storing 12 songs," Mr Yeo said in a Facebook post.
Enhancements arrived quickly for the Nomad line, and by January 2000, the Nomad Jukebox was available, with its 6GB capacity allowing it to store more than 100 hours of digital audio.
This was the year which saw Mr Sim become Singapore's youngest billionaire.
In October 2002, Creative launched the Nomad Jukebox Zen, with its 20GB hard drive holding up to 8,000 songs.
The name "Zen" soon took top billing in gadgets like 2004's Zen Portable Media Centre, Zen Micro and Zen Touch, 2005's Zen MicroPhoto and 2006's Zen Vision and Zen V Plus, which had the ability to play videos.
By this time, however, Creative was going head-to-head with Apple in a legal battle. Creative sued the American tech giant in 2006 for patent infringements over the iPod.
The two companies eventually agreed to settle their dispute, with Creative walking away US$100 million richer.
Can Buy or Not's Mr Low revisited this saga in his interview with CNA on Thursday.
"(Creative) did do the right thing by moving into the MP3 players; digital music players are the norm now," he said.
"Luckily, they also managed to get a nice package from Apple when they sued Apple and Apple settled for US$100 million. So that helped them tide over their lean years."
Portable speakers
Moving with the times meant going back to their roots for Creative, as they became known for portable speakers from 2011.
The ZiiSound Dx series and the D80 allowed music lovers to stream their tunes via Bluetooth with vastly better sound compared to what their mobile devices were capable of producing.
These were followed by speakers like the Sound BlasterAxx in 2012, which also featured smart voice communication technology, 2014's Sound Blaster Roar and 2016's iRoar.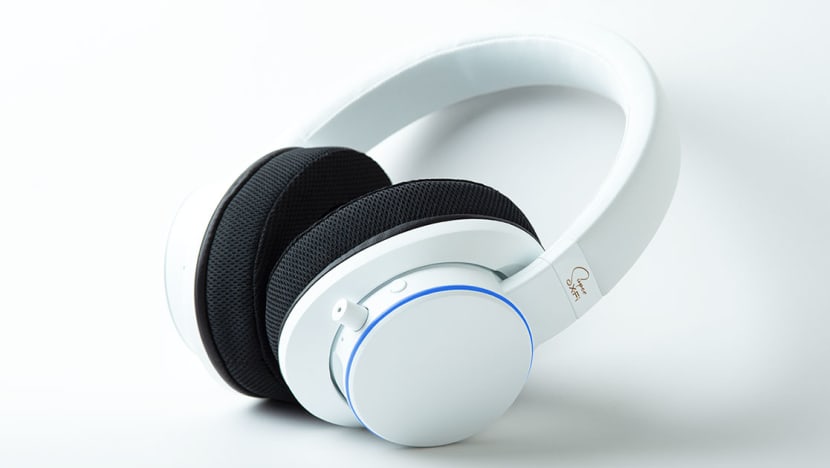 Super X-Fi headphones
When CNA caught up with Mr Sim in 2021, Creative was working on the third generation of its Super X-Fi technology, which is used in high-end headphones.
Mr Sim spent about 20 years developing the critically acclaimed technology, which whisked Creative out of obscurity once again in 2018.
Its second-generation iteration – enhanced with more precise personalisation – bagged seven awards at the 2020 Consumer Electronics Show in the United States.
Super X-Fi was designed to recreate a multi-dimensional sound experience in headphones, and Mr Sim told CNA that hyperrealistic audio – which Creative achieved by customising sound using an algorithm of individual head and ear profiles – would be the status quo; "like transitioning from black-and-white to colour television".