Better ways to control crow numbers than culling them, says ACRES after Bishan crow attacks
After a pair of crows attacked pedestrians in Bishan last week, CNA spoke to wildlife experts about how the crow population in Singapore should be controlled.
SINGAPORE: While culling is a quick way to address complaints from the public, there are better ways of controlling the crow population in Singapore, the Animal Concerns Research and Education Society (ACRES) said. 
Instead, reducing the birds' access to food and modifying their habitats are sustainable ways forward, the wildlife rescue group said after crows attacked pedestrians on a path near Bishan Street 12. 
In response to the attacks, authorities closed off a section of the area and removed an injured crow last Wednesday (Feb 15). The National Parks Board (NParks) said it received about 30 cases of feedback on crow attacks around the Bishan area as of last Wednesday. 
NParks said it was working with Bishan-Toa Payoh Town Council to remove nests, prune nearby trees and trap crows. The agency also puts down crows as a way to curb their numbers.
The house crow, known by the scientific name corvus splendens, is an invasive species easily able to adapt to urban surroundings. Hostile encounters with the birds have made headlines from time to time in Singapore. 
After the Bishan incidents, Lianhe Zaobao reported that a 38-year-old woman was attacked by a crow along Hougang Avenue 8 last Friday.

In reply to CNA's queries, NParks said that it received an annual average of around 3,000 to 4,000 cases of crow-related feedback from 2020 to 2022. These include complaints about noise, crow sightings, feeding, and crow attacks.
About 10 per cent of these cases involve crow attacks, NParks' group director of wildlife management Adrian Loo said. 
Listen: How can we better co-exist with wildlife in Singapore?
In the past, volunteer shooters from the Singapore Gun Club helped to cull crows. Two former volunteers who did not want to be named confirmed that there was such a programme, which ended in the early 2010s after crow shooting licences were not renewed. 
One volunteer who was with the gun club for more than two decades said they used to shoot crows every weekend, with 200 to 300 killed each time. At one such shooting session at Ang Mo Kio in the 1990s, nearly 900 birds were killed, he said.
At one point, the authorities also enlisted the services of Certis CISCO to cull crows. This hit the headlines three years back when an auxiliary police officer was jailed for killing crows with a shotgun and without a safety officer present.
Certis CISCO told CNA it no longer shoots crows.  
NParks did not answer CNA's queries on why the shooting programme was discontinued, but said earlier it reduces food sources and modifies crows' habitats as part of measures to control the population. NParks also said it adopts the "more humane method of trapping and subsequent euthanasia". 
"BETTER WAYS TO TREAT ANIMALS"
Although the shooting of crows has stopped, ACRES said it is still concerned about the way the birds' numbers are controlled.
"Just because (crows) are complained about a lot, culling is still often seen as a measure for quick action by town councils and agencies when complaints about noise or sightings come in," said the group's co-CEO Anbarasi Boopal. 
Crows are killed by placing them in plastic bags and pumping carbon dioxide into the bags, according to Ms Boopal. And this is "not humane euthanasia at all", she said. 
"Using carbon dioxide in a plastic bag may be seen as a cost-effective way for contractors. However, the birds often suffer ... and this method may be suggested only for emergency situations such as disease outbreaks for personnel safety."
She appealed for Singapore to think of "better ways to treat animals".
The Nature Society Singapore said culling of crows and food management should be done concurrently.
The birds will continue to reproduce despite culling, chairman of the society's bird group Tan Gim Cheong pointed out. 
"We (should) control the way we dispose our waste so that there is less food for them, so over the long term the population goes down," he said.
Still, with culling, the crow population is immediately reduced – which is "quicker rather than just waiting for the natural effects of (controlling) food".
"Crows are an invasive species, they are not native to Singapore. They prey on our endangered species, other kinds of birds. We should reduce their numbers so that their impact on our ecosystem is reduced," Mr Tan said.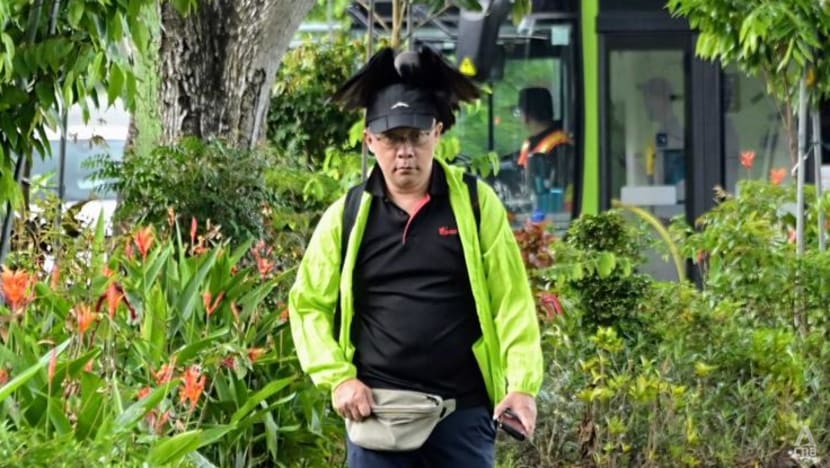 ACRES' Ms Boopal said while she empathises with those who have been attacked by crows, the birds are just defending their young and their nests. Crows are extra defensive when the fledgling is learning to fly, which usually takes a week, she said. 
People also often complain about the noise crows make, but there is a reason for this noise, Ms Boopal said. 
"When crows congregate in the evenings ... they often communicate with each other sharing information on roost sites and food sources nearby."
In such cases, ACRES advises town councils to prune certain trees and modify perch sites such as open levels of multi-storey car parks. Intermediate measures include putting up mesh or nets. 
But good wildlife management measures would not have an overnight impact, Ms Boopal said. Under ethical guidelines, humans should only intervene at the "animal level" – like removing or relocating them – as a last resort. 
"Usually, it starts with human behaviour, infrastructure, when all these do not work then you interfere at the animals' level," she said. 
"Often in urban cases like (Singapore), we tend to approach the animals' level first. That's why I'm happy that NParks is looking at habitat modification and all that but I hope that it will end this reactive removal and culling also." 
CHALLENGES IN DEALING WITH CROWS
The mandatory tray return scheme, which has been enforced since 2021 at hawker centres and since 2022 at food courts and coffee shops, has reduced the number of complaints against pigeons, Ms Boopal pointed out.
Food waste from rubbish bins and eateries is an easy food source for pigeons and crows, she said. That, in addition to people feeding them, is one of the main reasons why the bird population keeps increasing. 
The next step after the tray return scheme should be to change how food waste is collected and processed, which would mean designing bin centres such that birds cannot enter, and improving cleaning routines or frequencies, Ms Boopal said.

NParks' Dr Loo said food made available by humans was a key driver of crow population growth.
"The public can help to mitigate population growth and associated disamenities by not feeding birds and disposing of food scraps properly," he said.
NParks works with the National Environment Agency, Singapore Food Agency, and town councils to take enforcement action against littering and illegal bird feeding and to encourage proper food waste management at food outlets.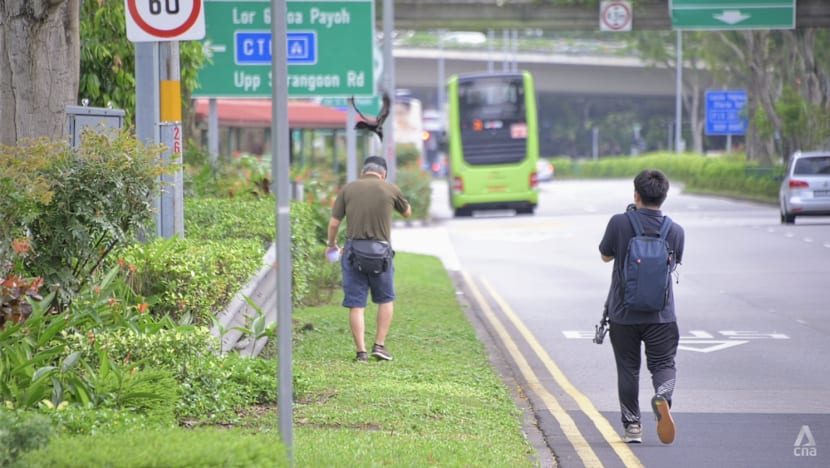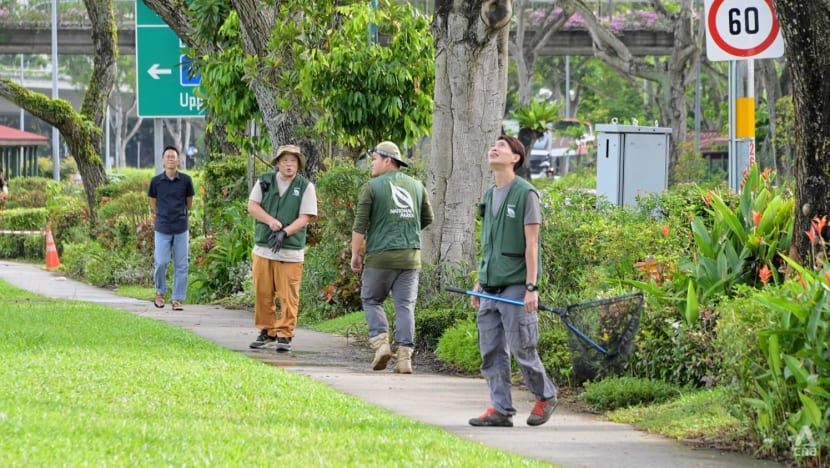 It's not easy to trap crows, which are smart, said the Nature Society's Mr Tan. 
"They can sense danger quickly and they will escape. Even traps, once they see their fellow crows getting inside the trap and (being unable) to come out, the others from outside will learn quickly that that's not a place to go," he said. 
Mr Tan said pedestrians should avoid areas where crows are creating a commotion. 
If you are the subject of a crow attack, use anything handy, such as a file folder, to shield your head, he advised.
"If you don't have anything, when you see the bird coming to you, just wave them away. Quickly leave the area."
Ms Boopal suggested wearing a hat and using an umbrella, or temporarily avoiding a path where a fledging crow has been sighted.
Additional reporting by Chew Hui Min.