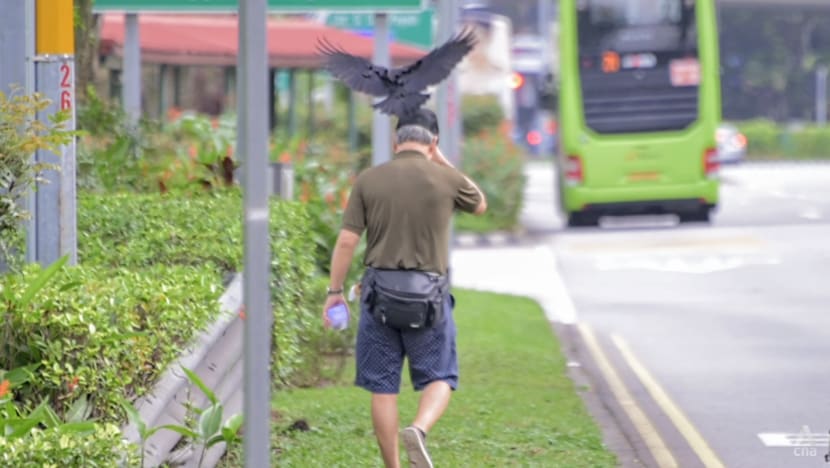 SINGAPORE: Authorities are taking steps to reduce the crow population around Bishan Street 12 after several people were attacked by the birds there, the National Parks Board (NParks) said on Wednesday (Feb 15).
According to a Shin Min Daily News report on Tuesday, about 10 people were attacked on a pathway in the area within about 20 minutes on Monday.
In about 90 minutes on Wednesday, CNA saw a pair of crows attack four people in the area.
In response to CNA queries, NParks said that it has been monitoring the area around Block 110 Bishan Street 12 for crow nests since Feb 7.
"We are working with Bishan-Toa Payoh Town Council to remove nests, prune nearby trees and conduct crow trapping, and will continue to do so," said Dr Adrian Loo, group director of wildlife management at NParks.
The authority also conducts crow nest surveys monthly across the estate and works with organisations, such as town councils, to remove these nests on a regular basis.
"The public can help to mitigate population growth and congregation issues by not feeding birds and disposing of food scraps properly," Dr Loo added.
When CNA visited the area at about 4.30pm on Wednesday, a section of the pathway along Bishan Road was closed temporarily by Bishan-Toa Payoh Town Council staff members.
The pathway remained closed for about an hour, and people were seen using it normally at about 5.50pm.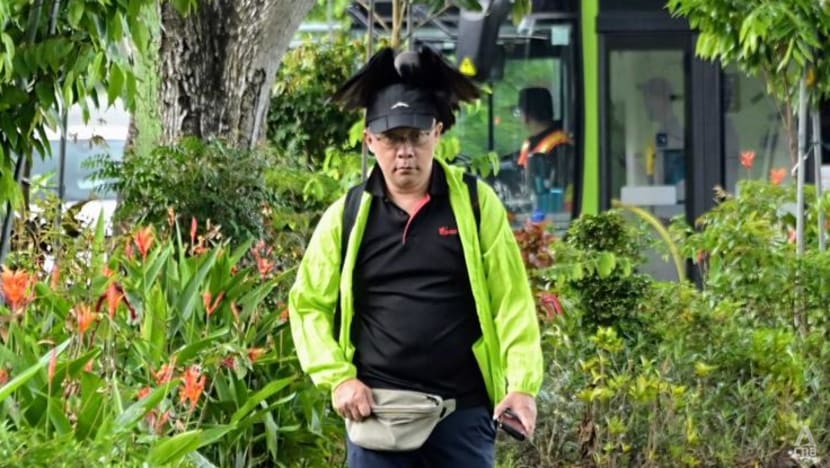 In addition to the two crows which were attacking people, a third crow that was injured was seen on the path. It appeared to be limping and had difficulty flying.
Several NParks officers were seen in the area with trapping equipment, and one officer eventually managed to trap the injured crow.
One of the officers said that the bird would be moved elsewhere.
No other attacks were seen after the trapping, although the remaining two crows continued to fly over the path and caw at passers-by.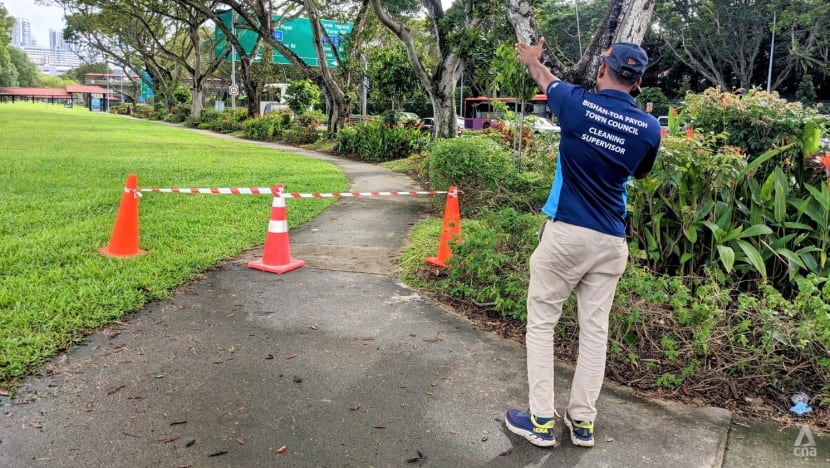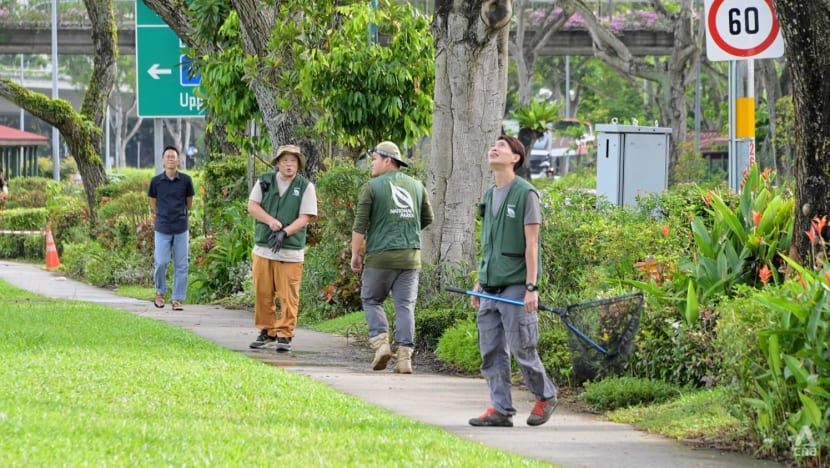 One person who was attacked by the crows was Mr Cheng Kok Siong, who was walking from shopping mall Junction 8 to his home in Toa Payoh North along the path.
A crow was seen diving down from a tree branch above Mr Cheng and pecking at his black jockey cap.
"I was walking back home from Bishan Junction 8 to Toa Payoh, suddenly I felt a bird attacking me," Mr Cheng told CNA.
"I continued walking since the bird didn't continue attacking me," he added.
Mr Cheng said that he normally walks down the same path between 3pm and 4pm, and that this was the first time he had been attacked.
"My concern is once in a while my kid would cycle this way or walk this way. Next time I would not walk this path," he said.
He added that he might take the path which goes past Guangyang Primary School instead along Bishan Street 12.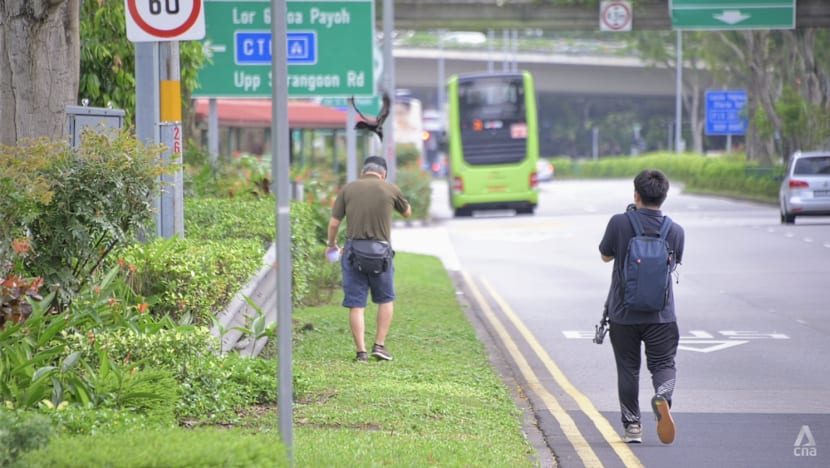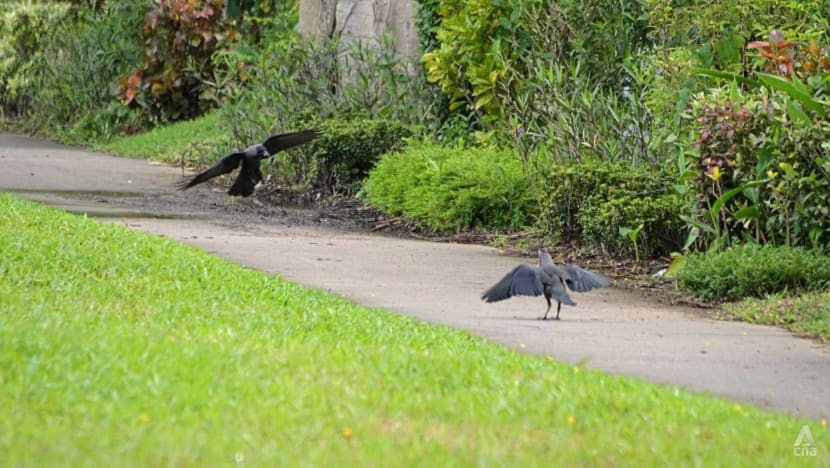 INVASIVE SPECIES
House crows, known by the scientific name Corvus splendens, are not native to Singapore and are an invasive species that poses a threat to local biodiversity, Dr Loo said.
They are particularly protective of their young – fledglings and chicks – and may attack when they sense that their young are threatened, he added.
Dr Loo said that the management of invasive bird species "requires a holistic and science-based approach, incorporating the removal of food sources, habitat modification, population control strategies such as nest removal and crow trapping, and studies to understand the population ecology of the birds such as their roosting patterns and movements".
"To ensure that population control is carried out in a humane and safe manner and does not result in animal cruelty, the NParks benchmarks against internationally accepted and science-based standards when choosing suitable depopulation methods," he said.
NParks traps and puts down crows to manage the population, he added.
You may also be interested in: