Cyclists welcome move to pilot on-road cycling lane in Seletar
The six-month trial for the new dedicated Sunday Cycling Lane along West Camp Road will start from Oct 16.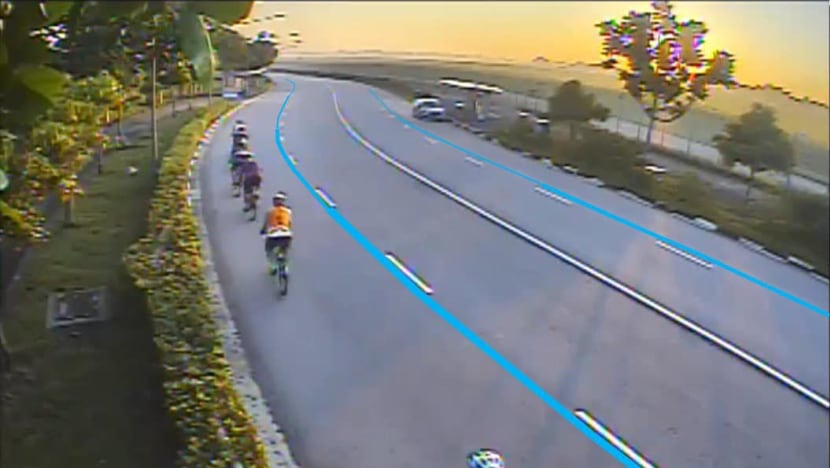 SINGAPORE: Cyclists in Singapore welcomed the move by the Land Transport Authority (LTA) to trial a new dedicated cycling lane in Seletar that would allow them to cycle on the road on Sunday mornings starting from mid-October.
LTA announced on Wednesday (Aug 31) that it would be trialling the new Sunday Cycling Lane along West Camp Road in Seletar for six months from Oct 16. The dedicated lane will be demarcated by solid blue lines and can only be used by buses and cyclists on Sundays from 5am to 11am.
Several cyclists CNA spoke to on Thursday welcomed the move and said that the area is a popular spot for those who cycle. 
Co-founder of recreational cycling group Love Cycling SG Woon Taiwoon said the new dedicated lane will serve to help new riders as the environment along West Camp Road is "actually quite safe". 
"I think Singapore is at this inflection point where cycling is getting popular," said Mr Woon, adding that more people started recreational riding during the COVID-19 pandemic. 
The 48-year-old product design manager added that the pilot will probably raise more awareness about the area, and that it is a "good spot to come and ride". 
However, Mr Woon wanted to know how the dedicated cycling lane will be enforced. He added that it could potentially make things very complicated because "there is a very limited window - 5am to 11am".
"So I think there may potentially be some issues that will invariably happen," he said, adding there may be tensions between cyclists and drivers.
"LITTLE TRAFFIC" IN THE AREA
Adrian Yeo, leader of recreational cycling group BPR Cycling Club, said one reason West Camp Road is a good place to cycle is that there is "little traffic", as it only serves the aerospace companies in the area. 
"(It has) a very nice U-shape, I call it the horseshoe. It's a 9km loop that cyclists can do," said Mr Yeo, who cycles at Seletar Aerospace and Tanah Merah Coast Road with his group. 
The area also has a lot of buildings, so cyclists don't get a lot of crosswinds, which allow them to maintain a consistent speed, said Mr Yeo, who is a regional marketing director. 
"I think at the moment, (traffic) is pretty good. The only thing you have are buses, but the buses are not that frequent. So far, you only have cyclists over there, that's all I can see." 
Another cyclist, Clarence Lee, said the road is "good training ground" where there are certain spots that allow cyclists to sprint "really really fast" and other spots which allow them to recover. 
"You can't really get that in regular roads along Singapore," said the 45-year-old business owner. 
However, while it is good that cyclists have a safe road to cycle on, another cyclist, Anthony Yeo, said that it may be dangerous if the lane is packed with cyclists. 
Mr Yeo, 40, said many cyclists frequent West Camp Road at night to "ride a few loops" or do their training.
Mr Lee added that many people also cycle at Seletar on weekday nights, not just on Sundays, and the area is basically like a "cyclist's haven" after 8.30pm. 
"I think it would be great if we could extend the trial to include weekday nights as well because the place is deserted anyway. What about Saturdays, and actually the whole of Sunday?
"There aren't any cars there, so why is it only like 5am to 11?"
Mr Lee also said that some cyclists feel the dedicated cycling lane is "just like another bus lane", as buses are still allowed to use the lane. 
"SAFER RIDING ENVIRONMENT"
President of the Singapore Cycling Federation Hing Siong Chen said the dedicated bike lane will provide "a safer riding environment for both beginners and experienced riders and can also cater to families who cycle together". 
"We are seeing more and more recreational and sport cyclist in the past two years since COVID-19 started," said Dr Hing, who is a family physician with Healthway Medical. 
The trial for the new cycling lane was earlier announced in Parliament in March by Senior Parliamentary Secretary for Transport Baey Yam Keng. 
In a Facebook post on Wednesday, Mr Baey said the on-road cycling lane along West Camp Road will allow cyclists to cycle in larger groups, and "allowing them more safety and security while cycling". 
"Hopefully, this would help newer on-road cyclists gain confidence and allow room for practising to cycle to the far left of the road when cycling elsewhere," said Mr Baey.