Daiso to open new stores in Singapore amid 'stable future'; wants products to be 'not just something cheap'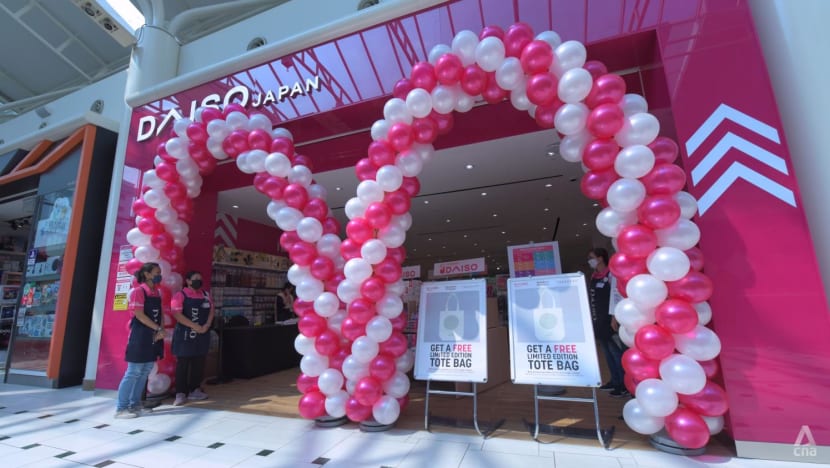 SINGAPORE: Japanese retail chain Daiso is expanding its presence in Singapore with three more stores over the coming months, as it sees a "very stable future" here with growth opportunities.
One of these new outlets include a sprawling flagship store at Jurong Point shopping mall that officially opens on Wednesday (May 25). Spanning nearly 15,000 sq ft, the store houses three brands under one roof, making it the first such concept store outside Japan.
Apart from affordable household and daily necessities under the well-known Daiso brand, the Jurong Point store also features the company's two other brands – Standard Products, which describes itself as having an environmental focus and is making its debut in Singapore, and a newly-rebranded women's line Threeppy.
Meanwhile, another two Daiso stores are in the pipeline – one will open at NEX shopping mall in Serangoon next month while another will be ready in the Ang Mo Kio area by September.
These additions are part of a global expansion strategy and also as the Japanese retailer sees a "very stable future for Singapore with a lot of growth", said the president of parent company Daiso Industries Seiji Yano at a media preview of the Jurong Point store on Monday.
When asked by CNA to elaborate on the growth areas that it sees, Mr Jun Tomioka, director of Daiso Singapore, said: "At present, we only have 40 stores so we really feel there's a huge potential for us to expand."
The firm also reckons that the new brands it is introducing in Singapore will cater to different market needs, thereby giving sales a lift. 
Its recent change in pricing also means "a difference in revenue", Mr Tomioka said through a translator at a press conference.
PRICE CHANGE NOT AN EASY DECISION
Daiso, a budget retailer known for its S$2 items, announced in April that it would be rolling out a new 15-tier pricing system due to rising raw material and logistics costs.
Since May 1, prices of its products in Singapore, both in stores and online, now range from S$2.14 to S$25.47.
Mr Tomioka reiterated that the decision to raise prices was not an easy one to make. While the firm has seen "ups and downs" in terms of costs across supply chains since it first entered Singapore 20 years ago, recent global developments such as the COVID-19 pandemic have left it with "no choice" but to move away from its flat rate of S$2.
Container freight rates, for one, have shot up by 200 per cent over the past two years.
"It's not just us," said Mr Tomioka, adding that all discount retailers are facing a "cut-throat" situation amid rising costs.
Asked about sales performance and footfall at its stores since the price adjustment, the director replied that customers have been understanding and the impact has been minimal.
Pointing to the long queues at its stores prior to the price hike, Mr Tomioka noted that customers have stocked up on their favourite products and are likely "not in a hurry to buy more for now".
"So far so good," he said. "We will wait for more customers to come back."
Still, the retailer recognises that price increases can not be the only way out and already has measures to cope with the challenge of rising costs.
Operations wise, it has rolled out self-checkout counters at the new Jurong Point store in a move to cut down on staff needed to man its cashiers. It plans to have more of such self-checkout counters at other stores across Singapore to save on operation costs, said Mr Tomioka.
Daiso is also "being more conscientious" with the packing process of its shipments so as to maximise the number of items it can pack in each container, while mulling how to be more cost-efficient across other parts of its supply chain by "looking for better opportunities" be it in raw materials or other supplies.
Meanwhile, being a global company gives it a "stronger" buying power and the advantage of economies of scale as compared to other discount retailers, Mr Tomioka said.
"With that, I believe we can continue to create innovative products for our new brands."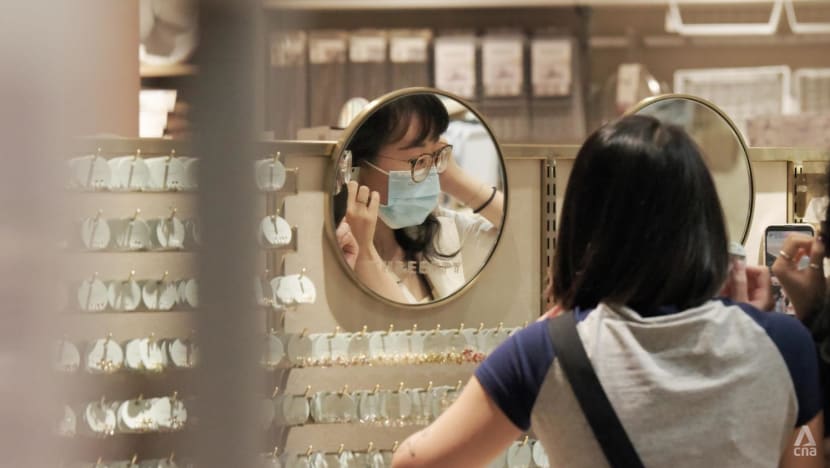 "NOT JUST SOMETHING CHEAP"
This variety of products offered under its different brands is a "very strong" factor that sets Daiso apart from other retailers, noted Mr Tomioka.
He cited the new Standard Products line, which continues to offer "reasonably-priced" everyday products that the retailer is known for but with a more elegant design and better quality. The new brand, with a focus on being environmentally friendly, also provides "extra value" for consumers.
Daiso intends to have the new brands available at more locations in Singapore.
"We are seeking opportunities to open more Standard Product and Threeppy (stores) and we are striving to open as soon as possible," said Mr Tomioka.
That said, products under these two new brands are priced higher than those under the familiar Daiso line. Also taking a tiered pricing strategy, a majority, or 70 per cent, of Standard Products and Threeppy items will start from 300 yen, or S$6.21.
Asked if the introduction of higher-priced brands means that Daiso is moving away from its household image of a discount store, Mr Tomioka replied: "Our products are still reasonably-priced but at the same time, we have products that have sustainability in mind. So it's not just something cheap, but it also has an extra value."
"The decision to raise prices was not an easy decision for us," he said.
"Now that we are doing that, we will come up with a lot more interesting, creative new products. Also, we know that Daiso products have been daily household items so we want to focus on (giving our customers) better quality."