DBS digital banking services disrupted for second day, bank says doing its best to resolve situation
SINGAPORE: DBS Bank on Wednesday (Nov 24) said an issue with its digital banking services has "recurred", as some customers continued to report problems accessing services.
The disruption of DBS and POSB digital banking services started on Tuesday morning.
"Services were restored early this morning. Unfortunately yesterday's digital banking issue has recurred and this has affected our services," the bank said in an update on its official Facebook page at about 11am on Wednesday.
"We know this has affected many of our customers, and we are doing our best to resolve the situation. We apologise for the inconvenience caused," it added.
DBS Singapore country head Shee Tse Koon also apologised in a video on the bank's website and various social media pages. 
He said the bank identified a problem with its access control servers on Tuesday and has been working "round the clock" with third-party engineering providers to fix the issue.
While the situation on Wednesday is "less severe", many customers are still unable to access digital banking services and the bank is working to resolve matters, he said in a video posted on Facebook at about 3.30pm.
"In the meantime, I want to assure you that your deposits and monies are safe," Mr Shee said, adding that customers can access banking services at DBS branches or through phone banking.
DBS has extended banking services at all its branches by two hours to facilitate this, he added.
In an update at 10.35pm on Wednesday, the bank said in a Facebook post that its digital banking services are "returning to normal".
"We are monitoring the situation closely to ensure all services run smoothly," it added.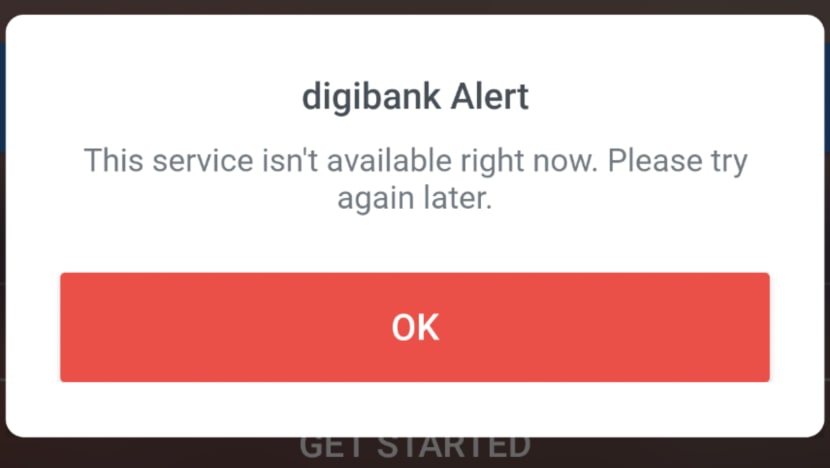 Earlier on Wednesday, DBS said in a Facebook update that "all of our digital banking services have been restored as of 2am today".
"Once again, we acknowledge the severity of the situation and apologise for the inconvenience caused," added the bank.
However, people commenting on DBS' Facebook update and tracking website Downdetector.sg said that they were still not able to access digital banking services on Wednesday morning.
Checks by CNA showed that there were issues logging into DBS digital banking services on mobile and laptop, with an error notification saying that services were unavailable.
Downdetector showed that reports of outages on DBS dropped at around 2am, but started rising again at about 6am on Wednesday.
DISRUPTION NOT LINKED TO MYANMAR BONDS
On Twitter, DBS also denied what it described as "rumours" that the service disruption was linked to the sale of treasury bonds by Myanmar's National Unity Government (NUG).
"There is no truth to this. DBS has not sold any such bonds," the bank tweeted at about 3.30pm.
The NUG is an alliance of pro-democracy groups, ethnic minority armies and remnants of Myanmar's ousted civilian government formed after the military coup in February.
The shadow government said it raised US$6.3 million on Monday, the first day that the bonds to fund its resistance movement went on sale.
A post made on the official Facebook page of the NUG-appointed Ministry of International Cooperation on Tuesday claimed that DBS' and POSB's digital banking disruption was due to a high volume of bank transfers linked to the sale of the bonds.
CNA has sought further information from DBS on the cause of the problem and what is being done to prevent it recurring.