Death of NSF Dave Lee: MINDEF to prosecute those responsible for lapses in military court if no criminal charges filed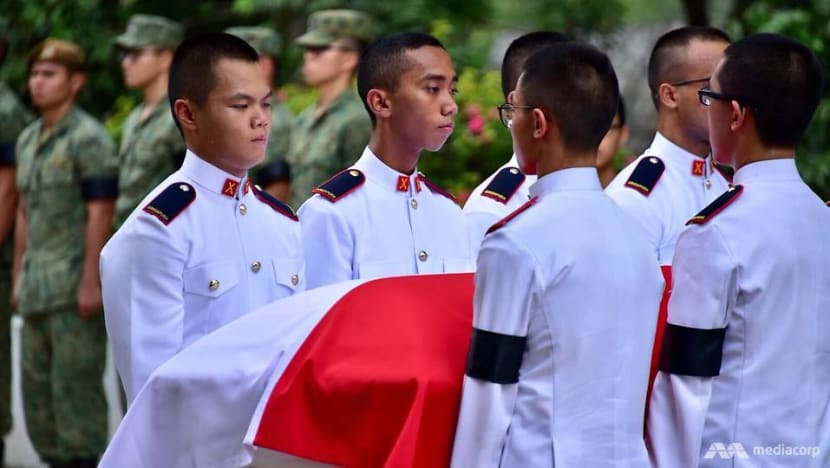 SINGAPORE: Singapore's Ministry of Defence (MINDEF) will prosecute those responsible for lapses leading to the death of full-time national serviceman Dave Lee in military court if no criminal charges are filed, Defence Minister Ng Eng Hen told Parliament on Monday (Aug 6).
Dr Ng was delivering a ministerial statement on the findings and follow-up actions following the death of Corporal First Class (CFC) Lee, a Guardsman, who died on Apr 30 nearly two weeks after displaying signs of heat injury following a fast march at Bedok Camp.
In his statement Dr Ng said: "MINDEF will await the outcome of the police investigations and Coroner's Inquiry, as well as the Attorney-General's Chambers' decision whether to prosecute any person in the criminal courts.
"If no criminal charges are filed, MINDEF will prosecute persons responsible for lapses in this incident in our military court," he added.
Dr Ng also stressed that the relevant persons in this incident "have been removed from command".
Dr Ng did not specify the names or designations of these people involved as under the Singapore Armed Forces Act, the Committee Of Inquiry (COI) is structured primarily to investigate and determine facts related to the incident and to identify causation, lapses and systemic problems which resulted in the incident.
"The COI does not deal with culpability of individuals. Specifically, to encourage disclosure and cooperation by all involved in the incident, section 8C of the SAF Act provides that no statements made to the COI shall be admissible as evidence in the court martial or for disciplinary proceedings," he said.  
According to Dr Ng, the COI's preliminary assessment of CFC Lee's death concluded that the likely reasons for him succumbing to heat stroke were inadequate on-site casualty management and delayed evacuation to the medical centre.
"Though trained, they had never encountered any previous case of heat injury themselves. There were several suggestions for CFC Lee to be evacuated, but these calls were either not heard or not heeded," he added. 
According to Dr Ng, the External Review Panel on SAF Safety flagged three areas for further emphasis based on the COI's findings.
"First, the need to strengthen commanders' knowledge on heat injuries and improve their decision-making processes. Second, for medics to be able to exercise their professional authority when dealing with medical issues. This includes being able to communicate effectively with commanders who are much more senior than them.  
"Third, for commanders to watch out for soldiers who are feeling unwell or are unable to cope and proactively pull them out of training before they get injured," Dr Ng said. 
The COI will submit its final report after police investigations are complete and the coroner's inquiry.