From new wellness spots to improved accessibility: The plan to turn Dempsey into a green lifestyle destination
The Singapore Land Authority is looking out for more innovative concepts to draw crowds.
SINGAPORE: Dempsey is set to offer more than just high-profile restaurants and gourmet grocers, with plans to turn the former military barracks into a lifestyle and green living destination.
More tenders for vacant units are expected to be called over the next few months. 
Beyond retail and food and beverage businesses, the Singapore Land Authority (SLA) hopes to bring in wellness and sports concepts into the area. 
In particular, it will be looking out for more innovative concepts, including sustainability initiatives, in the new tender proposals.
Ms Carrie Wong, deputy director of Business Planning and Development at SLA, said: "As the COVID-19 situation stabilises, we are hoping that the market conditions have recovered, and we are looking forward to receiving more tender proposals."
The aim is to introduce a greater mix of businesses and activities, and draw in even bigger crowds.
MIX OF BUSINESSES
Over the years, Dempsey has been transformed into an area with diverse offerings, said Ms Wong. "We are looking at how we can further enhance it by introducing broader uses, such as local and international cuisine, wellness and artisan craft."
Tenants interviewed said they are excited by the plans for the location. 
Huber's Butchery, which has been at Dempsey for nearly a decade, is set to stay put for another nine years. It recently won the tender for the highly coveted space at 22 Dempsey Road. 
The company is looking to refresh its space. 
The possible changes include improving its herb and vegetable garden, expanding the children's playground, putting in solar panels, bringing in a food digesting machine and installing electric vehicle fast-charging lots, said Huber's executive director Andre Huber. 
"We also have a recycling station which is open to all tenants in Dempsey to use, so they can bring their recyclables," he added.
 "We will have our own recycling bins here to encourage customers to use them and have this recycling culture."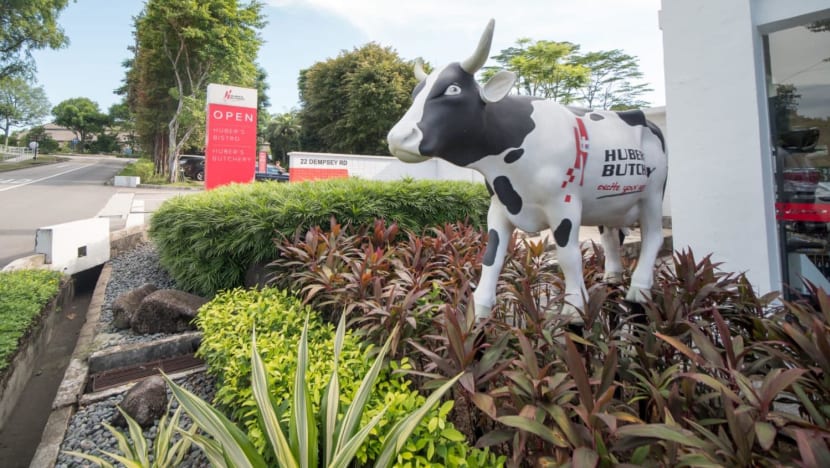 LIFESTYLE DESTINATION
Mr Huber hopes that the various agencies can continue to promote Dempsey "as a nice lifestyle destination for people to come with their families, and even for tourists to experience the best of Singapore".
Huber's Butchery is one of six tenants awarded tenders at Dempsey in the past two years. The other five are first-time tenants there.
One of the tenants, Singapore's first gin distillery Tanglin Gin, said it would like greater accessibility to the area. 
"Dempsey is definitely a destination, and that's why I think it also works. People see it as something that they look forward to going to experience," said its general manager Bradley Young. 
"So hopefully within the next year, we can have a bit more ease of people's footfall to get up to this area."