Sticking to current dine-in cap of two people 'much simpler and easier' due to logistical challenges: Coffee shop operators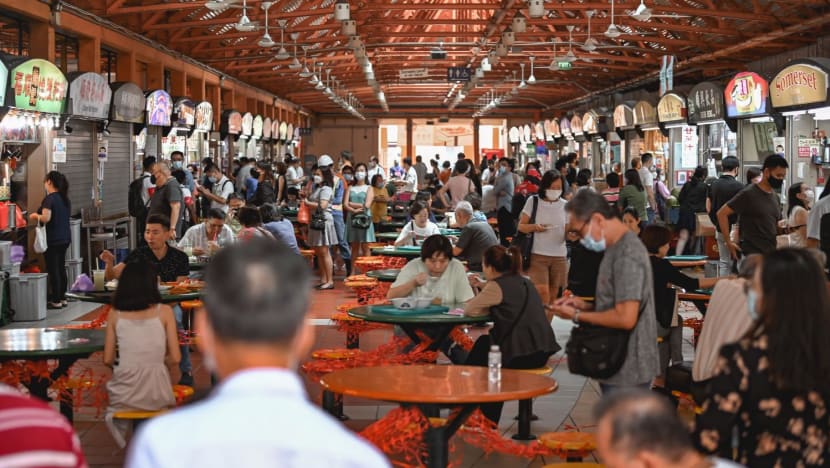 SINGAPORE: Some coffee shop operators have lamented the logistical challenges in ensuring groups of up to five who dine in come from the same household. 
The Ministry of Health (MOH) had on Monday (Nov 15) announced that vaccinated members of the same household will soon be able to dine together in groups of up to five at some hawker centres and coffee shops.
But coffee shop operators whom CNA spoke to said they would rather stick to dine-in groups of up to two individuals at the moment.
The first group of hawker centres is expected to put in place access control and checking systems before the end of November, said MOH, and the remaining hawker centres "should then be able to follow soon after". 
It added that the National Environment Agency has been engaging hawkers' associations and town councils. For coffee shops, the Singapore Food Agency has similarly been engaging the operators.
"VERY COSTLY" RISK
It is "very hard" to see five members from the same household dine in on weekdays, said Kenneth Lee, vice-chairman of Kheng Keow Coffee Merchants Restaurant and Bar Owners Association. 
Hence, he doesn't think it is "suitable" for coffee shops to conduct spot checks to ensure members come from the same household, because the coffee shop would need to spend money on manpower to manage their entrances. 
"This manpower will cost you money. For outdoor refreshment areas ... let's say one person in charge (for one shift). In one day, you need two people. Let's say one person costs S$1,500 (to hire), two people will cost S$3,000. This money from where? Of course it will come from consumer sooner or later, if this thing goes on," Mr Lee told CNA. 
"For my coffee shop, I don't think I will do it. It's very costly. But I will advise my Kheng Keow members if they want to do it, go ahead, because they are the ones to pay for it, not the association."
Mr Lee, who operates Hai Fong Coffeeshop, added that the current dining rule for only two vaccinated people is "more convenient", "much simpler and easier". 
Should customers flout the rules, he pointed out that the penalty would be "very serious", so it's "not worth" opening up his coffee shop to groups of up to five individuals for now. 
Similarly, Hong Poh Hin, vice-chairman of Foochow Coffee Restaurant & Bar Merchants Association, said coffee shop operators are responsible for ensuring all five individuals dining together are from the same household. 
"If you miss out (in checking), besides penalising the customer, they will penalise the operator also. You may be suspended for maybe 10 days. This operator normally will feel that this (penalty) is too heavy, but this is a risk operators have to (gauge)," he said. 
Businesses have to weigh the expenses incurred to hire staff to check vaccination statuses and household addresses against their profit margin, added Mr Hong. 
"The sales most probably would increase by 10, 20 per cent only. Because there are very few people from the same family dine in together on weekdays, only weekends," he said.
"So for these two days' benefit, you take up the five days' risk. Is it worth it?"
Mr Lee believes that if the Government were to allow groups of five vaccinated individuals to dine in together, even if they are from different households, that would help businesses more. 
"Right now, the impact is on (stalls selling) seafood. Their business really dropped. Because you expect two people to order how much food? At most three dishes. Of course, the business for other stalls in the coffee shop will also drop, but I don't think this rule will help much, because (the five individuals need to come from the) same family. Very difficult."
A spokesperson for Kopitiam and Foodfare also told CNA over email that individuals would still only be able to eat out in groups of up to two at their outlets.
"We will maintain the current two-pax vaccinated dine-in restriction for all our coffee shops at this moment. ... We will only consider opening up to five, if we are able to ensure the required measures can be effectively enforced, (such as that) the five vaccinated individuals come from the same household." 
IMPLEMENTATION METHODS  
But the new measures could work for smaller coffee shops without outdoor refreshment areas, added Mr Hong.
He also suggested that perhaps hawker centres and coffee shops don't have to check at the entrance whether individuals in groups live in the same household. After all, they may split up to sit at two to three tables once inside the hawker centre or coffee shop. 
"Only when there is a table of three or more of them sitting down together, then you can (send staff to) check whether they're from the same household). Faster," he said. 
On the other hand, the announcement was welcomed by The Federation Of Merchants' Associations Singapore, even though chairman of the hawker division, Anthony Low, expressed similar concerns about the ease of checking individuals' addresses. 
To make things easier, Mr Low said hawker centres can assist customers by placing banners in visible locations to inform them of the latest measures.
Enforcement officers from the National Environment Agency (NEA) would also have to play a part in conducting random checks.
MOH announced on Monday that household members dining together can use the MyICA and SGWorkPass apps as proof of residence, as well as the NRIC and SingPass app. 
"We need to have some coordination between the hawkers' associations, town councils, NEA and the enforcement officer at the entrance," said Mr Low.
"Maybe we can put a sticker to indicate people are from the same household. So if you already have a sticker, we don't need to spot check you. But if you don't have a sticker at all, then we will come and (question) you."