Disney film Lightyear, with 'overt homosexual depictions', to be released with NC16 rating: IMDA
This is the first children's animated film to be given an NC16 rating in Singapore over LGBTQ content.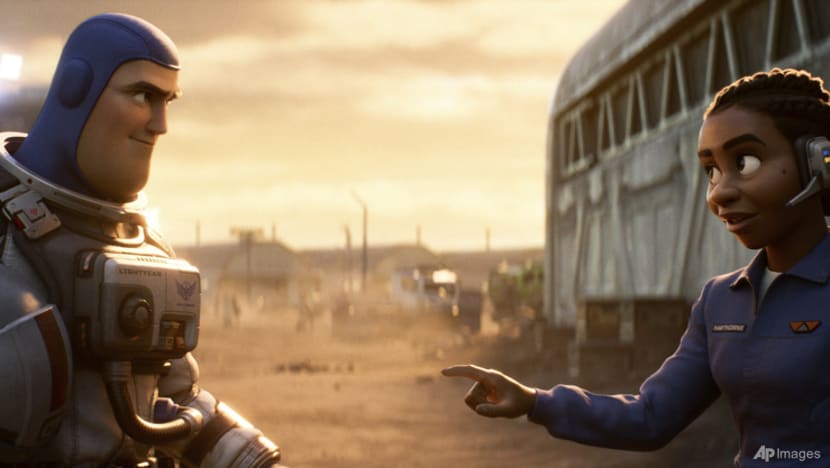 SINGAPORE: Disney animated film Lightyear, which features a same-sex couple, will be released in Singapore with an NC16 rating for its "overt homosexual depictions", said the Infocomm Media Development Authority (IMDA) on Tuesday (Jun 14).
The media regulator added that Disney, the film's distributor, had turned down the option of releasing two versions of the movie under a dual-rating system that would have allowed a younger audience to watch a lower-rated version.
Lightyear, which will be released in Singapore on Thursday, is a spin-off from the children's film franchise Toy Story. 
It is the first children's animated film to be given an NC16 rating in Singapore over LGBTQ content.
"Lightyear is the first commercial children's animation to feature overt homosexual depictions," said IMDA, adding that the film contains "some depictions of a female lead character and her partner starting a family and going through different milestones of their lives". They are also seen sharing a kiss.
"As this warrants a higher rating, IMDA requested that the distributor consider a dual rating release, under our Simultaneous Rating Release mechanism."
This mechanism has been in place since 2003, allowing distributors to release different versions of the same film to "cater to different market segments", said IMDA.
"The aim is to provide consumers with choice, in terms of which version they want to watch, and open Lightyear to a younger audience." 
However, Disney turned down the option, it said.
Reuters reported on Tuesday that the movie will not be shown in 14 Middle Eastern and Asian countries, and appeared unlikely to open in China. A Lightyear producer said that authorities in China had asked for cuts to the film, which Disney declined to make.
DECIDING ON THE RATING
In Singapore, IMDA said that the NC16 rating for the animated movie was decided based on its film classification guidelines, and one key principle was that the guidelines should be "sensitive to social norms and values that are generally acceptable to members of the public".
It added that it had considered the views of advisory committees, including the views of parents with younger children.
IMDA noted that the chairperson of its Films Consultative Panel, Ms Cheryl Ng, said the NC16 rating was "appropriate".
"While it is an excellent animated film set in the US context, Singapore is a diverse society where we have multiple sensibilities and viewpoints," said Ms Ng.
"This being a children's cartoon, a significant number of (panel) members felt that the overt depiction of same-gender marriage would warrant a higher rating."
Ms Ng added that even among members who were willing to consider giving it a lower rating, some were "uncomfortable" that this meant it could be shown unedited to a broad-based audience on free-to-air TV. 
Films that have been released under IMDA's dual-rating system include 2019's Hellboy.
The film was classified M18 for its strong depictions of violence, but the distributor decided to also release a PG13 version to cater to the franchise's younger fans, said IMDA.