Her husband beat her and kicked her out. With the help of a volunteer lawyer, she reclaimed her life
A pro bono scheme for family justice fills the gaps for foreign spouses and "sandwich" class locals who need legal assistance.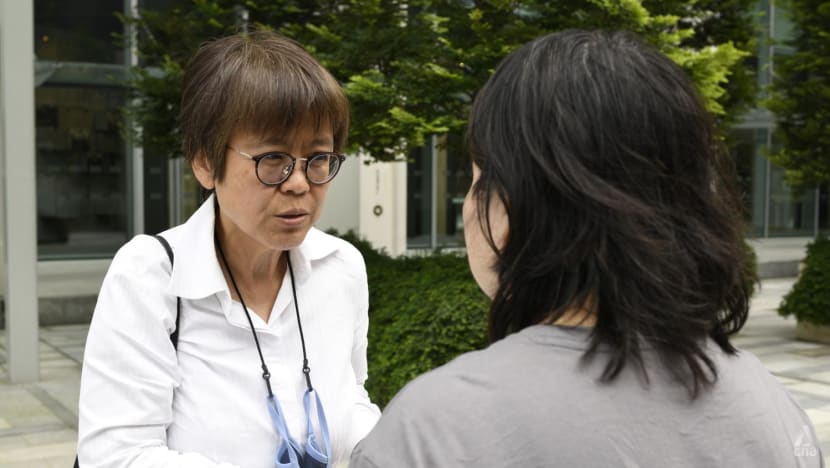 SINGAPORE: When Madam Lai Kah Yen's husband locked her out of their marital home in 2020, she found herself separated from their then nine-year-old daughter and with no place to live.
In her near-decade of marriage, Mdm Lai was the main breadwinner of her family, working in a factory while her husband occasionally took up part-time jobs.
The Malaysian citizen, now 44, met her Singaporean husband online. She used to commute across the Causeway for work daily, but settled in Singapore when her daughter entered childcare.
Her husband was a chronic gambler and drinker who squandered much of her earnings, at times taking funds that had been set aside to pay for their public rental flat and insurance premiums.
Their verbal arguments over this escalated to physical violence. On one occasion, when Mdm Lai's husband was beating her at home, their daughter joined in and kicked her at his urging.
"'See how I hit your mother, this kind of woman, this kind of hen that won't lay an egg,'" Mdm Lai said in Mandarin, recalling what her husband used to say after she refused to bear him another child.
Divorce had never crossed her mind before. "Because I come from a single-parent family, I know what it's like for a child who doesn't have both parents. I experienced it since I was young. So I tolerated him," she told CNA in February.
But after being kicked out of her own home, Mdm Lai accepted her social worker's help to apply for the Family Justice Support Scheme, starting the process of ending her marriage.
CLOSING THE GAPS
Domestic violence, divorce and custody battles are difficult enough on their own, but for some, the situation can be made even more stressful by a lack of access to legal representation.
Before December 2020, when the Family Justice Support Scheme started its pilot phase, a foreign spouse like Mdm Lai would not have had access to legal assistance.
As a long-term visit pass-holder, she does not qualify for pro bono help from the Legal Aid Bureau, which is for Singaporeans and permanent residents who qualify under a means test.
The support scheme was set up to close that gap for foreign spouses with Singaporean children.
These applicants must not earn a monthly per capita household income above S$950 (US$708) or live in a residence with an annual value above S$13,000. Their savings and investments should also not exceed S$10,000.
The scheme also offers lower legal fees for Singaporeans and permanent residents who fall into a "sandwich" class with a higher income cut-off – a monthly per capita household income of up to S$1,400, residence with an annual value up to S$21,000, and savings and investments up to S$12,000.
Run by Pro Bono SG, the charitable arm of the Law Society, the Family Justice Support Scheme was officially launched last October. Since the pilot phase, there have been about 130 applications and enquiries from foreign spouses, and 400 from Singaporeans and permanent residents.
About half of these foreign spouses and a quarter of these locals in the "sandwich" class eventually received help under the scheme, said Pro Bono SG.
The majority are women, with females making up 94 per cent of foreign spouses and 60 per cent of locals who successfully apply.
FOREIGN SPOUSES PARTICULARLY VULNERABLE
Foreign spouses with low income have few options for legal representation and may face difficulties navigating the legal system due to language barriers, said Ms Corinna Lim, executive director of the Association of Women for Action and Research (AWARE).
She pointed to a 2019 study published by the Singapore Academy of Law, which found that divorces between Singaporean men and non-resident wives usually went uncontested.
This affects legal outcomes, as the difference in bargaining power impacts the ability of the non-resident wives to obtain custody and care and control of their children, she said.
Care and control orders are usually made in favour of the male Singaporean parent. This can impact the ability of the non-resident mother to remain in Singapore, resulting in her being separated from her children, said Ms Lim.
AWARE's helpline received calls from at least 137 foreign wives between 2016 and 2018, with the top five issues being divorce, family violence, children's custody, uncertainty over their right to remain in Singapore and housing.
Foreign spouses are particularly vulnerable to family violence as they are largely dependent on their citizen spouses for their right to remain in Singapore.
Although the Immigration and Checkpoints Authority has said that foreign spouses' long-term visit passes cannot be unilaterally cancelled, many of them remain unaware of this, said Ms Lim.
"Their citizen spouses continue to use this threat as a means of inflicting psychological abuse and preventing migrant spouses from seeking help or reporting them to the police," she added.
"THE LAW PROTECTED ME"
The night Mdm Lai's husband locked her out was just before she was due to renew her passport. When he would not allow her inside to get her belongings, she was terrified of being stranded in Singapore with an expired passport.
Police eventually got involved in the domestic dispute and helped her collect her passport and belongings. After spending the night at a backpacker hostel, she went to a family service centre at the encouragement of the police.
With her limited means and immigration status, Mdm Lai had difficulties finding housing. She staved off homelessness by staying with her older sister, a permanent resident working in Singapore.
Under the Family Justice Support Scheme, her case was eventually taken up by pro bono lawyer Tan Yew Cheng. Her divorce was finalised last June, with Mdm Lai winning care and control of her daughter and S$200 in monthly child maintenance from the girl's father.
She and her daughter, now 11, live together with her older sister in Singapore. Mdm Lai reflected that without legal assistance, she may have returned to Malaysia without her daughter, or even gone back to her tumultuous marriage.
The legal aid she received helped her, she said, "because we followed the law and it protected me in black and white".
Mdm Lai still clashes with her ex-husband over parenting, but life is a little more peaceful as she no longer worries about violence at home or money disappearing.
Her relationship with her daughter still has its ups and downs. She acknowledges that the girl's turbulent childhood has made her more mature than her peers as she had to grow up faster.
"The truth is that getting hurt a little is good. You can stand up again, and you can walk even farther this time," she said.