With Singaporean teen's help, e-scooters get new lease of life with needy families in Bali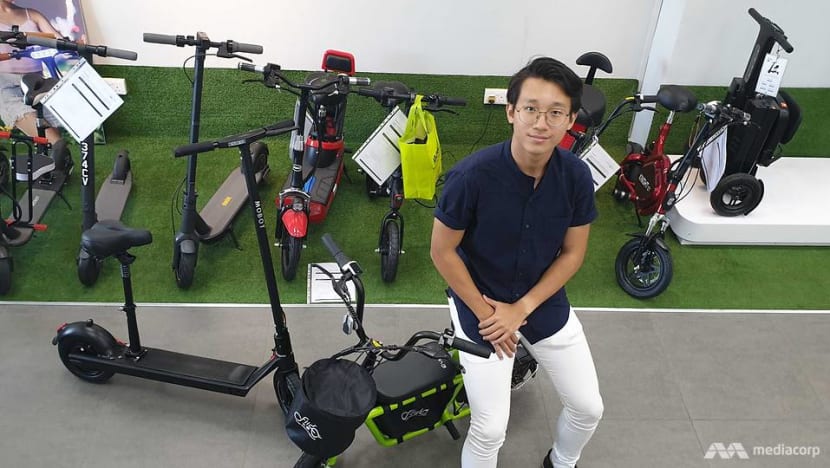 SINGAPORE: For children in the Tabanan regency of West Bali, going to school in the morning is often a journey of more than 3km.
With no buses or taxis to speak of, this commute is often undertaken on foot.
Some ride motorcycles to school – which is illegal as they are underaged, and also unsafe as they often ride without helmets.
Furthermore, a day's petrol for the motorbikes would cost between 10,000 and 20,000 rupiah (S$1 to S$2) – a whole day's wages for families in remote villages, where breadwinners often depend on ad hoc work to earn a living.
E-scooters, which run on electricity, provide a cheaper alternative, noted 19-year-old Ethan Wei.
Mr Wei is the co-founder of Walkers on Wheels, a non-profit organisation that hopes to ease the daily journeys of these needy children by providing them with their own personal mobility devices (PMDs).
The group draws inspiration from non-profit organisation Lesswalk, which made headlines in 2019 when it donated 10,000 unused, abandoned bicycles from failed bike-sharing startups ofo and oBike to needy families in Myanmar.
Singapore's ban on the use of e-scooters on footpaths left many users and retailers in Singapore high and dry, with some shop owners reporting they had thousands of PMDs that could no longer be sold.
Walkers on Wheels aimed to give them a second lease of life by shipping them to villages on the Indonesian islands of Bali and Lombok.
An e-scooter user himself, Mr Wei said the devices must meet the UL2272 fire-safety standard, as well as fulfil other conditions such as having a wheel size of more than 8.5 inches and mechanical brakes to make them safer to ride on unpaved roads.
"We are purchasing helmets for them and also we are ensuring that every scooter has tail lights and a headlight, and that they will not cause fires," he said.
Mr Wei visited Bali early last year to identify suitable organisations.
"I went to talk to the village chiefs and talked to the families myself, so I know these are families that are in need of help," he said.
The idea for Walkers on Wheels first came from Ms Gan Jin-Ni, the chief executive officer of the now-defunct e-scooter sharing firm Telepod.
Ms Gan – who knew Mr Wei from a TEDx talk she gave at his junior college in 2019 – had asked him to take charge of the efforts.
The group is working with other non-governmental organisations in Bali, such as SOS Children's Village and Saved by the School Bell, to distribute the e-scooters. 
With more experience working in the communities, these local groups are better placed to know who needs the e-scooters, said Mr Wei.
He is also working with Mr Jan-Hendrik Jurgens, the chief executive of Bali-based e-scooter company Skutis Corp, to identify other organisations that may need help.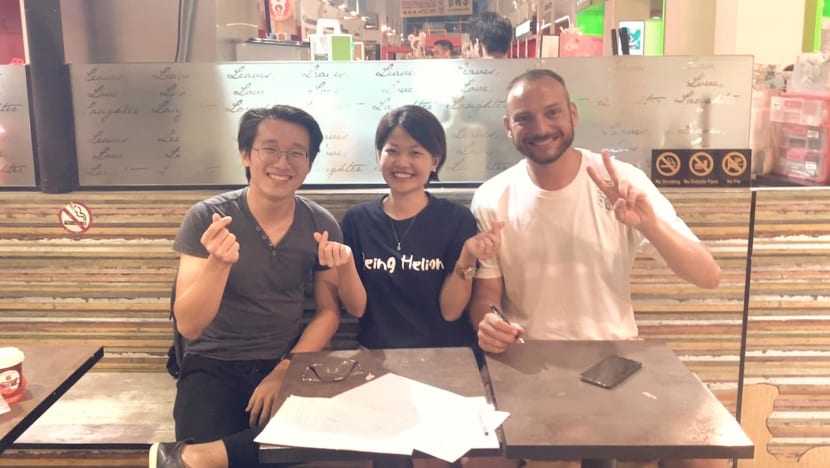 PLANS DERAILED BY PANDEMIC
Though Walkers on Wheels initially aimed to distribute as many as 1,000 e-scooters to beneficiaries in Bali, the COVID-19 outbreak put a damper on these plans. 
The shipping and distribution of e-scooters obtained from shops in Singapore were delayed amid travel restrictions and the closure of schools in Bali due to the pandemic, noted Mr Jurgens, speaking to CNA from Bali. 
However, plans picked up at the end of last year, when Mr Jurgens received a €10,000 (S$15,854) grant from a Dutch trust focusing on charity projects in Indonesia. 
This allowed Walkers on Wheels to be registered as a charitable organisation in Bali, under the name Yayasan Sahabat Skuter Elektris. 
The organisation has since distributed eight e-scooters – from Telepod as well as Singapore retailers such as MaximalSG and Minimotors – to children in Tabanan, and is in the midst of distributing four more. 
"The goal is to distribute 90 more e-scooters this year," said Mr Jurgens.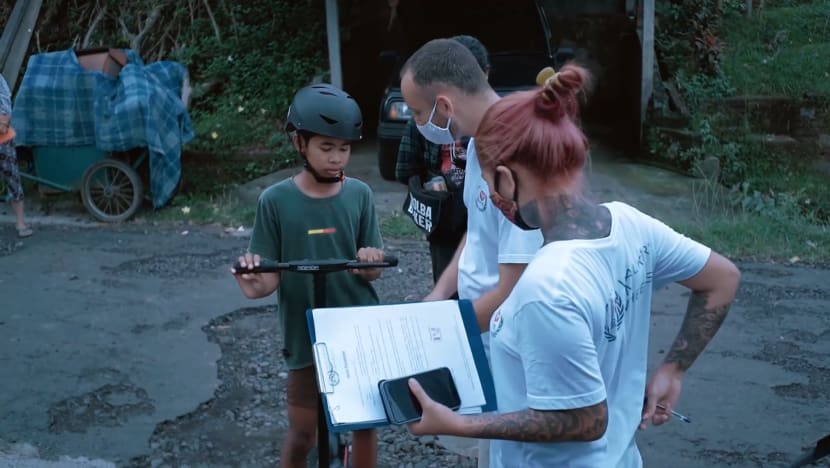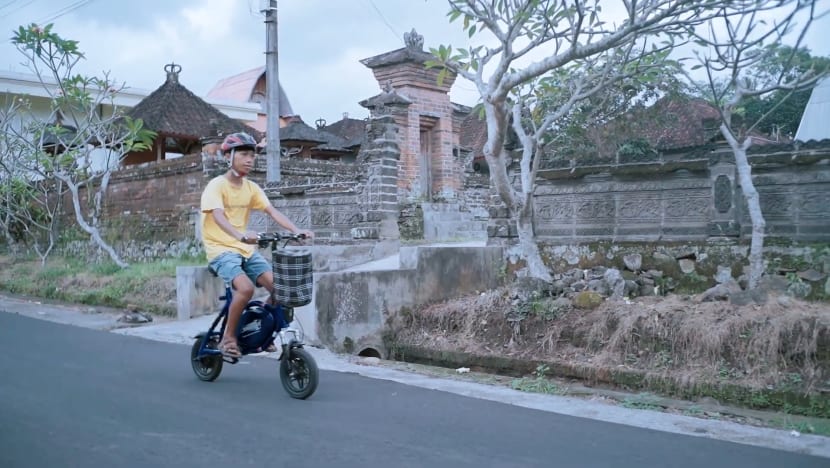 To this end, Walkers on Wheels hopes to be able to raise 900 million rupiah (S$85,420), which will go towards the purchasing and maintenance of these e-scooters. 
The devices will be sourced from distributors in Indonesia or purchased second-hand in the local market to keep costs low, said Mr Jurgens, though he has not ruled out importing e-scooters from Singapore again if time and money are not an issue. 
The organisation has eight people on the ground in Bali, he said, adding that Mr Wei, Ms Gan and other volunteers from Singapore will join in the efforts once travel restrictions are lifted. 
Mr Jurgens adds that he hopes his new app-based e-scooter rental business – which he aims to roll out by April next year – will also be able to support Walkers on Wheels.
He expects that rental stations will be able to provide people in remote villages with free, roadworthy shared e-scooters, though he acknowledges this is still early in the conceptualisation stage.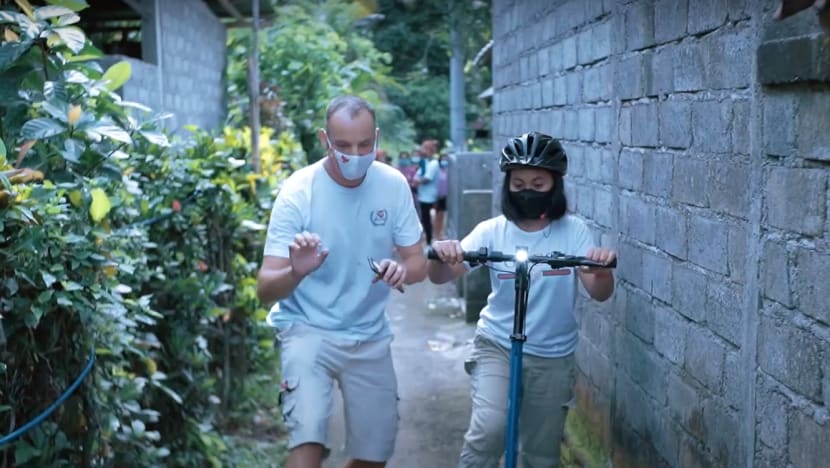 A MORE SUSTAINABLE WAY OF GIVING 
Mr Wei told CNA he sees Walkers on Wheels as a long-term project, and that he hopes to bring student volunteers to the communities it is helping to maintain the e-scooters where needed.
Many such voluntary projects are fairly short-lived, he noted.
"I feel that having this NGO allows for a more sustainable way of giving and a more sustainable way of supporting those who really need help, rather than just a one-time thing," he said.
"So this project will hopefully support the families that are truly in need."