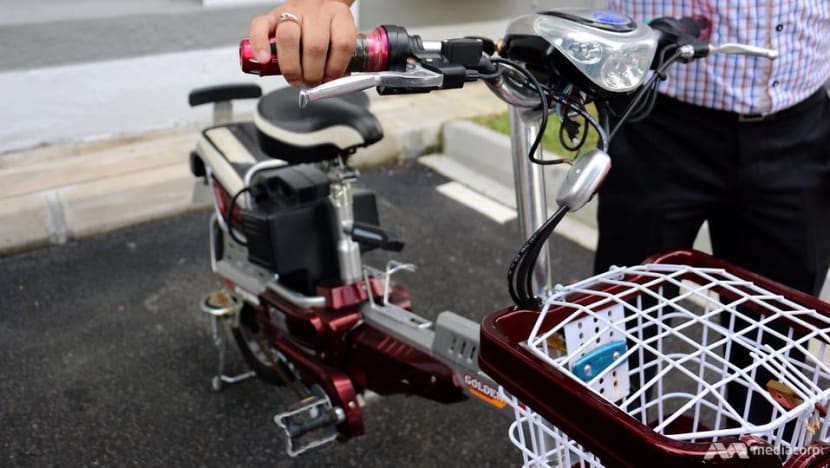 SINGAPORE: A new grant for food delivery riders is expected to generate more demand for power-assisted bicycles (PABs) – otherwise known as e-bikes – though retailers are taking it slow when it comes to bringing in more of such devices. 
Last Friday (Nov 8), the Ministry of Transport announced it was setting up a S$7 million e-scooter Trade-in Grant, together with Deliveroo, Foodpanda and GrabFood, the three major food delivery companies here.
The grant gives food delivery riders who are currently using e-scooters up to up to S$1,000 to trade in their e-scooter for a e-bike, or up to S$600 for a bicycle.
This came after Senior Minister of State for Transport Lam Pin Min announced that the riding of e-scooters would be banned on footpaths, though their use would still be permitted on cycling paths and park connectors.

E-scooters overtook e-bikes in popularity around three years ago, when more stringent regulations came into place for e-bikes.
There are currently around 13,000 registered e-bikes here, compared to more than 90,000 e-scooters.  
E-BIKES NOW "MOST CAPABLE" MOBILITY DEVICE
PMD supplier MiniMotors said turning to e-bikes may be the "only way to survive" for retailers, who are now left with e-scooters and other PMDs that they will struggle  to sell.
The firm told CNA it expects to bring in between 200 and 400 new e-bikes by January.
Kernel Scooters general manager Jay Jin has also noted an increase in demand for e-bikes since the footpath ban was announced.

Mr Chew Boon Hur, the general manager for retailer Mobot, said about 80 per cent of his customers now ask about e-bikes.  The company currently carries a single e-bike model, priced at either S$1,299 or S$1,499 depending on its wheel size. 
"I do foresee a move towards e-bikes because they are now the most capable powered mobility option - they can go anywhere except footpaths, whereas PMDs cannot go on the road," Singapore University of Social Sciences transport economist Walter Theseira told CNA.
This allows them access to areas such as private estates, many of which are not accessible via cycling paths, thus closing them off to PMDs, he said.

One e-scooter user, Mohamad Shah, said he would "eventually" buy an e-bike if he could get one for no more than S$700, around the same price he paid for his PMD. 
E-BIKES MAY NOT BE SUITABLE FOR ALL USERS
However, while e-bikes may prove to be an attractive alternative for delivery riders, not all users may find them as attractive.
This is because going on the road is potentially more dangerous and difficult than riding on footpaths, said Associate Professor Theseira, who heads the master of urban transport management programme at SUSS.
Mr Chew noted that the inability to use them on footpaths means e-bikes may not be suitable for all.
"Also, both the rider and pillion must be 16 or older, thus e-bikes will not be suitable for parents who want to use them to ferry their kids to school," he added.
"Significant volumes" of e-bike riders on the roads could also mean an increase in accidents, as these riders may be new to riding in traffic and motorists may not be used to their presence, said Associate Professor Theseira.
Figures from the Traffic Police showed that there were 54 accidents involving e-bikes that resulted in injuries in 2016, with three fatal e-bike accidents that year.

RETAILERS TAKING CAUTIOUS APPROACH
However, having previously spent considerable amounts ensuring their PMD stocks conformed to regulations - such as speed, weight and fire-safety requirements - stores are taking a cautious approach to bringing in new e-bikes despite the expected pick-up in demand.
Mobot's Mr Chew said the firm is taking a wait-and-see approach before stocking up on e-bikes or introducing more models of the devices.
"We are trying to get as many PABs as we can, but we expect less than hundred units by the end of this month due to the lack of time and the stringent process of getting the orange seal," said Mr Jin, referring to the tag that indicates such devices comply with LTA regulations.
Retailers are also worried that reckless e-bike riders may result in new regulations being imposed on e-bikes, as happened with e-scooters. 

"Rotten apples are everywhere, and they will definitely be on PABs as well," said Mr Jin.
"Customers are concerned about whether they will get penalised by the minority errant riders again."