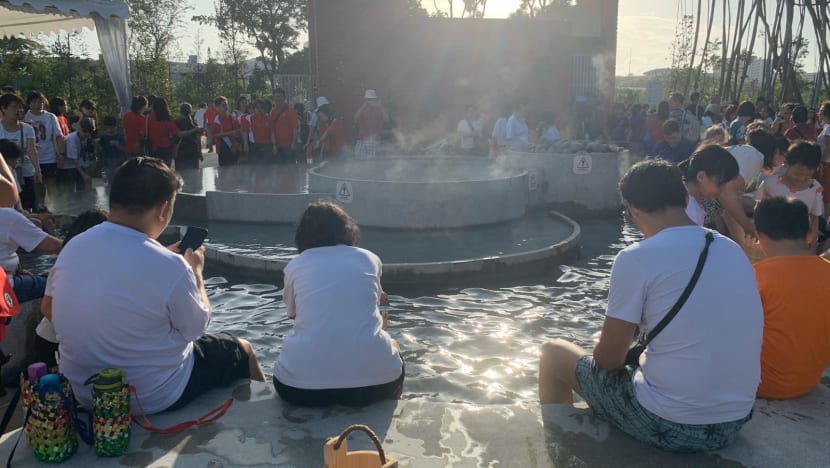 SINGAPORE: The Energy Market Authority (EMA) has issued a Request for Information in its bid to assess the geothermal energy potential across Singapore, as part of moves to decarbonise the power sector for a more sustainable energy future.
The Request for Information is to facilitate a geophysical investigation into possible approaches, methodologies and execution details in carrying out the geothermal potential assessment, said EMA in a press release on Wednesday (Apr 20).
This is in preparation for the launch of a Request for Proposal to assess the viability and scalability of deploying geothermal systems in Singapore, EMA added. 
"Advances in technology such as advanced geothermal systems have enabled the extraction of heat from hot dry rock, and at greater depths," said the authority. 
"This has opened up the possibility of geothermal applications locally as Singapore is sited within a region of high subsurface heat flow, with a possibility of quality geothermal resources at greater depths." 
Singapore could consider the technology options available to deploy geothermal energy locally, if substantial geothermal resource potential is found, said EMA. 
Minister of State for Trade and Industry Alvin Tan said in Parliament in April that geothermal energy is "an attractive energy source" as it potentially provides a more consistent supply of energy compared to solar. 
While conventional geothermal systems are not viable here in Singapore due to the lack of adequate hot water and steam resources at shallow depths, it could be possible to harness geothermal heat from deep underground due to recent advances in technology, he had said. 
The Nanyang Technological University is currently conducting exploratory studies to estimate the geothermal resource potential in various parts of Singapore, he noted at the time. The sites studied included Sembawang Hot Spring Park. 
What is geothermal energy?
A renewable energy source, geothermal energy is derived from heat within the sub-surface of the earth, which is carried to the surface via water or steam.
Depending on its characteristics, geothermal energy can be used for heating and cooling purposes.
If a large amount of heat can be extracted, this can be harnessed to generate clean electricity.
According to the International Renewable Energy Agency (IRENA), geothermal energy covers a significant share of electricity demand in countries such as New Zealand, Kenya and the Philippines.
While installed capacity has increased over the years, challenges in deploying geothermal energy such as geographical limitations as well as higher per-unit capital costs remain.
As a result, geothermal energy today accounts for less than 1 per cent of globally installed renewable energy capacity.
Data from IRENA shows that geothermal energy made up just 0.52 per cent of total renewable energy capacity in 2021. 
In comparison, hydropower and solar energy accounted for 40.1 per cent and 27.7 per cent of global installed renewable energy capacity respectively last year.
Low carbon alternatives like geothermal energy make up the fourth "switch" in Singapore's energy transition. The other three switches are solar energy, developing regional power grids for importing low carbon electricity, and using natural gas as a transitional fuel for power generation. 
The planned investigation project will complement ongoing exploratory studies in the northern and eastern parts of Singapore, and provide a "more comprehensive assessment" of the island's geothermal potential and suitable deployment locations. 
After the Request for Information, the Request for Proposal will be launched to assess the viability and scalability of deploying geothermal systems in Singapore, said EMA. 
Parties interested in the Request for Information should send their submissions to EMA by May 20, 2022, 11.59pm, and can find more details online at https://go.gov.sg/geothermalrfi.