English proficiency valued but it should not be sole criterion for new citizenship applications: Edwin Tong
The Minister for Culture, Community and Youth also noted that a "significant proportion of Singaporeans throughout our history" have not been able to speak English well.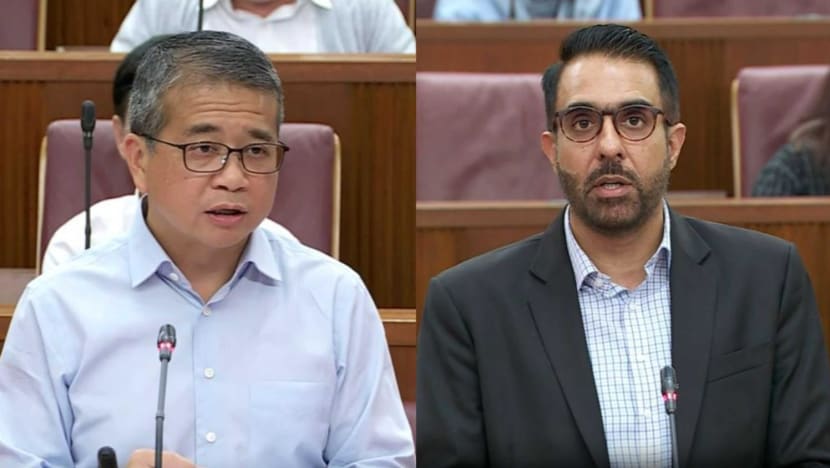 SINGAPORE: While there is value in being proficient in English, it should not be the single criterion when deciding if someone should become a Singapore citizen, Minister for Culture, Community and Youth Edwin Tong said.
"The knowledge of English at the working level, while helpful, should not be a defining or indeed a limiting factor, which might happen if you introduce it as a test, as a single point test," Mr Tong said during the parliamentary debate on President Halimah Yacob's Address on Friday (Apr 21).
Leader of the Opposition Pritam Singh had on Feb 27 advocated for an English test when assessing a person's application for citizenship or permanent residency in Singapore.
The Workers' Party chief repeated the suggestion on Friday and cited a recent poll done by CNA, which found a large majority of Singapore-born citizens being in favour of the test. 
About 80 per cent of the 500 respondents polled said they believe such a test should be part of the application process.
Mr Tong noted that a "significant proportion of Singaporeans throughout our history have not been able to speak English well".
Citing his 96-year-old grandmother as an example, he added: "If we had years ago applied this test, then someone like her may not have made it into Singapore."
In Parliament on Friday (Apr 21), Culture, Community and Youth Minister Edwin Tong responded to clarifications sought by MPs following his speech on the plans of his ministry.
The minister also said that an English test may not be the best marker of an applicant's ability to integrate in Singapore.
He pointed to the country's immigration framework, which was "tightened significantly in 2009", that considers a broader range of factors, including family ties to Singapore, whether the applicant has studied here or has done National Service. 
These other factors would be "equally, if not perhaps in some cases, more effective" as a marker of integration. 
Mr Tong noted that the Constitution currently states that one of the markers for naturalisation is working knowledge of any of the four official languages.
"So I would say not that English proficiency is not important – I think there's value in that – but not make it a single qualifying test and don't make it a single point assessment for citizenship," he added.
Mr Singh clarified that he did not say that English proficiency should be a single point of consideration for new permanent residents and citizens.
"I made it clear in my speech today that it was a nudge to align our immigration policy and our bilingual policy," he said. 
In his speech, the opposition leader spoke about foreign spouses who may have difficulty with an English-language requirement in citizenship or PR applications. 
He pointed out that the Workers' Party's 2020 manifesto called for the "fast-track naturalisation" of foreign spouses on long-term visit passes, subject to conditions such as having at least one Singaporean child.
An English requirement for foreign spouses could be one of the criteria for fast-tracking such applications, he suggested.
"As the government has openly stated, our immigration policy and immigration intake is calibrated to preserve the racial balance. And by extension, an English requirement would not favour one racial group over another, just because applicants in one racial group already use English and the other does not. 
"In effect for foreign spouses, the English requirement would serve as a plus one criteria or bonus criteria. It would nudge and better align immigration policy without bilingualism policy, which is a fundamental aspect of the Singapore system." 
In his exchange with Mr Tong, Mr Singh referred to the findings of CNA's poll, saying that while he does not want to lean too much into one survey alone, it may be "a good time" to consider how people's views change through generations.
To that, Mr Tong responded that the survey findings are "not an unimportant consideration".
"It's one survey ... but it does reflect sentiments in our society. I think we must take heed of it," he said.
You may also be interested in: