CNA poll finds majority welcome English test to be part of Singapore citizenship application process
It was suggested in Parliament that an English test should be part of Singapore's citizenship process.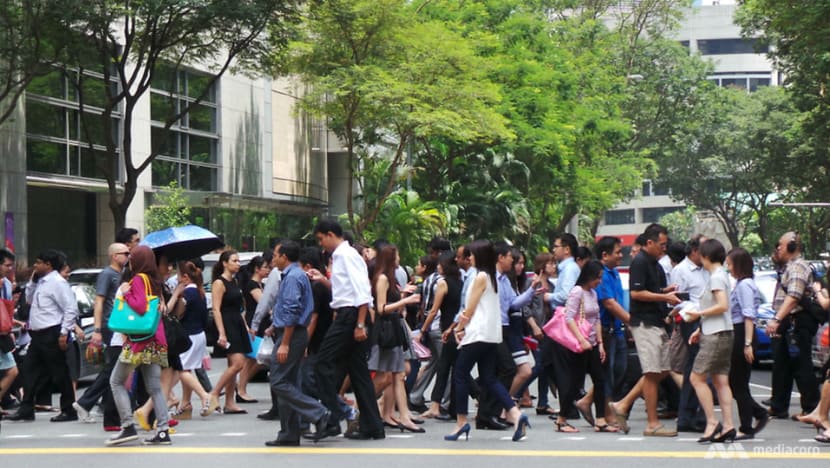 80 per cent of 500 Singapore-born citizens polled were in favour of an English test being part of the country's citizenship application process
52 per cent of respondents said new citizens should at least be able to converse in English, while 41 per cent said they should be able to speak, read or write in English
The ability to communicate in English (51 per cent), economic contributions to Singapore (51 per cent) and family ties to Singapore (45 per cent) were ranked as the three most important criteria for new citizens
SINGAPORE: A large majority of Singapore-born citizens believe that an English test should be part of the country's citizenship application process, according to a CNA poll.  
About 80 per cent of the 500 respondents were in favour of the test, following a suggestion in Parliament last month that has sparked spirited public discussions. 
The ability to communicate in English (51 per cent), economic contributions to Singapore (51 per cent) and family ties to Singapore (45 per cent) were also ranked as the three most important criteria that the respondents felt should be used to assess new citizenship applications.
The online dipstick survey, commissioned by CNA and conducted by Mediacorp-owned market research agency MRC, polled Singapore-born citizens aged between 18 and 69. The demographically representative survey was held over a week from Mar 8 to 15. 
A total of 78 per cent of respondents felt it was important for new citizens to be able to communicate in English, while 53 per cent said that new citizenship applications should be rejected if they could not communicate in English.
On the level of proficiency that new citizenship applicants should have, 52 per cent of the respondents said they should at least be able to converse but not read or write in English, while 41 per cent said they should be proficient (able to speak, read or write in English).
Seven per cent said the applicants should be able to speak, read or write fluently in English. 
On Feb 27 during the Committee of Supply debates, Leader of the Opposition Pritam Singh said that he would advocate for an English test when assessing a person's application for citizenship or permanent residency in Singapore.
Adding that Singaporeans "do not want new citizens who don't want to live here but only want the power of the Singapore passport for their convenience", Mr Singh asked: "Is a working proficiency in English a criteria for citizenship for better integration between new citizens and Singaporeans of all races and religions, since English is our main language of communication?" 
In response, Second Minister for Home Affairs Josephine Teo said that while the Singapore authorities also consider an applicant's ability to integrate in Singapore, they do not use a naturalisation test or interviews because "all tests have pitfalls".
Mrs Teo also expressed her misgivings about how much an English test would help, given that those inept in English are likely to be foreign spouses.
She reiterated that instead of using a naturalisation test or interviews, immigration authorities here "consider various markers of social integration" such as an applicant's family ties to Singapore or whether they completed National Service.
WHAT SOCIOLOGISTS SAY
Giving his take on the topic, Assistant Professor Shannon Ang from Nanyang Technological University said he disapproved of an English test, which could favour people who have more resources. Instead, Singapore could try to create environments where immigrants see the need and value in learning English, he suggested.
He added that this could mean ensuring that ethnic enclaves do not form in private estates, since they are not subject to the ethnic integration policy, or offering opportunities for new citizens or permanent residents to "volunteer in racially diverse settings".
Fellow sociologist Tan Ern Ser from the National University of Singapore concurred that while one could make a case for having an English test "at a common-sense level", what should carry more weight is whether the applicants "have shown some significant evidence of integration into Singapore society and acceptance of our shared values and ethos".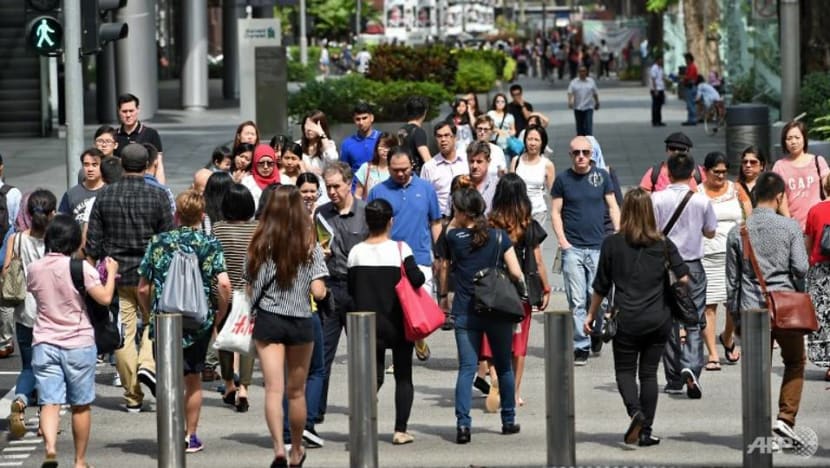 Asst Prof Ang noted that as Singapore's total fertility rate continues to fall, the nation has looked towards immigration to supplement the population and workforce.
Based on data from the Singapore Census 2020, 72.3 per cent of Singapore residents born outside Singapore are literate in English.
Focusing on the top three countries of origin (India, Malaysia and China), the English literacy level among those from China was the lowest at 61.8 per cent, Asst Prof Ang said.
"Because a large proportion (62.3 per cent) of the overall resident population is Chinese-literate, Chinese immigrants may feel little need to learn another language. But this means that members from the minority races may not be able to communicate with them," he added.
"The problem here then is not that Chinese immigrants cannot 'integrate' due to deficiencies in language – they will probably do fine – but that they threaten our notion of multiracial inclusion, for which English is a fundamental tool."
Results from the CNA survey seemed to echo this: 94 per cent of Malay respondents, as well as 86 per cent of Indian and other respondents, said there should be an English test for Singapore citizenship applications. This was in comparison to 76 per cent of Chinese respondents.
Similarly, 66 per cent of Malay respondents and 63 per cent of Indian respondents felt it was very important for new citizens to be able to communicate in English. Only 47 per cent of Chinese respondents felt this was important.
Labour economist Walter Theseira from the Singapore University of Social Sciences said that domestic language requirements are often cited as being potential obstacles to some countries, such as European ones, in term of the war for global talent. 
Assoc Prof Theseira added that while he does not think the majority of high-skill talent globally will find a basic English requirement "onerous" when applying for citizenship, there are other areas where this raises concerns, including the issue of foreign spouses.
"(This is) particularly if they are less well educated. It is generally already very difficult for such spouses to obtain residency and citizenship here, so the English requirement would be another barrier," he said.
Another area of concern cited by Assoc Prof Theseira was high net-worth investors and individuals who made their fortunes largely in the domestic markets of their home countries. 
They would not need to be proficient in English and thus look unfavourably at an English requirement – unlike highly skilled employees who invariably have basic English skills, he added.
"FISSURES IN SOCIETY WILL APPEAR"
In a post on her personal Facebook page on Mar 27, Madam Ho Ching, the chairman of Temasek Trust, responded to a recent incident involving an NTUC FairPrice customer who filmed herself confronting an employee about her inability to speak English. The customer was upset over the way her fish was cut.
She said that being Singaporean was "more than just a birthright or a passport", and cautioned the public not to "shame others for not speaking the language we know".
"The strength of a Singaporean is our open-mindedness to accept all creeds, colours and cultures as equals … We accept we are not a perfect people, and we recognise that we have much to learn from others from all over the world," she said.
Mdm Ho, who is also the wife of Prime Minister Lee Hsien Loong, also likened a walk around Marina Bay, where one can "hear the laughter and chatter of friends and families in all languages", to how Singapore would have sounded in the old days.
"Being Singaporean is to know that we must make a living through making friends all over the world. Being Singaporean means to carry ourselves with discipline, respect and humility," she added.
Former Nominated MP and businessman Calvin Cheng then responded to her comments. In a Facebook post the following day, he agreed with WP chief Pritam Singh that new citizenship applicants should pass an English test.
While Mr Cheng acknowledged that some older Singaporeans "born way before independence" cannot speak English, he said that all new Singaporeans "should absolutely speak English so they can communicate to all ethnicities".
"Otherwise, fissures in society will appear," he added.
"This is not xenophobia. On the contrary, it should strengthen our sense of identity, whilst allowing us to communicate with the entire world in the global lingua franca."
WHAT SINGAPORE-BORN CITIZENS SAY 
Several Singapore-born citizens interviewed by CNA agreed with the need for an English test for citizenship applications. 
Mr Irfan Suhairi, who works in logistics, said he has to ask colleagues to translate for him or use Google Translate when he encounters foreign-born colleagues who are not conversant in English.
"We have the Speak Good English Movement to encourage Singaporeans to speak and write standard English. So why not implement it in citizenships and permanent residency applications?
"Singaporeans are bilingual so it would be nice for new citizens or PRs to be bilingual as well."
Creative freelancer Dylan Wong said that having a test would help determine how well new citizens would be able to adapt to the Singapore culture, and help them to make friends with locals.
"English is one of the most (if not the most) used languages in Singapore," the 25-year-old added. "We use it daily when we communicate with our fellow Singaporeans of different ethnicities and in materials from official documents to supermarket signs."
Analyst Stephanie Teh, 31, suggested that Singapore need not couch it as an English test as long as other components of the citizenship process already ensure that applicants have a basic grasp of the language.
These components include the Singapore Citizenship Journey – a mandatory programme for new citizens who have been granted in-principle citizenship approval.
"I do agree that language competency would enhance social cohesion, so basic English proficiency to operate in Singapore would be beneficial for new citizens in integrating into our society," Ms Teh added.
A public servant in his 40s, who married a Filipina three years ago and only wanted to be known as Mr L, said that having language proficiency in citizenship applications would be "counterproductive" since it was difficult enough to get citizenship anywhere.
While he was ambivalent about an English test requirement, he said that someone who stays and works in Singapore for a long time would most likely become well-versed in English.
Nevertheless, he acknowledged that an English test can help determine if applicants are ready to integrate into Singapore society.
"Language shouldn't be the only determinant for citizenship applications. An applicant could learn English along the way and that's okay," he added.