Applicants for new work pass to attract top talent will be carefully vetted: Manpower Minister
Safeguards will be put in place to ensure that the Overseas Networks & Expertise Pass, the new work pass for top talent with a salary threshold of S$30,000, is not abused, says Manpower Minister Tan See Leng.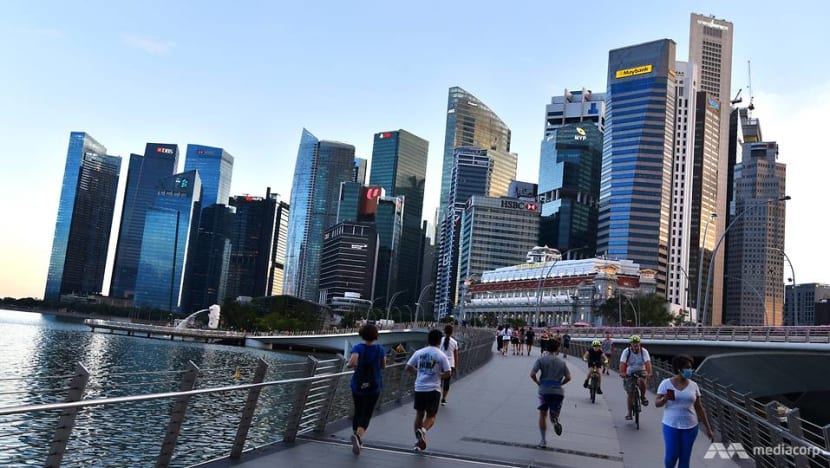 SINGAPORE: Singapore will put in place safeguards to ensure that a new work pass for top talent is not abused, said Manpower Minister Tan See Leng in Parliament on Monday (Aug 12).
Dr Tan delivered a ministerial statement on Monday on strengthening Singapore's position as a global hub for talent in response to dozens of questions from Members of Parliament on recent changes to the work pass framework.
There were 24 parliamentary questions raised seeking more details on new schemes to attract global talent, and on Singapore's efforts to develop local talent.
For instance, Mr Desmond Choo (PAP-Tampines), Ms He Ting Ru (WP-Sengkang), Mr Patrick Tay (PAP-Pioneer) and Mr Yip Hon Weng (PAP-Yio Chu Kang) asked about the checks that would be put in place to prevent abuse or fraudulent applications for the Overseas Networks & Expertise Pass, a new five-year work pass with a salary threshold of S$30,000 or more.
Changes to Work Pass Framework
1. Singapore will launch a new Overseas Networks & Expertise Pass, for talent earning at least S$30,000 in fixed monthly salary, comparable to the top 5 per cent of existing Employment Pass holders, or with outstanding achievements in arts and culture, sports, and research and academia.
The pass will be for five years, compared to the current two years for new EP applicants, and it is not tied to a job role in Singapore. The pass holders can concurrently work for a few companies or start their own business. 
They can sponsor their dependents and their spouses can work with a letter of consent. This scheme starts on Jan 1, 2023.
2. There will be a new benchmark pegged to the top 10 per cent of EP holders for existing schemes, namely the exemption from the Fair Consideration Framework (FCF) job advertising requirement and COMPASS, as well salary criterion for the Personalised Employment Pass.
This is set at S$22,500 and will start in September 2023.
3. From Sep 1, 2022, MOM restored the FCF job advertising duration from 28 days to 14 days. The ministry also shortened the processing time of EP applications.
4. There will be an option for five-year EPs to be issued to experienced professionals filling tech occupations on the COMPASS Shortage Occupation List, from September 2023.
Dr Tan said that the Ministry of Manpower (MOM) already conducts back-end checks to sieve out potential cases of false salary declarations. 
This includes scrutinising applications from companies with a limited track record, and asking for more documents to verify that the salary declared will be paid. This will be applied to all Overseas Networks & Expertise Pass applications.
For those seeking to convert from an existing employment pass, MOM will scrutinise their income tax filings with the Inland Revenue Authority of Singapore to ensure the taxes filed are consistent with their application.
For overseas candidates, MOM will further assess their company's market capitalisation and revenue based on verifiable sources. The economic agencies will support MOM in this, said Dr Tan.
DEFINING OUTSTANDING ACHIEVEMENT
After the application is approved, MOM will continue to engage the pass holders during their time in Singapore. 
"(This is) so we will be up to date with their professional activities and annual income. This will factor into our assessment on their eligibility for renewal," said Dr Tan.
Answering a question from Mr Gerald Giam (WP-Aljunied) on whether the S$30,000 monthly salary criterion can be drawn from multiple employers, Dr Tan said that in general, it must be from one employer.
For overseas candidates, the previous or prospective employer must also have a market capitalisation of at least US$500 million or an annual revenue of at least US$200 million.
But applicants who do not meet this salary threshold can also apply if they have outstanding achievements in the fields of arts, sports, science or academia.
Mr Mohd Fahmi (PAP-Pasir Ris Punggol) and Leader of the Opposition Pritam Singh (WP-Aljunied) asked for the criteria for how such talent will be assessed.
Dr Tan said: "(These individuals) can help us push new frontiers, draw in greater investments and interest to grow our local ecosystem, and most importantly, create a diverse range of opportunities for Singaporeans."
Giving an example in sports, Dr Tan said such talent would include current and former world-class top-ranked athletes who may wish to set up commercial operations or training bases in Singapore, from which local athletes, coaches and the sports ecosystem here can benefit.
He added that MOM will work with sector agencies that are experts in these domains, such as the Ministry of Community, Culture and Youth, the National Arts Council, the Ministry of Education and the National Research Foundation to "identify such exceptional talent".
NO TIME LIMIT FOR EMPLOYMENT, SPOUSES CAN WORK
Non-Constituency MP Hazel Poa from the Progress Singapore Party (PSP) also asked why there is no time limit requiring these applicants to remain employed. 
"Let me be very clear. The Overseas Networks & Expertise Pass is not meant to be abused as a visit or travel document," said Dr Tan. 
"MOM reserves the right to cancel the pass if there are extended periods of economic inactivity with no good reasons."
But Dr Tan said that the top talent on this pass are given flexibilities because MOM wants to encourage them to "take risks, explore new frontiers and make a big impact to benefit Singapore". 
"It is important to allow them some ramp-up period for that to happen, and not be too quick to jump to the conclusion that they are not contributing," he said.
Other flexibilities that the pass holders will enjoy are that there are no restrictions on the occupations they can work in, and their spouses can work with a letter of consent.
Dr Tan said that the longer five-year duration of the pass, as well as the letter of consent (LOC) for spouses, is meant to give top talent "additional assurance" when they are deciding whether to come to Singapore. 
"Businesses tell us that these are key factors top talent consider when deciding where to go," he said.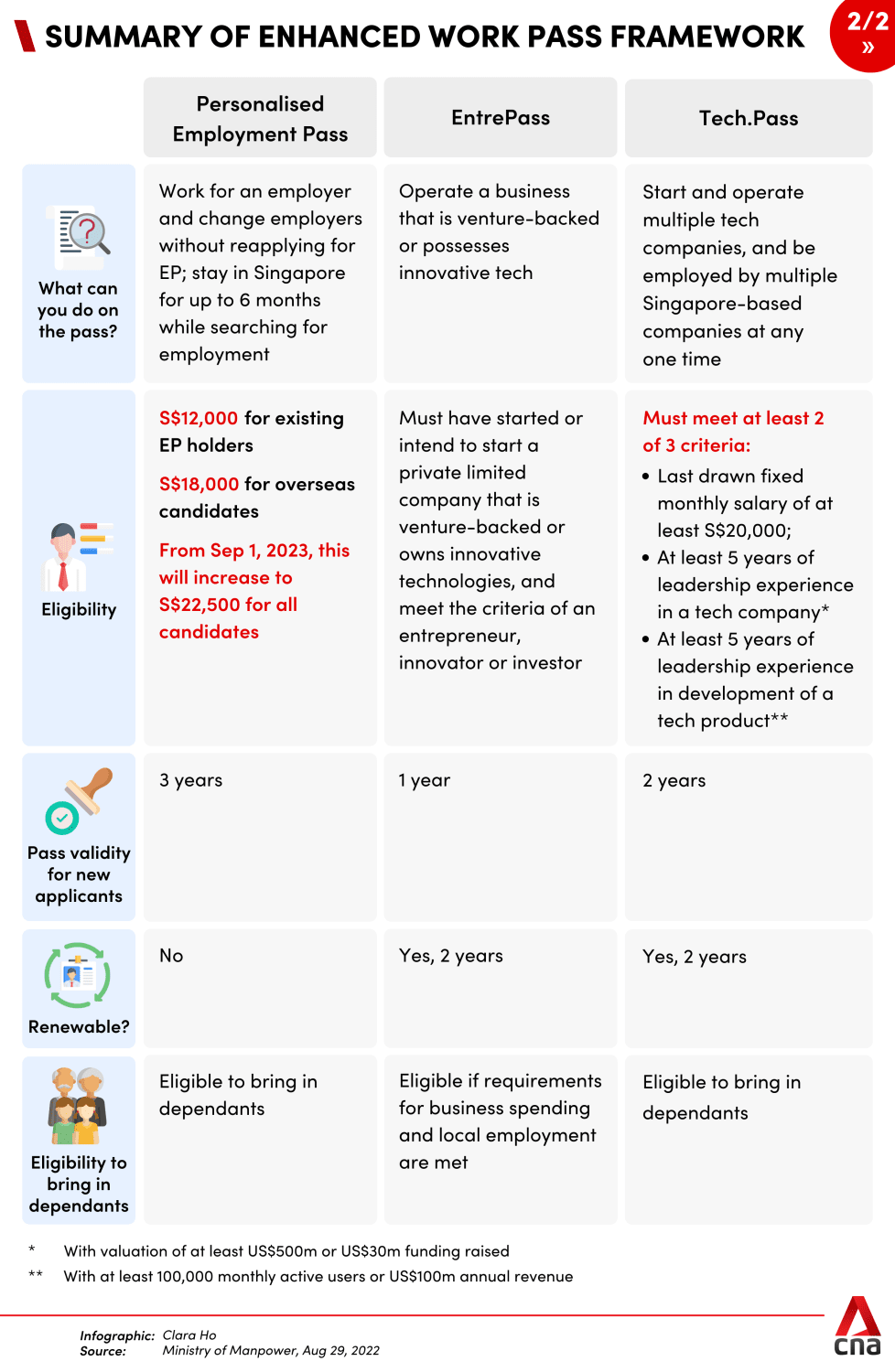 He added that the policy for the dependents of other EP holders remain unchanged – they are eligible to work in Singapore if they obtain a work pass, but the exception is made for top talent as other territories give their dependents work privileges.
"We stopped issuing LOCs to dependants, not because we did not want them to work here, but because it made sense to hold them to a similar bar as all other foreigners," he said.
"But when we are talking about top talent, we must be mindful of how global, how mobile they are, and how stiff the competition is for them. Many other jurisdictions – including Hong Kong, the UAE and the UK – offer work privileges for dependents."
"When people make major relocation decisions, it is usually a family decision. Without certainty for the spouse, these talents may choose to go elsewhere."
As a proxy, among the top 5 per cent of existing EP holders that might qualify for the Overseas Networks & Expertise Pass, only a minority have spouses who are working, he said.
"But in terms of the signal we are giving to top talent, it is absolutely material and absolutely needle-moving."
"MISSING THE FOREST FOR THE TREES"
Dr Tan also clarified that there will be no quota for the issue of such passes, in reply to questions by Mr Mohd Fahmi, Mr Singh and Ms He.
"We are not setting a quota, and the reason is this – if we accept that there is never enough of top talent to go around the world, then it does not make sense to limit the amount of talent we bring in," said Dr Tan. 
"If we impose a quota, we are essentially putting a hard limit on how strongly we can compete at the high-end of the global economy. This ultimately hurts Singaporeans, who will have fewer opportunities."
To give a sense of numbers, Dr Tan said that 5 per cent of Singapore EP holders would be around 8,000 people.
"But the focus is not on the numbers – because we are focusing on quality rather than quantity," he said.
Given the "highly selective" nature of the scheme, there is no risk of a "deluge" of people coming in to Singapore through the Overseas Networks & Expertise Pass, he added.
Answering MPs' questions on how the pass would benefit Singaporeans and what the expected impact on local employment is, Dr Tan said that the relationship between talent, innovation and economic growth is more than a "simple, linear one". 
"The contributions of talented individuals go beyond a set of key performance indicators. Limiting and reducing it to that risks constraining us to a yardstick of measurements and missing the forest for the trees."
Giving some examples, he said that some pass holders may be employees, making it possible to bring a new business unit to Singapore, or grow a new line of business.
Others may set up companies of their own, and others may be here to teach, advise or consult for local enterprises, enabling them to share their expertise with Singaporean business owners and professionals, he said.
"We are building a rich network of markets, people and ideas, that over time, shows up in the dynamism of our economy," he said. 
"And if, at the macro level, local job creation remains strong, unemployment low, real income growth sustained, and if, amongst our people, there is always a sense of hope and of opportunities – then I think we would have succeeded."
He said that local small and medium-sized enterprises (SMEs) will benefit too by directly hiring the Overseas Network & Expertise Pass holders, tapping on pass holders' expertise through consulting services, or inviting them to join their boards.
"Just as importantly, a vibrant, growing economy will create more business opportunities or build a new ecosystem for our SMEs who may be partners, contractors, suppliers or service providers," Dr Tan said.
"This may be in up-and-coming sectors such as the green economy or FinTech, where there will be new cheese for our SMEs."
HELPING LOCALS COMPETE 
Dr Tan said that Singapore's policies to attract global talent are also meant to accelerate the development of the local talent pool.
"We have designed our foreign workforce policies to incentivise companies to develop a strong local workforce – COMPASS, for instance, takes into account a firm's local PMET (professionals, managers, executives and technicians) share when evaluating its EP applications," he said.
"We will complement this with investments in our local workers, to help them succeed."
COMPASS or the Complementarity Assessment Framework kicks in in September 2023.
Besides looking at a work pass applicant's qualifications, it will take into account other factors like the diversity of nationalities among a firm's PMETs and its support for local employment. It will not apply to the Overseas Networks & Expertise Pass and job roles with salary levels at or above S$22,500.
Dr Tan said that the Industry Transformation Maps mapped out growth plans for 23 sectors across the economy, and for each sector, MOM identified in-demand jobs and developed jobs and skills strategies to build up the local talent pipeline for these jobs.
There are also Jobs Transformation Maps to provide job-level insights on the impact of technology on the industry and workforce, which companies can use to redesign and enhance job roles, and equip their workers with the skills needed for these roles.
"Working closely with industry and unions, the Government has spared no effort to help employers and workers to upskill and reskill for jobs of the future. 
"A wide range of programmes are offered by Workforce Singapore, SkillsFuture Singapore and the various sector agencies to support training," he said.
There are also many schemes to help develop local business leaders, such as the Asian Financial Leaders Scheme that co-funds and sends promising Singaporeans in the financial sector on leadership programmes.
Other similar schemes include a new Singapore Global Executive Programme, the SkillsFuture Leadership Development Initiative, and Enterprise Singapore's Global Ready Talent Programme, said the minister.
On skills transfer to build up local expertise, Dr Tan said that companies have programmes to get more experienced employees, foreign or local, to transfer skills to less experienced employees. 
The companies can also tap on various government programmes, including SkillsFuture, the Enterprise Development Grant and the Capability Transfer Programme.
SKILLS TRANSFER
Replying to a question from Assoc Prof Jamus Lim (WP-Sengkang) on whether the Government can "codify" training and skills transfer requirements into law, Dr Tan cautioned against "too deterministic an approach".
"Skills transfer is but one way that foreign manpower can contribute to Singapore and create opportunities for Singaporeans," said Dr Tan.
"In some areas, foreign manpower helps to make up the gap between demand and supply – some of these gaps can persist due to local and global trends, for instance, the global lack of digital talent."
Furthermore, skills transfer is not a "simple, linear process".
"It would be impossible to come up with a single rule on how long it should take for skills to be transferred from one person to another, or how much skills to transfer, for that matter."
Singapore's approach is not to set a mandatory requirement for skills transfer, but to put in place "the right ecosystem" of policies to motivate businesses to select complementary foreign workers, while building up a "strong Singaporean Core", Dr Tan said.
"This includes keeping a tight labour market through regular updates to our work pass criteria, alongside significant investments to help our workforce upskill and reskill."
"NEW CHEESE" 
Responding to supplementary questions about the work pass framework changes, Dr Tan reiterated that the changes aim to grow Singapore's ecosystem as a whole by "creating new cheese", creating spillover benefits for local companies and local workers.
"This measure will strengthen our standing as an international hub for talent. It will bring significantly more businesses for our local companies, especially our SMEs, and increase the opportunities for all of our Singaporean workers," he said. 
NCMP Leong Mun Wai (PSP) asked the minister whether Singapore has been attracting the right kind of talent, and if the ministry can better monitor and encourage skills transfer, mentoring of local workers by foreign talent. Mr Singh also asked a similar question on skills transfer. 
"With the introduction of the ONE Pass and several changes to the employment pass framework as announced by the minister, how does the ministry intend to promote and track the transfer of skills to Singaporeans, by employment pass holders such as the ONE Pass?" he said, referring to the Overseas Networks & Expertise Pass by an acronym.
Dr Tan said that the Government has given significant SkillsFuture subsidies, and has many skills upgrading programmes for local workers. 
Giving the example of the Capability Transfer Programme (CTP), Dr Tan said that funding support is provided to companies to acquire global capabilities that are not available in Singapore, through ways such as bringing foreign specialists into Singapore to train locals or sending locals overseas for training.
"Since its inception in 2017, it has benefited more than 140 companies and more than 1,000 locals. Our locals have experienced expanded job scopes as they have acquired new skills."
Elaborating on his point about creating new business opportunities in Singapore, he said: "I think we are now at the stage where we are not only looking at skill sets alone ... more so than the proxy of the S$30,000 mark, we're looking at creating a significantly different ecosystem," he said.
"One that will hopefully ensure our continued prosperity and progress for the next five or 10 decades and beyond."
To another question from Mr Choo on whether the changes are sufficient to help Singapore attract its fair share of talent and help companies to grow, Dr Tan said that Singapore is starting from a "position of strength".
"We looked at potential new enterprises that we see ourselves getting our first-mover and our competitive advantage in; and we are going after those sectors where we are going to be able to create new cheese for ourselves.
"And with that new cheese provide significant economic opportunities to benefit our entire ecosystem of small-medium enterprises and raising up our Singapore core."