As Singapore moves towards an EV future, these technicians are gearing up for change
An electric vehicle (EV) future doesn't just require new skills. It also requires the willingness to embrace change, say two technicians who have seized opportunities to upgrade their automotive skills amid a national push to adopt EVs.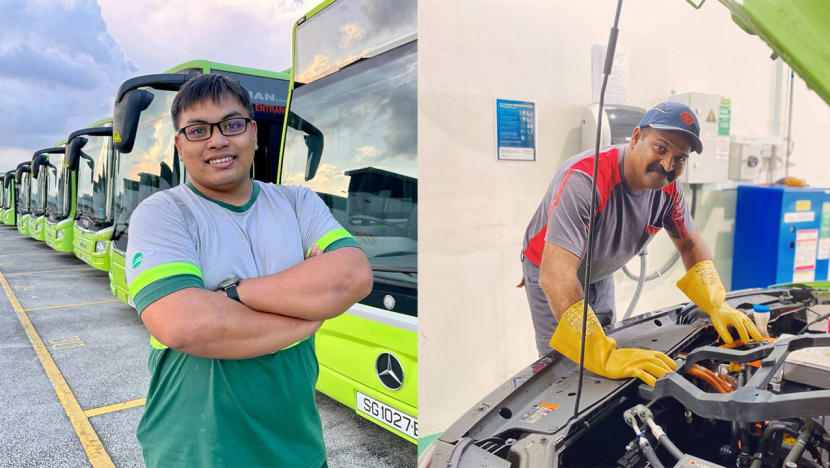 SINGAPORE: As one of the first at Tower Transit Singapore to inspect an electric bus, Muhammad Isa Ali is quick to rattle off the differences between a diesel bus and an electric bus. 
Namely, the lack of noise and noxious fumes emitting from the latter. For example, a sleeping baby would still be sleeping if an electric bus were to drive by, but the same cannot be said if a diesel bus were to pass, the 31-year-old engineering supervisor said.
But Mr Isa's knowledge about electric buses today didn't come without embracing multiple opportunities to upgrade his skills. 
When he joined Tower Transit Singapore as a vehicle technician in 2016, he was armed with just a diploma in marine engineering, an unrelated field. He was initially unable to identify any mechanical aspect of a bus besides its engine. 
Knowing that he had to bridge the gap in his knowledge, Mr Isa turned to an unlikely source: Video games. 
"There's this one game called Car Mechanic Simulator, which actually taught me a few things about parts and things like that. And of course, it taught me how to open up things. But of course, one thing it didn't teach me is how to open up nuts and bolts in a very tight space," he said. 
In his previous role as a vehicle technician, Mr Isa was the "designated vehicle examiner". His main job was to inspect buses to ensure they were safe, and that they wouldn't break down on the road. 
Since then, he has also been trained and certified in electric vehicle (EV) awareness and hazard management. 
With the Land Transport Authority (LTA) taking steps to train technicians in the maintenance of cleaner-energy buses, more technicians like Mr Isa can soon get similar opportunities. 
The authority signed a memorandum of understanding (MOU) with the Institute of Technical Education to designate ITE College West as Singapore Bus Academy's second satellite assessment centre. The first centre was Republic Polytechnic. 
Bus technicians from the four public bus operators can tap on the two satellite assessment centres for training and assessment of technicians in the maintenance and servicing of electric and hybrid buses.
"Having a second satellite assessment centre is basically more opportunity for the bus technicians to have more training. We have a number of (bus) depots in Singapore, so we have a number of technicians. Cannot be all the technicians attend (class in) one location," said Mr Isa. 
"Having the satellite centre in ITE, the lecturers there can mingle with the (Singapore Bus Academy) trainers and share the knowledge with each other," he added. 
"Then maybe in the future, they can expand to tertiary education … so it not just benefits bus technicians, but creates another pool of technicians in the younger generation."
Attending such industry courses is also aligned with Mr Isa's personal desire to continue learning. Three years ago, his company offered to co-sponsor his part-time Diploma in Engineering (Vehicular Technology and Operations) at Republic Polytechnic. 
"That day that I came to work, my training manager dropped me a message asking me to meet him in the office. At first I thought I was in trouble for something, then I met him and he told me about (the part-time diploma)," he told CNA. 
"At first I was thinking, 'You sure you have the correct person? I'm turning 30 in a few years' time. And the last time I graduated was back in 2012.' … There was a bit of surprise and disbelief."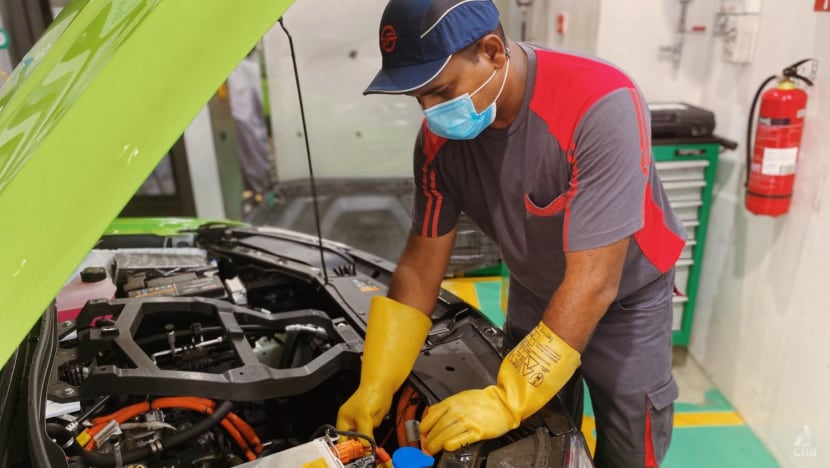 ENTHUSIASM FOR ELECTRIC VEHICLES
And with EVs at the forefront of the nation's push towards a greener future, Mr Isa is not the only one seeking to upgrade his skills. 
Automotive technical officer at Strides Mobility and self-proclaimed EV enthusiast, James Rayappan, will benefit from another MOU signed by LTA last month.
The MOU, signed with 21 organisations including Strides Mobility, will develop training opportunities for new and existing automotive technicians like Mr Rayappan to support the adoption of electric vehicles.
A new national-level certification programme will be established to recognise automotive technicians who have completed these courses and successfully attain the required competencies, said LTA. 
The certification, which is recognised by all the parties in the MOU, will allow technicians to subsequently take further specialised training in EV maintenance.
But even before training under the MOU takes off, Mr Rayappan, who celebrates his 20th year at Strides Mobility this month, is already sold on EVs. 
"EVs are very, very different. Last time, we (worked with) petrol and diesel. (But for EVs), it is different because no engine, fully electric. So I'm impressed because my hand also not dirty. EV is easier and cleaner to maintain," the 41-year-old told CNA. 
Having worked on EVs for about a year, he also regularly scours social media for latest EV trends. He has also been sent for training in EV maintenance, as well as yearly courses to refresh his skills. 
Compared to "traditional engines", there is "no need to do so many steps" to troubleshoot problems with EVs, said Mr Rayappan. 
"Now I want to learn something (new) for myself. If, let's say, I don't know something (about) the EV, I (will watch) YouTube (to see) how to repair… what is the fault, everything."
When he heard that Strides was planning to change its taxi fleet to EVs, his interest was piqued. 
"I want to upgrade myself. So it's not like the old (type of world anymore) … The world wants to change from gasoline to EV. I also want to change," he said. 
Asked why he's unafraid of taking on a new challenge to upgrade his skills, Mr Rayappan said it's all about trying. 
"First of all, never do mistake, cannot learn. Must do mistake then can correct. If, let's say, I'm scared, I (won't be) sitting in front of you (to be interviewed). So that's why, everything try." 
Picking up EV skills is also a future-proof strategy to keep his job. 
"Nowadays, all the new (car) models, like Tesla, MG, cars from China, all electric. … (Technicians are) not technicians; they're more like electricians," he added.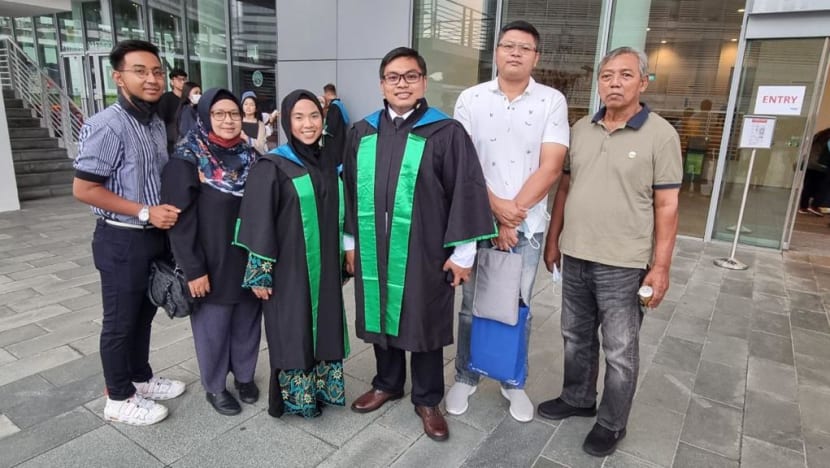 STAYING RELEVANT
Likewise, the way Mr Isa sees it, there will be a demand for IT technicians in "maybe 20 to 30 years' time". 
"Singapore is now researching autonomous vehicles. These vehicles need mechanical engineers to do the mechanical stuff. You need the electrical technicians to do high voltage wiring and so on. Then you need another technician, IT engineers … These people will be taking care of the sensors running the autonomous vehicles," he said. 
"When I take a look at these autonomous vehicles, their coding is really out of this world." 
As such, Mr Isa plans to pursue a degree in IT or mechanical engineering within the next two years. But he understands the inertia that people might face in considering a return to school. 
"The challenge for the older generation is that they might not manage to absorb everything. Even for some of my friends who are much older than me, they are reluctant to change," he said. 
"Most of the feedback I get from people is that when they sit in class during training, they say they are sleepy, they cannot absorb (the information)." 
When this happens, Mr Isa tells them that if they go through training and get new knowledge, they can make themselves "more valuable" and "stay relevant in the industry". 
"If you don't keep yourself upgraded, some other people, maybe much older than you, will take your place," he added. "That's one of my own motivating factors: I am expendable."
After all, when Mr Isa took a leap of faith to return to school for his part-time diploma, it paid off.
Despite juggling work while studying three nights a week, and never having been "academically strong", he topped his cohort upon graduating in May.