Oil tank fires, toxic gas: 11th edition of anti-terror exercise unfolds on Jurong Island
Prime Minister Lee Hsien Loong cautioned that Singapore is "on the radar" of terrorist groups, and must never let its society fracture from the threat of terrorism.
SINGAPORE: Terrorists, armed with improvised explosive devices (IEDs) and parangs, descend on Jurong Island.
Shortly after, a fire erupts on two large storage oil tanks. Toxic chlorine gas floods the air when chemical pipelines rupture from the IED explosions.
Waves of officers from multiple agencies, including the police and Singapore Civil Defence Force (SCDF), eventually subdue the perpetrators and evacuate casualties from the island.
This was the scene of the 11th edition of Exercise Northstar, a multi-agency counterterrorism exercise, at Jurong Island on Wednesday (Mar 22) afternoon. 
'ONE DAY, WE MAY NOT BE LUCKY'
Prime Minister Lee Hsien Loong, who witnessed the exercise, told reporters that Singapore has to "take these exercises very seriously" in order to deal with a range of terrorist threats.
"There are activities in the region around us. We look further afield in the Middle East or other parts of the world – the groups remain there and we are on the radar," he said.
"And sometimes, we also have homegrown self-radicalised individuals, misguided. We try very hard and we are lucky we catch them before they can do any harm. But one day, we may not be lucky."
Mr Lee added that Singaporeans have to be "completely united as one people".
"Because the threat of terrorism isn't just the person who's hurt, or the oil storage tank which is blown up, or the pipeline, but the fracture in our society, which takes a very, very long time to heal," he said.
"And we must never let that fracture happen to us."
Other political officeholders present included Law and Home Affairs Minister K Shanmugam, Minister of Defence Ng Eng Hen, Coordinating Minister for National Security Teo Chee Hean, Second Minister for Home Affairs Josephine Teo, and Senior Minister of State for Defence Zaqy Mohamad.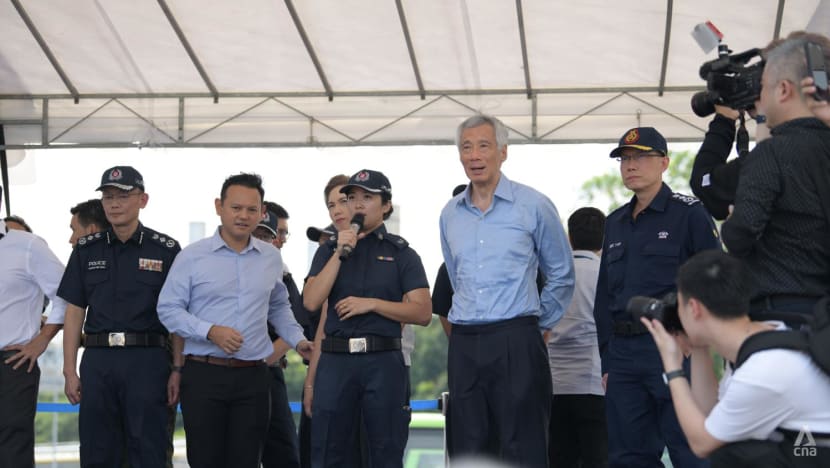 HOW THE EXERCISE UNFOLDED
The exercise began with a scenario of a group of self-radicalised individuals planting IEDs on large oil tanks and chemical pipelines at Jurong Island. They then attempted to leave the island in a small craft from Sakra Basin.
Upon encountering auxiliary police officers, the perpetrators attacked them with parangs and remotely triggered the IEDs before one of the attackers was neutralised.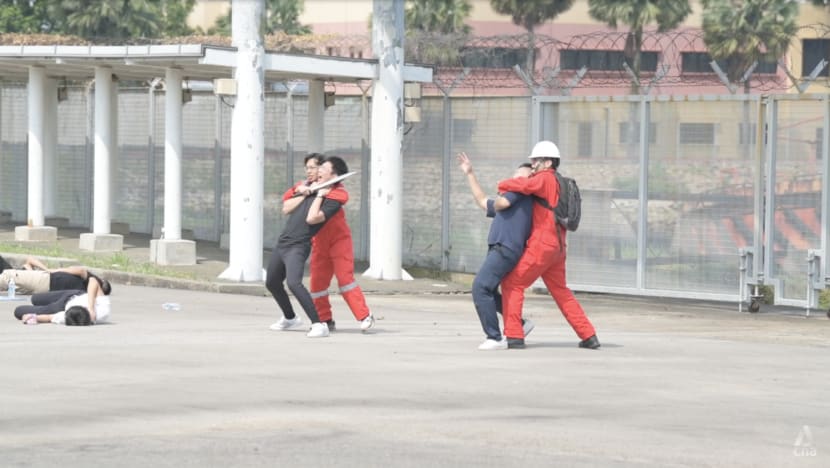 Troops from the Singapore Armed Forces' In-situ 9th Battalion Singapore Infantry Regiment (9 SIR) formed the first wave of responders.
Police officers from its Ground Response Force and Emergency Response Team then arrived to take over command and control of the situation, subsequently neutralising the perpetrators.
When more attackers tried to escape in their small craft, they were intercepted by police coast guard vessels.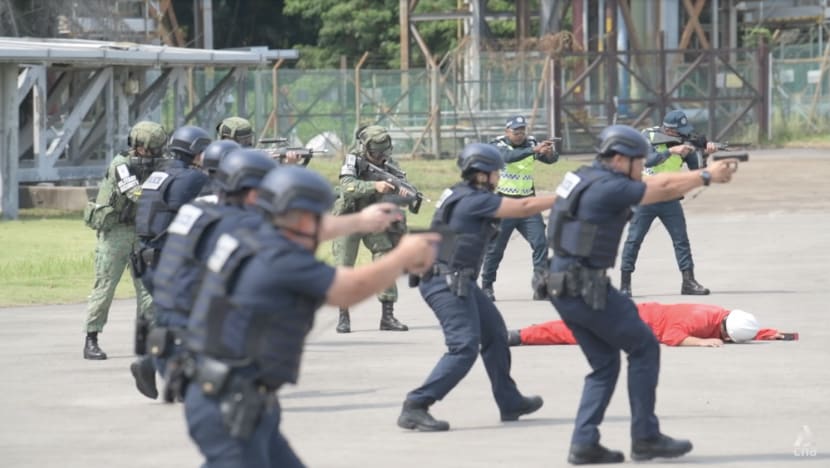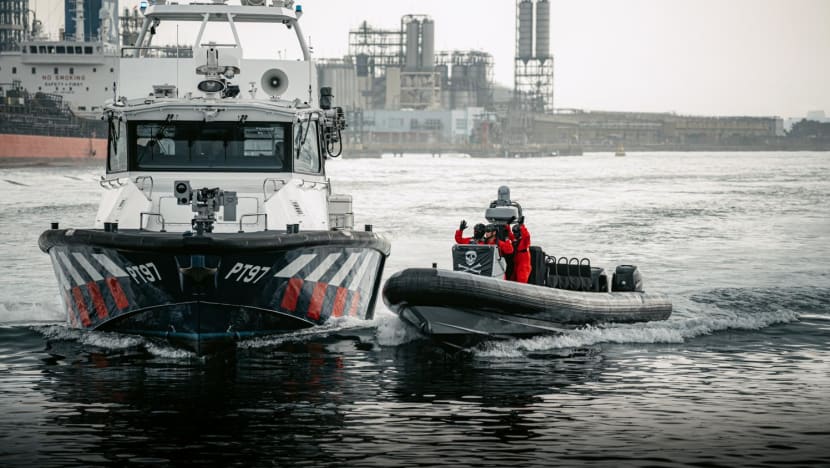 The explosion of IEDs caused pipelines along the Keppel Service Corridor to partially rupture. This in turn led to a fire and the release of chlorine gas.
The Jurong Island Highway was closed off as a security precaution due to intelligence reports of a possible secondary attack at the Jurong Island Checkpoint, while SCDF was called to rescue and evacuate casualties as well as mitigate and monitor the toxic chlorine plume. 
SCDF deployed its various hazardous material capabilities to do so, including its Ventilation Vehicle.
SAF ambulances were used to convey casualties, while the Ministry of Health's disaster site medical command, along with its field medical teams, provided assistance to the injured.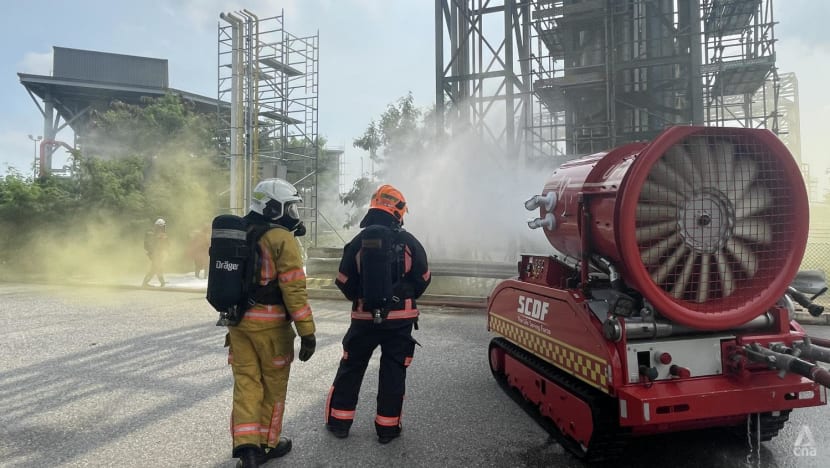 Companies within the western side of Jurong Island were alerted to the chlorine plume through internal broadcast networks.
Employees were warned to go indoors immediately, close all doors and windows, switch off ventilation and air-conditioning units, and avoid consuming exposed food and drinks.
When evacuating people via land transport was no longer a viable option, the police activated its sea evacuation plan.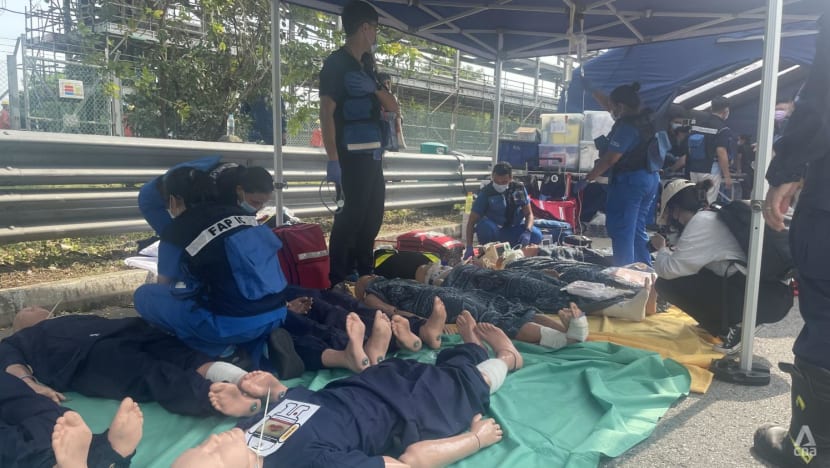 At the same time, the IED explosions further led to an inferno on two large oil tanks within ExxonMobil's refining and petrochemical complex.
The oil tanks - measuring about 100m in diameter - contain crude oil as well as feedstock used in producing products including petrol, diesel, lubricants and petrochemicals. 
ExxonMobil's in-house firefighting teams first battled the fire before SCDF officers arrived. Both deployed four large monitors, including two from SCDF's latest-generation modular oil tank firefighting system.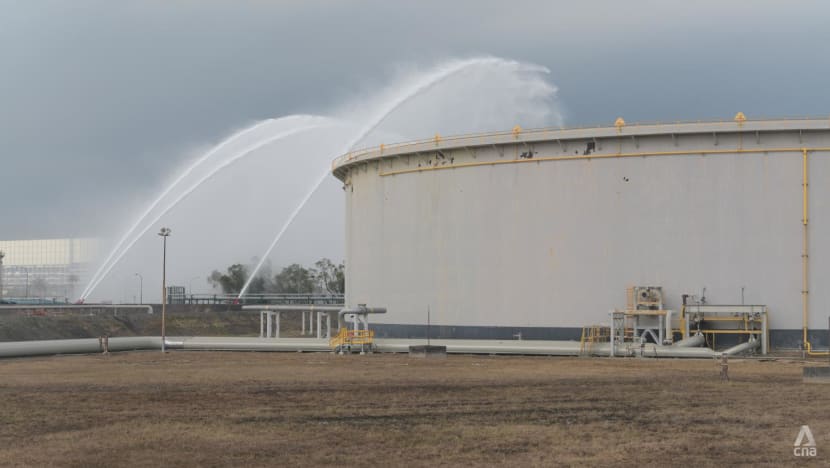 Planning for this year's exercise began two years ago, with the last edition in 2017 taking place at Changi Airport.
Jurong Island, located southwest of mainland Singapore, is one of the world's largest hubs for chemical exports. The 3,000ha island houses manufacturing, and research and development facilities from more than 100 energy and chemicals firms.
This year's exercise involved more than 300 personnel from agencies and stakeholders such as the SCDF, Singapore Police Force, Singapore Armed Forces, JTC, ExxonMobil, Maritime Port Authority of Singapore, and the Home Team Science and Technology Agency.