Singapore scrambles F-16 jets in response to civilian helicopter, Changi Airport operations briefly affected
A total of 20 flights at Changi Airport experienced some delays as F-16 aircraft was deployed.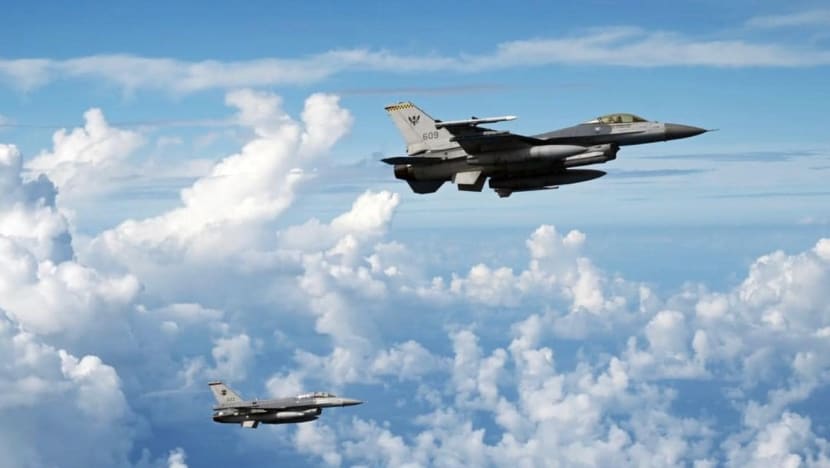 SINGAPORE: The Republic of Singapore Air Force (RSAF) scrambled two F-16 jets on Wednesday afternoon (Aug 9) in response to a civilian helicopter, said the Ministry of Defence (MINDEF) and Civil Aviation Authority of Singapore (CAAS).
"Preliminary checks indicate that the helicopter is of a civilian type and registered to a foreign company," they added.
"After ensuring that our security was not compromised, the F-16s were subsequently stood down."
The fighter jets were deployed at about 12.40pm.
Operations at Changi Airport were affected for about 40 minutes, between 12.50pm and 1.28pm, said the authorities.
A total of nine arrival flights and 11 departure flights experienced some delay.
MINDEF and CAAS were responding to CNA's queries after the @alert5 account on X, the social media platform formerly known as Twitter, posted about an incident at 1.10pm.
Using online flight tracking service Flightradar24, the account user said fighter jets had been scrambled in response to a "Malaysian-registered helicopter" entering airspace off Changi Airport.
Defence journalist Roy Choo added on X that the F-16s were scrambled from Tengah Airbase and that the Malaysia-registered aircraft in question was a civilian AS350 or Squirrel helicopter.