Aspiring F1 drivers hope Singapore GP fever revs up local motorsport scene
Motorsport enthusiasts in Singapore are hoping that the return of the Singapore Grand Prix this weekend will give a much-needed boost to the local scene.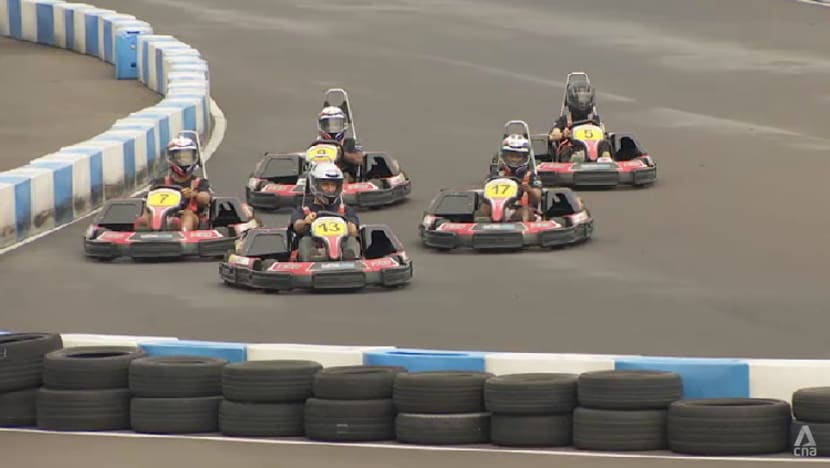 SINGAPORE: Teenager Kabir Anurag does not attend regular school like other youths his age. Instead, he spends his days racing in karting arenas at hair-raising speeds, chasing his dream of becoming a professional driver in Formula One.
The 15-year-old full-time go-kart driver, who has been captivated by motorsports since he was four, recently dropped out of school to focus on his goal, and put racing as his top priority.  
"I put racing in front of everything in my life. I have to work hard in the gym. I have to work hard at the track. I've put in thousands of hours on the track to become better," said Kabir, whose supportive parents have engaged private tutors to help him keep up with his studies.
His sacrifices have yielded results – Kabir is currently in Italy for a world championship race, representing international karting team Ricky Flynn Motorsport.
Both Kabir and his coach Pavan Ravishankar – a former race car driver who wants to groom the next generation of pro-drivers the likes of Sebastian Vettel and Lewis Hamilton – hope that the return of the Singapore F1 Grand Prix this weekend will give a much-needed boost to the local scene, which has churned out a number of drivers but with little attention or support.
BUMPY ROUTE TO RACE DAY FOR LOCAL DRIVERS
Time and money are the toughest roadblocks for aspiring F1 drivers in Singapore, as they have to go overseas to train and compete, said Mr Ravishankar. This means young drivers would have to make a choice between the sport and school.
Singaporean professional Formula 4 driver Christian Ho, 16, made that choice four years ago when he left Anglo-Chinese School (ACS) right before his Primary School Leaving Examination (PSLE) to pursue a career in karting in Italy.
Christian said it was a tough choice to make as he had to leave school and friends behind, and adapt to a new country where the competition was stronger, and where he had to use Google translate to get around.
"My parents sacrificed a lot – mom had to follow me, so she also had to leave friends behind," he said, adding that he was working hard to power through the racing leagues to his ultimate goal – Formula 1.
Preparation work leading up to race day is also exhausting, involving cardio and strength exercises in the gym, practicing on racing simulators, building track knowledge, studying telemetry data from each drive, and reviewing team mates and competitors, said Mr Ravishankar.
LITTLE HELP AVAILABLE FOR ASPIRING DRIVERS
Singapore has a lot of "kids with big dreams" for motor racing, but the country does not have enough experts or coaches to help the aspiring drivers, said Mr Ravishankar, who co-founded the Integrate Motorsport Academy to fill the gap after hanging up his racing gloves.
"I think in Singapore there are a lot of kids craving the knowledge but I don't think that there are enough people providing that knowledge, and these kids don't know where to start," he said.
"There's a lot of opportunities in Singapore because we have a very difficult technical track. (Our drivers) can build a very strong base and then go around Asia and still be fast."
While the Singapore GP could pique the interest of locals getting behind a steering wheel, the event does little to boost the profile of local drivers, said Christian, adding that he hopes Motor Sports Singapore (MSS), the sport's governing body, does more to help home-grown drivers.
"I do hope to see more support from MSS. In order to boost motorsport in Singapore, they have to promote the drivers a bit more. Back the drivers a little bit in terms of financial support," he said.
F1 FEVER ATTRACTS CROWDS TO GO-KART ARENAS
Motorsport enthusiasts and businesses are hoping that each year's Singapore GP will bring more locals to go-kart facilities, along with awareness of the sport and more opportunities to groom local talents like Kabir and Christian.
"F1 is quite important for us because it creates hype for our business and for potential drivers to come into this sport," said Mr Paul Lee, director of operations at go-kart firm The Karting Arena.
The company's Jurong circuit is designed for both fun and professional racing, with fun karts going up to 50kmh and race karts at double the speed.
Children from as young as four are allowed on the baby karts as long as they are of a certain height and are able to touch the pedals, said Mr Lee, adding that he hopes more fun kart drivers make the switch to race kart driving so that the motorsport scene in Singapore becomes more vibrant.
"You can still race at 65 years old. Karting is for all ages, not only for younger drivers," said Mr Lee. "The thing about motorsports is: I think a lot of people think it's inaccessible but actually it's quite accessible, and karting is the cheapest form of motorsports."
Mr Lee said that the company is in the process of working with MSS to prepare its tracks for international races and hopes to soon start a race series so that the local scene attracts more international drivers.  
"The challenge is that we don't really have a very strong series racing in Singapore right now. If we do have then we can actually attract overseas drivers," said Mr Lee. "We want to attract foreign drivers to come over so that our own drivers don't have to travel and can benefit from it."
Mr Ravishankar said he hopes that the Singapore GP buzz will generate more interest in the local motorsport scene, and encourage people to try out the sport or even go professional.
"I hope that the Singapore GP will make people realise that motorsports exist. It will drive them down to the local kart tracks and get them interested in the sport. Then they would find people they trust to help them – coaches, teams – and eventually we'll just build on from there," said Mr Ravishankar.
"And who knows, one day we might have an F1 driver in Singapore."