'Every year is a new challenge': Meet the man responsible for lighting up the Singapore Grand Prix
How do you transform Marina Bay into a 61-lap, 5.063km Formula 1 race track? It's a process that begins months before the race, says the man who oversees lighting at the Singapore Grand Prix.
SINGAPORE: While drivers and teams in Formula 1 have come and gone, a constant at the Singapore Grand Prix over the past 13 years is Mr Roberto Grilli.
Mr Grilli, 46, is the general manager of Italian lighting specialist DZ Engineering SRL, which has helped light up the Marina Bay Street Circuit since the inaugural F1 night race in 2008.  
The company, which designs and builds systems in the electrical, lighting and telecommunications fields, oversees track lighting and race communications for the event.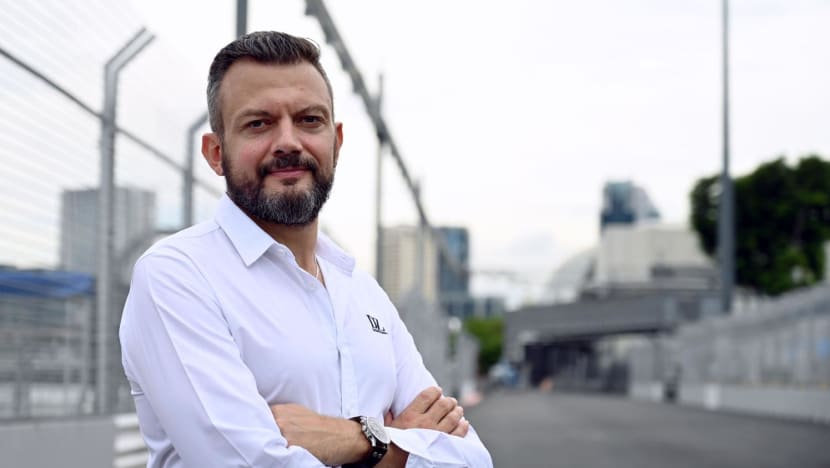 After a two-year hiatus, Mr Grilli and his team have been hard at work to ensure that come race day on Sunday (Oct 2), the Singapore Grand Prix shines as brightly as before.
STARTING FROM SCRATCH
Lighting up the 61-lap, 5.063km track is a process that begins months before the race.
After a schedule is drawn up, a maintenance team checks the inventory which is kept at a 38,000 sq m storage facility in Tampines. The team ensures that the equipment from the last race is present, and tests the lighting fixtures to ensure they are in working order.
"Before bringing everything here (to the track), we have to be sure that the area has already been cleared," Mr Grilli told CNA.
About 1,600 floodlights have to be set up along the track, and more than 220km of cables need to be laid. 
The set-up usually begins by mid-June, and the first test of the lights by the end of August.
"The first switching on (of the lights) will be just a few weeks before the race," said Mr Grilli.
"During (that time) we do all the troubleshooting, we make sure that everything works properly, that the lights are in a good shape and we start with aiming (of the light) as well."
The number of people involved in the initial installation is only 25, but this gradually increases and will eventually grow to more than 100 during the race weekend.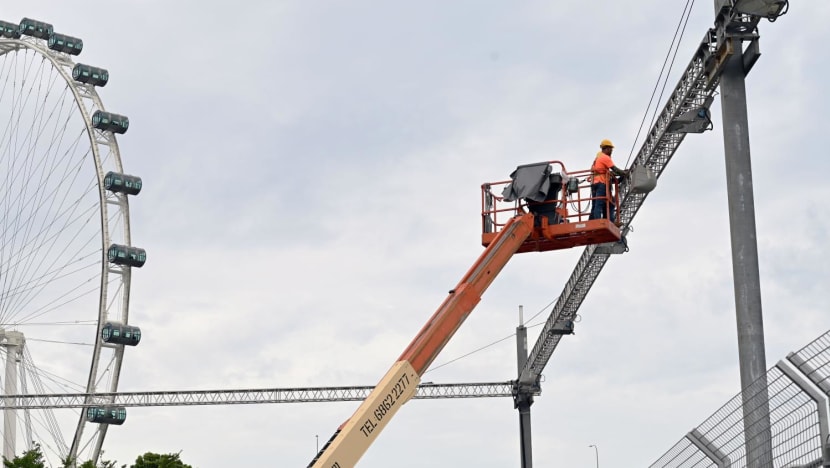 While there are other night races on the F1 calendar, Mr Grilli pointed out that the lighting fixtures for those circuits are permanent, unlike the ones in Singapore.
"(Here), it is the only temporary installation in terms of infrastructure, of cabling, so it's like starting from scratch every year," he said. "Here, every year is a new challenge."
QUALITY OVER QUANTITY
Having quality lighting for a track like Singapore's is important, emphasised Mr Grilli.
Given that the race is broadcast all over the world, it is integral for the viewing experience, he pointed out.
"If you need to have very good TV broadcasting quality, you need to have a good lighting level so that the show and the race can be seen everywhere in the world and everyone can enjoy it," he said.
"The lighting level has to be consistent but it is also more important to have a very good uniformity, because in TV … you need to have a very good quality of the images and to have it, it is better to have the same level of lighting everywhere (on track)."
While there are street lights all along the Marina Bay circuit, these are insufficient for the race, Mr Grilli added.
"You cannot really consider (it) for a motorsport event. It's just nice to see and it's just good to use when you're driving your own car. But when you have a motorsport event, of course you need to have something much more powerful."
Having proper lighting is not only for crisp TV images but helps minimise glare on track, Mr Grilli added.
This prevents driver accidents, allows race marshals to carry out tasks and ensures that the public has an optimum viewing experience, Mr Grilli said.
Light temperatures for the Singapore GP are also maintained at a precise 4200K (Kelvin).
"We don't need to use too much light … First of all, it is a wastage ... And second, you might even have more trouble with glare and everything else," he said.
The energy consumption for the lighting up of the race track is less than an average-sized shopping mall, added Mr Grilli.
As part of its push for sustainability, the Singapore Grand Prix will convert all track lights to LED lighting in 2023. 
This would be a "technological step forward", said Mr Grilli. Nothing will change for DZ Engineering, and it will still integrate the lighting systems next year, he added.
Days before the race and during practice sessions, Mr Grilli's team also gets feedback from the International Automobile Federation as well as teams and drivers.
"Usually (the feedback) is on Thursday, when there is a safety car that is testing the track. So if we have something that they might want to change … we can do it immediately after."
RACE DAY
Race day is a busy affair for Mr Grilli and his staff.
They are divided into various teams. One team is stationed in the control room, where they keep a close eye on the various systems.
"We know if the lights are working, we know if there is any switch that trips, we know everything from there," said Mr Grilli.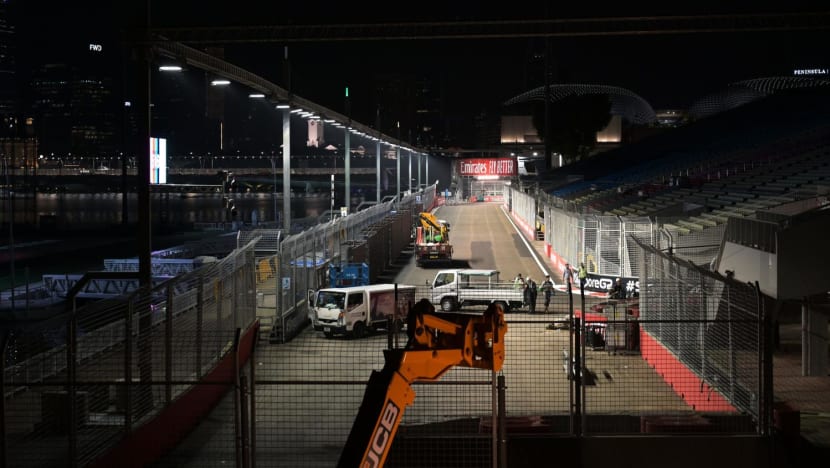 "Each one of them is … very focused in one of the systems and there is of course someone that overall supervises the entire solution."
There are also four to five people - including an electrician, a mechanic and a superintendent - assigned to each of the 12 power generation stations along the track. These stations help power the lights for a certain section of the track.
"We have few people … that can act immediately if something is not working properly, in terms of mechanical and electrical in terms of lighting. So every single generation area will actually have a group of people able to act and react in real time," added Mr Grilli.
While having a decade's worth of experience has helped the team, Mr Grilli explained that there are still nerves.
"You are still not relaxed until the race is over," he said.
But having the experience of lighting up the track over the years has helped, added Mr Grilli, who was also involved in the lighting up of the first Formula E night race in Diriyah, Saudi Arabia.
"Over the years there have been some minor changes on the track and of course we have to follow as well in terms of lighting," he added. Preparations for this year's races began at the end of May.
The completion of another successful race brings a sense of satisfaction, said Mr Grilli, who was the project manager during the first night race in Singapore.
He recalled the sense of pride he felt after the 2008 Grand Prix, and added that Singapore has a "special place" in his heart until today.
"It was something that really was a game changer, in terms of my professional life as well.
"I thought after the first few events that the kind of feeling and emotion was going to be different, but no ... When one event is delivered, the kind of feeling and emotion is always the same."