Tree planting for new parents, national family week in year dedicated to celebrating Singapore families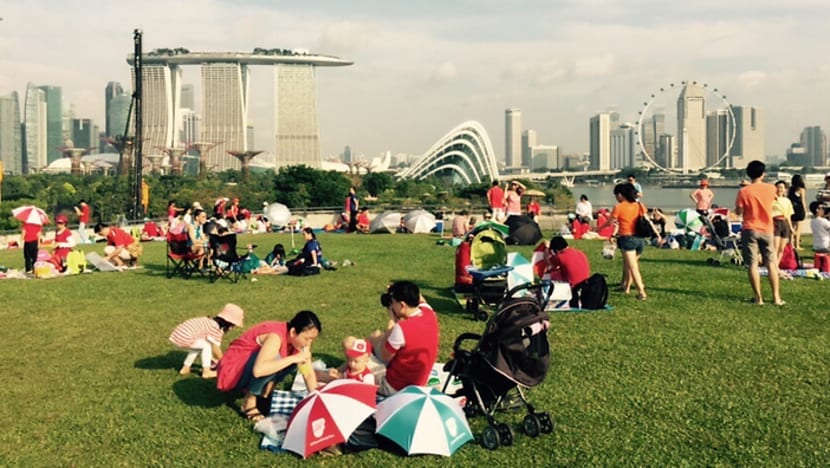 SINGAPORE: A series of programmes will be rolled out to strengthen family bonds in 2022, a year which the Ministry of Social and Family Development (MSF) is dedicating to celebrating Singapore families.
"Strong families continue to be the bedrock of our society. A key pillar of strength and our first line of support, complemented by the community and enabled by the Government," said Minister for Social and Family Development Masagos Zulkifli during the Committee of Supply debate on Thursday (Mar 10).
He added: "Strong families also nurture resilient individuals who do well for themselves and their families, and who eventually, we hope, give back to the community. This is a virtuous cycle that we want to perpetuate and preserve."
Mr Masagos said that although Singapore families have remained strong, new stressors are placing a strain on more families, including geopolitical uncertainties and the changing nature of work.
Marriage rates have declined over the past 20 years and couples are having fewer children. There is also a higher proportion of divorces among more recent marriages.
"We must preserve our family core. The Government will journey alongside and support all families in Singapore. First, we will fortify the foundations of all families. Second, we will strengthen support for families with additional needs."
The minister said that MSF will engage the public and stakeholders through the Alliance for Action to Strengthen Marriages and Family Relationships, and consolidate the feedback into a "Celebrating SG Families Plan", which will set out society's commitment and support for families.
There will be legacy projects launched that will last beyond this year, he said.
FAMILY TREES, MARRIAGE COUNSELLING
New parents will kick off the initiatives by planting a tree for their baby, under the FamilyTrees programme by the National Parks Board and Families for Life. The programme, to start this Saturday, will be an ongoing initiative for every newborn.
In June, an annual National Family Week will be launched to celebrate and reiterate the importance of family bonding. There will be a family carnival, and families can sign up for marriage, parenting programmes and interactive parent-child workshops. 
The ministry will pilot the Journey with You initiative, a programme where selected solemnisers can mentor newly-wed couples in their first year of marriage. 
"This complements the suite of marriage preparation and enrichment programmes that help couples prepare for and strengthen their marriages. We have found early success in a similar programme for the Muslim community called Bersamamu," said Mr Masagos.
MSF said it will support Families for Life to make marriage, parenting and grandparenting programmes more accessible in the community. Families for Life @ Community programmes will be expanded from pilots conducted in 2021 in Choa Chu Kang and Nee Soon Central towns, in which more than 2,000 families participated.
The ministry will also increase the number of Family Service Centres providing upstream intervention and support through the Strengthening Families Programme, from five to 10 by the end of the year. These centres provide a "safe and confidential space" for families facing relationship problems to reach out for professional help, said MSF.
A new mascot, Becky Bunny, will help to promote core family values of love, care and concern, commitment and respect, said MSF. There will also be a new family zone at Gardens by the Bay in the later part of 2022.
INTEGRATING COMMUNITY SERVICES
Minister-in-charge of Social Services Integration Desmond Lee spoke on plans to scale up and bring together social services to make it easier for families in need to get help from a single touchpoint, without multiple applications.
"Some families face an array of challenges that may prevent them from seizing the opportunities in front of them. Debt and financial difficulties, health problems, job instability, children struggling in school, family conflict, mindset barriers, housing insecurity, mental health issues and more," said Mr Lee.
"These are often complex, deep-seated and interlocking, unlike the kinds of difficulties that most families face from time to time, and they cannot be resolved by one government agency or community partner, or one social worker."
There is a "fundamental shift" in how social services are delivered, to be more proactive in outreach, to put the family at the centre and to "go as far upstream as we can", said Mr Lee.
ComLink embodies the "proactive, family-centric approach" MSF is moving towards, he added.
"We draw relevant data across agencies, with the families' consent, to get a 360-degree view of their situation as best as possible. We work with the family and across agencies, to develop goals and a dynamic, common action plan.
"We then bring in customised programmes and services, tailored to their needs, with the support of community partners, donors, corporates, and volunteers."
ComLink, which provides support to families in rental housing, was expanded from four to 11 towns over the last year. It is due to expand the programme nationwide to 21 towns by the second quarter of 2022.
Under ComLink, families get support from government agencies and community partners, and have befrienders assigned to them who work with them to develop action plans to achieve their goals.
MSF has also been streamlining processes and sharing data across agencies so that ComCare clients can qualify for help schemes without repeated means testing or the need to submit supporting documents. 
By mid-2022, eligible families with children attending government or government-aided schools and MSF-registered student care centres whose ComCare financial assistance applications are approved will automatically qualify for student care fee assistance. 
The ministry will progressively expand the number of schemes where ComCare applicants do not have to make separate applications, to cover pre-school subsidies, digital access, housing and primary healthcare. About 30,000 ComCare families will benefit from increased convenience with these "bundled schemes".
MSF will also include more schemes on SupportGoWhere, which was first developed in 2020 as a one-stop portal for citizens to learn about and apply for COVID-19 support schemes.
It has since been enhanced to go beyond COVID-19 support by consolidating information on various social assistance schemes offered by different agencies. By mid-2022, ComCare applicants will be able to apply for short- to medium-term assistance using the portal.