FAQ: Singapore extends smoking ban to public parks and beaches from July - what you need to know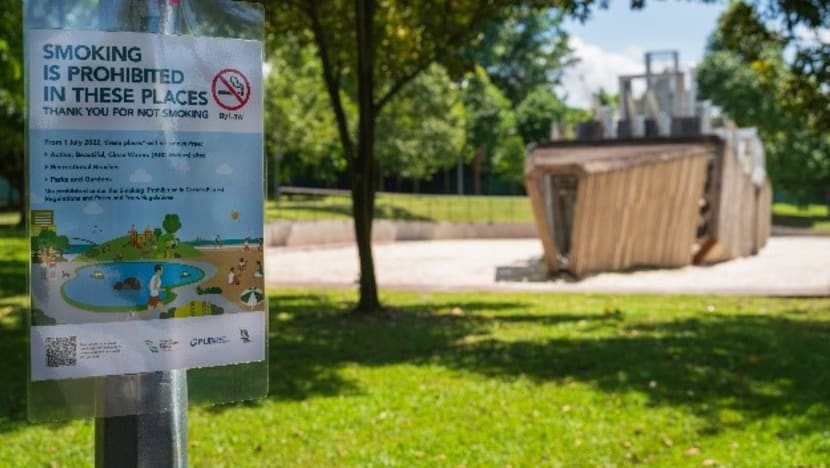 SINGAPORE: Smoking will no longer be allowed at all public parks, some water sites and 10 recreational beaches from Friday (Jul 1), with enforcement starting in October to give smokers time to adjust to the new rules.
The smoking ban was first announced in March, as part of Singapore's efforts to clamp down on smoking and tackle second-hand tobacco smoke.
Here's what you need to know about the new rules:
Q: Where will smoking be banned?  
Three types of premises will be covered - public parks and gardens, Active, Beautiful, Clean Waters (ABC Waters) sites, as well as 10 recreational beaches.
There are more than 100 sites under these categories, joining a list of more than 49,000 places where smoking has been banned. These include entertainment outlets, shopping malls, bus stops and common areas in residential buildings.
Smoking is already banned in some green spaces such as neighbourhood parks in private and public housing estates, reservoirs and nature reserves.
New places where smoking will be prohibited
PUBLIC PARKS AND GARDENS
Admiralty Park
Aida Park
Aljunied Park
Almond Crescent Playground
Aroozoo Park
Arthur Park
Bangsawan Park
Banyan Villas Playground
Bedok Reservoir Park
Bedok Ria Crescent Playground
Bedok Terrace Playground
Begonia Rd Playground
Beng Wan Road Playground
Binchang Rise Playground
Bougainvillea Park
Bristol Interim Garden
Brooks Park
Bukit Batok Nature Park
Bukit Batok Town Park
Bukit Timah Nature Reserve
Bunga Rampai Park
Burgundy Crescent Playground
Butterfly Ave Playground
Cactus Road Playground
Cambridge Park
Carlisle Interim Garden
Carmichael Road Playground
Carpmael Park
Cashew Crescent Fitness Corner
Cashew Link Playground
Cashew Road Interim Park
Cashew Road Playground
Central Catchment Nature Reserve (including Lower Peirce Reservoir Park, Upper Peirce Reservoir Park, Upper Seletar Fishing Ground and Upper Seletar Reservoir Park)
Ceylon Road Interim Park
Changi Heights Playground
Chartwell Drive Park
Chempaka Ave Playground
Cheng Soon Garden Playground
Chestnut Close Playground
Chestnut Drive Playground
Chestnut Nature Park
Chiltern Drive Park
Chu Yen Playground
Chuan Green Playground
Chuan Walk Playground
Chwee Chian Playground
Clementi Crescent Playground
Clover Crescent Playground
Clover Way Playground
Colchester Grove Interim Open Space
Colchester Grove Open Space
Coronation Park
Countryside Playground
Dairy Farm Nature Park
Dedap Place Playground
Dew Garden
Dhoby Ghaut Green
Duchess Park
East Coast Terrace Park
Eastwood Park Playground
Elias Terrace Playground
Elite Terrace Park
Ellington Square Playground
Eng Kong Garden Playground
Eng Kong Place Fitness Corner
Faber Height Open Space
Faber Hills Playground
Florissa Park Playground
Fudu Walk Playground
Fulton Ave Playground
Fuyong Interim Park
Garden View Playground
Gelenggang Park
Gentle Drive Playground
Golden Rise Playground
Goldhill Avenue Playground
Goodlink Park Playground
Greenfield Drive Playground
Greenleaf View Playground
Greenridge Crescent Playground
Greenwood Crescent Playground
Green Lane Park
Grove Lane Playground
Guillemard Road Open Space
Haig Walk (Geylang Rd - Dunman Rd)
Haig Walk Extension
Harvey Crescent Playground
Haus Park
Hazel Park Open Space
Henry Park
Highgate Walk Playground
Hillview Crescent Playground
Hindhede Nature Park
Holland Green Playground
Holland Grove View Fitness Corner
Holland Grove View Playground
Hooper Road Playground
Hoover Park (Lor Pisang Hijau Playground)
HortPark
Hua Guan Cres Playground
Interim Park At Jalan Terang Bulan
Interim Park At Lengkong Enam
Island Gdns Walk Playground
Istana Park
Jalan Angin Laut Playground
Jalan Awang Interim Park
Jalan Buloh Perindu Playground
Jalan Chempaka Kuning Playground
Jalan Daud Interim Park
Jalan Daud Park
Jalan Dermawan Playground
Jalan Eunos Interim Park
Jalan Geneng Interim Park
Jalan Ishak Park
Jalan Ismail Park
Jalan Kayu Interim Park
Jalan Kayu Park
Jalan Kebaya Playground
Jalan Kelichap Playground
Jalan Limau Kasturi Openspace
Jalan Limau Kasturi Playground
Jalan Limau Manis Playground
Jalan Mas Kuning Playground
Jalan Mas Puteh Playground
Jalan Naung Playground
Jalan Pari Burong Playground
Jalan Pari Dedap Playground
Jalan Pelatok Open Space
Jalan Pelatok Playground
Jalan Pintau Playground
Jalan Rasok Park
Jalan Remaja Park
Jalan Riang Park
Jalan Selaseh Playground
Jalan Senang Playground
Jalan Tekukor Playground
Jalan Yasin Interim Park
Jambol Place Park
Janggus Garden
Joo Chiat Terrace Park
Jupiter Playground
Jurong Lake Gardens (Chinese Garden and Japanese Garden)
Kampong Java Park
Kandis Garden
Katong Park
Kemuning Park
Kew Avenue Playground
Kew Crescent Playground
Kew Drive Playground
Kheam Hock Park
Kim Pong Park
King's Drive Playground
Koon Seng Park
Kranji Marshes
Labrador Nature Reserve (including Labrador Nature Park, Berlayer Creek and Bukit Chermin Boardwalk)
Lakeside Grove Fitness Corner
Lakeside Grove Playground
Leban Park 
Legundi Park
Lentor Green Playground
Lentor Grove Playground
Lentor Road Playground
Lentor Street Playground
Lentor Vale Playground
Lentor Walk Playground
Lilac Drive Playground
Limau Garden Playground
Limau Villas Playground
Lorong 40 Geylang Playground
Lorong Kemunchup Park
Lorong Marican Park
Lorong Marzuki Park
Lorong Melayu Park
Lorong N Telok Kurau Park
Lorong Ong Lye Park
Lorong Sarina Interim Park
Lorong Tanggam Park
Lower Seletar Reservoir Park
Loyang View Playground
Lucky Gardens Playground
Luxus Hills Park
Macpherson Linear Park
Malcolm Park
Mariam Walk Playground
Mariam Way Playground
Marine Parade Road Park
Marymount Terrace Playground
Mar Thoma Road Park
Mayfair Park
Mayflower Crescent Playground
Mei Hwan Drive Playground
Mei Hwan Crescent Playground
Mera Terrace Playground
Meragi Road Playground
Meyer Road Playground
Mimosa Rd Playground
Mimosa Terrace Playground
Mimosa Walk Playground
Mount Sinai Plain Playground
Mt Emily Park
Mugliston Park Playground
Namly Park
Neram Cres Playground
Nim Cresent Open Space
Novena Park
Novena Rise Park
Oasis@Mulberry Park
Onan Road Green Space
Opera Open Field
Orchard Fountain Corner
Orchid Village Playground
Pandan Reservoir Fitness Corner
Park Villas Terrace Playground
Parry Ave Interim Park
Parry Road Playground
Pasir Panjang Park
Pavilion Playground
Pavilion Playground II
Paya Lebar Crescent Open Space
Pebble Garden
Pemimpin Place Playground
Penang Road Open Space
Pesari Walk Playground
Phoenix Park
Platina Road Playground
Poh Huat Road Playground
Realty Park
Richards Ave Park
Saint Michael's Fitness Corner
Saint Michael's Playground
Saraca Rd Playground
Savoy Park Playground
Seletar Terrace Playground
Sennett Ave Linear Park
Sennett Ave Linear Park 2
Sennett Avenue Openspace
Sennett Avenue Playground
Serenade Walk Playground
Shangri-La Playground
Shelford Road Playground
Siang Kuang Ave Interim Park
Siglap Linear Park (Jalan Bangsawan-Upper East Coast Road)
Siglap Linear Park (Upper East Coast Road-Marine Parade Road)
Singapore Botanic Gardens
Sixth Ave Playground
Soo Chow Walk Playground
Springleaf Garden Playground
Springleaf Nature Park
Springleaf Park Connector
Springleaf Ave Playground
Springside Park
St Nicholas View Playground
St. Anne's Wood Playground
Stratton Walk Playground
Sunbird Circle Playground
Sungei Buloh Wetlands Reserve
Sunrise Close Playground
Sunrise Drive Playground I
Sunrise Drive Playground II
Sunrise Place Playground
Sunrise Terrace Open Space
Sunrise Way Playground
Sunset Heights Open Space
Sunset Way Park
Sunset Way Playground
Surin Park
Tai Hwan Terrace Playground
Tai Keng Gardens Playground
Tai Keng Place Playground
Taman Kembangan Playground
Taman Mas Merah Playground
Taman Permata Park
Tamarind Rd Playground
Tampines Eco Green
Tanah Merah Playground
Tanah Puteh Playground
Tanjong Katong Road South Park
Tavistock Ave Playground
Teacher's Estate Playground
Telok Kurau Park
The Inglewood Playground
Thomson Green Playground
Thomson Park (Jln Keli)
Thomson Park Estate Interim Park
Thomson Road Playground
Thomson Walk Playground
Thong Soon Green Playground
Thrift Drive Open Space
Turnhouse Park
University Road Park
Venus Green
Villa Verde Park
Waringin Park Playground
Watten Heights Playground
West Coast Green Playground
West Coast Place Playground
Westville Playground
Westwood Park Playground
Wilkinson Interim Park
Windsor Nature Park
Yio Chu Kang Gardens Playground
Yishun Neighbourhood Park
Yishun Pond Park
Yunnan Park
Zhenghua Nature Park
ABC WATERS SITES, RESERVOIR PARKS
ABC Waters @ Lorong 8 Toa Payoh (between Lorong 6 Toa Payoh and Lorong 8 Toa Payoh)
ABC Waters @ Serangoon Reservoir (outside Hougang Capeview)
Alexandra Canal (between Tanglin Road to Delta Road and Zion Road to Kim Seng Road)
Alexandra Canal Subsidiary Drain "F" (between Boon Tiong Road and Zion Road)
Bedok Reservoir
Bukit Batok Canal (between Bukit Batok West Avenue 2 and Bukit Batok West Avenue 4)
Bukit Batok West Outlet Drain (between Bukit Batok West Avenue 8 and Pan-Island Expressway)
Bukit Timah First Diversion Canal (between Bukit Timah Road and Holland Green)
Chestnut Drive Outlet Drain (between Petir Road and Dairy Farm Crescent)
Communal node at Dawson Road (near Block 92, SkyTerrace @ Dawson)
Communal nodes at Windsor Park Estate
Geylang River (between Dunman Road and Guillemard Road)
Hougang Avenue 10 Outlet Drain (between Hougang Avenue 4 and Buangkok Drive)
Jurong Lake
Kallang River (between Upper Boon Keng Road and Sims Avenue)
Kallang River @ Bishan – Ang Mo Kio Park (between Upper Thomson Road and Bishan Road)
Kallang River @ Bishan – Braddell (between Bishan Road and Braddell Road)
Kallang River @ Kolam Ayer ABC Waterfront (between Bendemeer Road and Kallang Bahru Ville Block 63)
Kallang River @ Potong Pasir (between Potong Pasir Avenue 1 and St Andrew's Junior School)
Kallang River @ River Vista (between Bendemeer Road and River Vista Block 38A)
Lorong Halus Wetland (including Serangoon Bridge, also known as Lorong Halus Bridge)
Lower Seletar Family Bay (including the fishing deck)
Pandan Reservoir (including the dyke)
Rochor Canal (between Jalan Besar and Crawford Street)
Sengkang Floating Wetland
Sungei Api Api (between Tampines Expressway and Pasir Ris Drive 3)
Sungei Pandan (near Sheng Hong Temple)
Sungei Pandan Kechil (between Ayer Rajah Expressway and West Coast Highway)
Pang Sua Pond
Sungei Pinang (between Hougang Avenue 10 and Upper Serangoon Road)
Sungei Simpang Kanan (between Canberra Link and Simpang Kiri Park Connector (PCN))
Sungei Tampines (between Tampines Expressway and Pasir Ris Drive 3)
Sungei Ulu Pandan (between Clementi Road and Clementi Avenue 4)
Sungei Whampoa (between Kim Keat Road and Serangoon Road)
Lookout Deck at Punggol Reservoir (outside of H2O Residences)
Pang Sua Canal Fishing Deck
MacRitchie Reservoir Park
RESERVOIRS
Pandan Reservoir
Kranji Reservoir
Jurong Lake
MacRitchie Reservoir
Upper Peirce Reservoir
Lower Peirce Reservoir
Bedok Reservoir
Upper Seletar Reservoir
Lower Seletar Reservoir
Marina Reservoir
Serangoon Reservoir
Punggol Reservoir
PARKS UNDER JURONG TOWN CORPORATION, TOWN COUNCILS
The public green at International Business Park (under the JTC)
The public green at Changi Business Park (under the JTC )
Sakra Park @ Jurong Island (under the JTC)
Jurong Hill Garden of Fame (under the JTC)
Jurong Eco Garden @ CleanTech Park (under the JTC)
Neighbourhood parks in Ang Mo Kio
Neighbourhood parks in Bedok
Neighbourhood parks in Bishan
Neighbourhood parks in Bukit Batok
Neighbourhood parks in Bukit Merah
Neighbourhood parks in Bukit Panjang
Neighbourhood parks in Choa Chu Kang
Neighbourhood parks in Clementi
Neighbourhood parks in Joo Seng
Neighbourhood parks in Hougang
Neighbourhood parks in Jurong East
Neighbourhood parks in Jurong West
Neighbourhood parks in Pasir Ris
Neighbourhood parks in Punggol
Neighbourhood parks in Queenstown
Neighbourhood parks in Sembawang
Neighbourhood parks in Sengkang
Neighbourhood parks in Serangoon
Neighbourhood parks in Tampines
Neighbourhood parks in Toa Payoh
Neighbourhood parks in Woodlands
Neighbourhood parks in Yishun
RECREATIONAL BEACHES
Changi Beach
East Coast Beach
West Coast Beach
Sembawang Beach
Pasir Ris Beach
Coney Island Beach
Punggol Beach
Siloso Beach
Palawan Beach
Tanjong Beach
Q: Why has the smoking ban been extended to more places?

 
This round of implementation targets places that are frequented by the public for recreational activities, said the National Environment Agency, NParks, PUB and Sentosa in a joint media release on Wednesday (Jun 29).
The authorities previously said the extension is part of Singapore's efforts to clamp down on smoking and tackle second-hand tobacco smoke.
The issue of second-hand smoke was brought up during the Ministry of Sustainability and the Environment's (MSE) committee of supply debate in March when several Members of Parliament asked if legislation could be introduced to tackle the problem.
Last year, more than 13,000 tickets were issued for smoking in prohibited areas. Close to 40 per cent were caught smoking in common areas in Housing Board estates such as lift lobbies and staircases, as more people worked from home.
Q: What enforcement action will be taken on those who smoke at the new sites?

 
To give people enough time to adjust to the rules, those caught smoking at the new sites in the first three months of the smoking ban will receive verbal advisories.
Enforcement will take effect from Oct 1, with offenders facing a fine of S$200 or up to S$1,000 if convicted in court.
Signs, posters and banners that state "No smoking by law" have been put up at the new smoke-free locations to remind the public not to smoke in the area.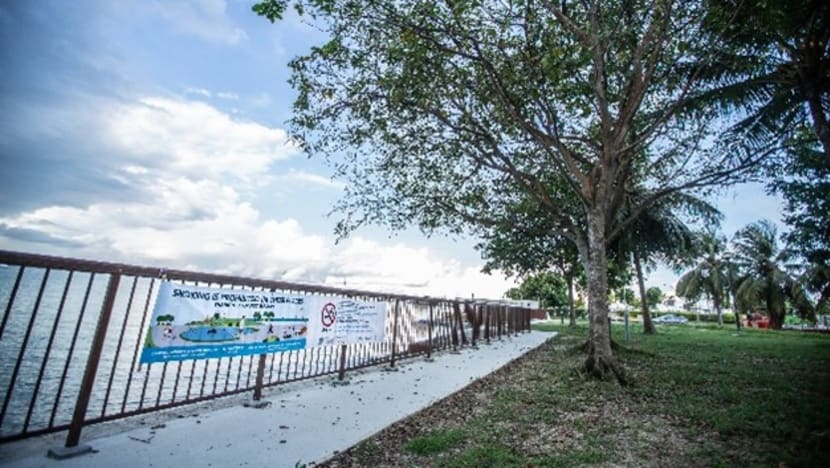 Q: Are there still areas for smokers at these places?
To help smokers adjust to the newly prohibited areas, designated smoking areas are provided in some larger regional parks as well as near the three beaches in Sentosa – Palawan Beach, Siloso Beach and Tanjong Pagar Beach.
Parks and Beaches with Designated Smoking Areas (DSA) 
| Place | Number of DSAs |
| --- | --- |
| Palawan Beach | 3 |
| Siloso Beach | 5 |
| Tanjong Beach | 2 |
| East Coast Park | 10 |
| Changi Beach Park | 3 |
| Pasir Ris Park | 3 |
| West Coast Park | 3 |
| Sembawang Park | 1 |
| Bishan-Ang Mo Kio Park | 2 |
| Jurong Central Park | 1 |
| Marsiling Park | 1 |
| Mount Faber Park | 1 |
| Woodlands Waterfront Park | 1 |
| Tanjong Pagar Park (existing) | 1 |
| Raffles Place Park (existing) | 1 |
Q: Where else has smoking been prohibited?
Several places in Singapore have already banned smoking, starting as early as October 1970 when smoking was prohibited on omnibuses as well as cinemas and theatres.
Most recently, the Orchard Road precinct was designated a No Smoking Zone in January 2019, except for about 50 designated smoking areas - marked out by yellow boxes - where people can light up.
The Seletar Airport as well as some water bodies of scheduled reservoirs under the Public Utilities Act also banned smoking in 2019.