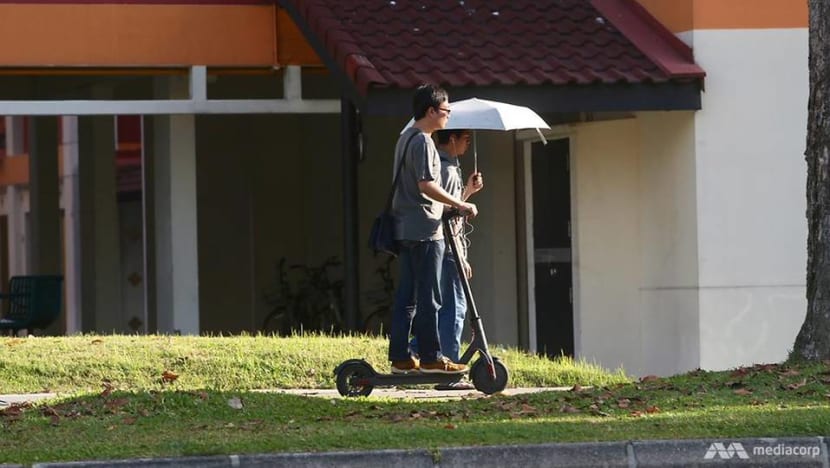 SINGAPORE: There were fewer cases of fires involving personal mobility devices (PMDs) and power-assisted bicycles (PABs) in the first half of 2021 than in the same period last year, the Singapore Civil Defence Force (SCDF) said.
In mid-year statistics released on Sunday (Sep 12), SCDF said there were 29 such fires in the first half of the year, down 32.6 per cent from 43 in the first half of 2020, and 54 in the first half of 2019.
Seventeen cases involved PMDs – a 34.6 per cent decrease from 26 cases in the first half of 2020 – while another 12 cases involved PABs, a 29.4 per cent drop from 17 in the same period the year before.
SCDF advised users not to leave batteries or devices to charge unattended for an extended period of time or overnight. It also urged users not to tamper, modify or attempt to repair their devices, as well as to avoid buying PMDs without the UL2272 certification mark.
All e-scooters sold and used in Singapore must be UL-2272 certified - a fire safety standard that meets a system of safety tests.
COOKING-RELATED FIRES
SCDF also said it responded to a total of 944 fire calls in the first half of the year, 0.6 per cent less than the 950 over the same period in 2020.
Of these, 513 took place in private and public residential premises, a decrease of 2.7 per cent than the previous year.
"Fires involving cooking activities was the leading cause of fires in residential premises in the first half of 2021, accounting for 188 or 36.6 per cent of all residential fires," SCDF said.
This is followed by fires caused by electrical origin – or those involving faulty wirings and electrical appliances which ignite nearby combustible materials – with 131 cases and dropped light fires, caused by materials like embers from charcoal or cigarette butts - with 84 cases.
In addition, SCDF also responded to 97,485 Emergency Medical Services (EMS) calls in the first half of 2021. This is 1.4 per cent higher than the previous year's 96,105.
Non-emergency EMS calls saw a significant drop of 15.4 per cent to 3,978, as compared to 4,704 in 2020, while false alarm EMS calls fell 16.4 per cent to 2,674.
"The decrease in non-emergency calls and false alarm calls could be attributed to factors such as more people staying at home because of the COVID-19 situation and SCDF's efforts to raise public awareness not to call 995 for non-emergencies," it said.