Five on Friday: 5 times Justin Bieber made headlines - for the wrong reasons
In our weekly, light-hearted take on what's been making the headlines, Natasha Ganesan revisits some of the controversial moments in Justin Bieber's career.
SINGAPORE: It was 2013. The crowds go wild as the headline act for the last night of the Formula One SingTel Singapore Grand Prix concerts steps onto the stage, dressed in all-white, flaunting his arm tattoos.
Towards the end, he goes topless for an encore performance and his fans - the "Beliebers" - are giddy with excitement. 
That was the last time Justin Bieber set foot on Singapore soil and performed for fans here. Now after almost 10 years, the Canadian singer is making his return.
As part of the Justice World Tour for his sixth studio album of the same name, Bieber is back, this time at the National Stadium on Oct 25. Tickets for the show went up for sale on Thursday (Apr 21), starting from S$108.

While Bieber's return to the Singapore stage is certainly exciting news, it's no secret that the singer - who has spent a large part of his life in full public glare - hasn't always had the best reputation.
News of many controversial incidents at his shows and personal life have splashed across frontpages and the Internet over the years.
Here are five times the Peaches singer has dominated the headlines for the wrong reasons.
CONCERT ETIQUETTE
When announcing the tour, the 28-year-old Canadian singer said in a statement: "We've been working hard to create the best show we've ever done, and we can't wait to share it with fans around the world. I'll see you soon."
And I'm sure he meant what he said. Yet Bieber has not always given fans the best show throughout his career.
Back in 2013, fans waited two hours for the singer who was late for his show in London's O2 Arena. As it was a school night, throngs of parents were forced to leave with their disappointed children before Bieber finally arrived.
The then 19-year-old was berated on Twitter for his tardiness and he later issued an apology, saying that he never intended to upset anyone.
While that incident happened in March, history repeated itself in May when the singer was once again late for two hours for a gig in Dubai.
That said, maybe tardiness is something Beliebers can forgive and forget. But throwing up on stage twice? That might be harder to digest.
On the first night of his world tour in 2012, the Baby hitmaker barfed twice on stage. Bieber was performing the song Out of Town Girl when all of a sudden, he turned his back to the crowd, bent over and threw up.
The singer then blamed his digestive pyrotechnics on having drunk too much milk before the concert and even posted a cheeky Tweet:
MISTREATMENT OF FANS
Earlier this month, the pop star announced a partnership with online therapy platform BetterHelp to provide free access to therapy for his fans and touring crew members.
"Being able to offer access to free therapy to my fans and tour family is a real blessing, and I'm humbled to be able to do it," the singer had said.
But there have been times in the past he wasn't so kind to his Beliebers. 
Tabloid news site TMZ once posted footage of Bieber punching a fan right in the face. Ouch.
The video showed the singer in Barcelona pulling up to a concert venue where he was set to perform.
Bieber was sitting at the back of a black car with the window down when a man was seen sticking his hand in the window to touch the singer.
Bieber's hand was then seen making contact with the man's face. The fan appeared to pace back and forth, with a blood-stained mouth.
In another incident, once again captured by TMZ, the pop star was caught on camera spitting over a balcony in Toronto, Canada, where a group - possibly fans - was waiting for him.
However, his representative was swift in coming forward to clarify that the singer did not spit on his fans as there was no one in the space below Bieber when he threw his spit.
Well, someone tell the singer that Singapore doesn't condone anyone spitting in a public place – with or without people around.
ALLEGEDLY HITTING PAPARAZZI WITH CAR
We know most celebrities don't always have the best relationship with the paparazzi. Remember when Harry Potter star Daniel Radcliffe wore the same jacket and hat for six months so that all the photos taken by the paparazzi will look like they were from the same day?
It seems like celebrities are coming up with different and unique ways to show their frustration when they get papped.
Justin Bieber, however, took things to the next level ... with his truck.
Bieber was pulling out of the Saban Theatre in Los Angeles when he allegedly hit photographer William Wilson, who was standing near the passenger side of the vehicle.
Wilson suffered from minor injuries and the Sorry singer had reportedly stepped out of his truck to check on the man.
The photographer however filed a lawsuit in 2019 over the incident for negligence in a car accident.
ARRESTED FOR EGGING NEIGHBOUR
The car accident involving the paparazzo was not the only time Bieber had a brush with the law.
A long-running lawsuit, which was finally resolved in 2018, was filed by Bieber's former neighbour whose house the singer had egged.
Jeffrey and Suzanne Schwartz said in a lawsuit in early 2015 that they allegedly suffered emotional harm because of the singer egging their home.
The Yummy singer was sentenced to two years' probation and fined US$80,900 in damages.
DISRESPECTING HISTORY
When I think of Justin Bieber's most controversial moments, the first incident that pops up in my mind is his comment on Anne Frank, the Jewish diarist who died in a Nazi concentration camp.
Bieber had visited the Anne Frank Museum in 2013, where he wrote the following message in a guestbook:
"Truly inspiring to be able to come here. Anne was a great girl. Hopefully she would have been a Belieber."
This provoked fierce criticism online of the Canadian singer. "Way to turn an inspiring moment into something about yourself," read a tweet.
While the museum defended the singer, it added that his comment "wasn't very sensible".
And that was not the only time the singer was criticised for his insensitivities towards historical figures and monuments.
In 2014, Bieber dropped by the Yasukuni Shrine in Tokyo, where he paid his respects to Japan's war dead, including former military leaders from the country's imperial army who committed mass atrocities across Asia and the Pacific during World War II.

Things went sour when the singer captioned a photo he posted online with "Thank you for your blessings".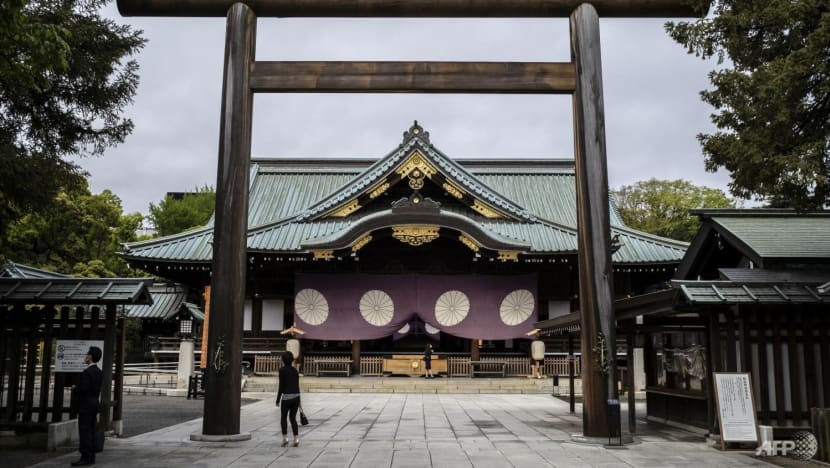 His Chinese fans were not impressed by the visit, urging him on social media to remove the picture out of respect for the dead, which the singer eventually did.
On Instagram, Bieber said that he was mislead into thinking the shrine was only a place of prayer and apologised for his actions. 
"While in Japan I asked my driver to pull over for which I saw a beautiful shrine ... To anyone I have offended I am extremely sorry. I love you China and I love you Japan."