'It's a part of life now': F&B firms not easing off on delivery despite strong dine-in recovery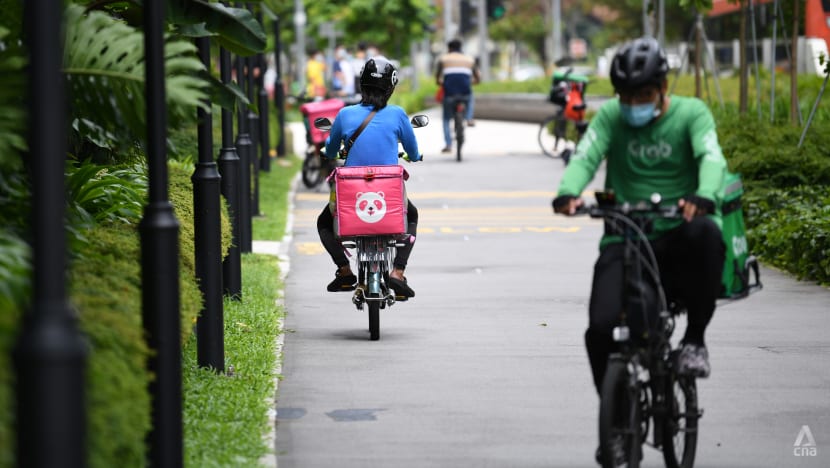 SINGAPORE: In the two months since a raft of COVID-19 rules were relaxed, F&B outlets have seen a strong recovery for dine-in, but have no plans to wind down delivery efforts.
This is because delivery sales – their lifeline during the pandemic – have become a key pillar of business, serving up convenience that customers can no longer do without, said firms CNA spoke to.
During the pandemic, COVID-19 restrictions battered dine-in sales, leading eateries to beef up their delivery arms, such as by tying up with platforms or setting up cloud kitchens, which are dedicated to delivery and takeaway orders, with no dine-in customers.
But with the scrapping of capacity limits and safe distancing requirements on Apr 26, more customers have returned in person.
For fast-food chain Jollibee, this has led to a 5 per cent rise in dine-in customers from April to May.
Yet, delivery still "continues to be significant driver of business", said Mr Alex Serrano, Jollibee's country operations head for Singapore, where it has 18 outlets.
It opened its first cloud kitchen in August 2020 to cater to a boom in delivery demand amid the "circuit breaker" period. It has since added three more to its roster, with the latest opened in Sembawang in March this year.
"(Delivery) has become the new norm for consumers," Mr Serrano told CNA. To cater to consumers' changing habits, the chain will continue to grow its delivery segment, such as with plans to open a fifth cloud kitchen within a year, he said.
It is also drawing up plans to introduce group meals, delivery-friendly menus and loyalty rewards, among other examples, Mr Serrano noted.
WANTING BOTH BRICK-AND-MORTAR AND DELIVERY
For Poke Theory, the nature of its items – bowls of sashimi, vegetables and grains – has long made it "delivery-friendly". Pre-COVID-19, delivery made up about 30 to 35 per cent of overall sales, said co-founder Vannessa Lee.
In the thick of the pandemic, delivery sales accounted for more than 50 per cent of business. But with the resumption of dine-in, that figure has moderated to 40 per cent.
It has 16 outlets in Singapore, five of which are cloud kitchens – all set up during the pandemic as a "manoeuvre to stay alive", said Ms Lee.
While the cloud kitchens were a good way to test the market and enter new regions, the goal is now to turn these into brick-and-mortar stores, she said.
"From what we hear from (our customers), they do still enjoy that dining-in kind of presence of the brand, as opposed to just delivery," said Ms Lee.
"I think there was magic was that in that dynamic experience and we lost that during COVID," she said, citing a condiment bar as being part of the in-store experience.
But the renewed focus on dine-in will not take away from its delivery plans. Ms Lee still hopes to grow the brand's delivery business, as "customers are just used to the convenience now".
In particular, she hopes to shift customers over to Poke Theory's own delivery provider, instead of the major players. This is in a bid to avoid high commission rates and be "more in control of the margins", she noted.
DEPENDS ON THE MARKET SEGMENT
The Les Amis Group, which runs 24 brands in Singapore, has also seen "a strengthening of most of (its) concepts since the rules were relaxed", said Mr Luke Pang, its group head of operations and strategic development.
The "pent-up demand" for dining in and the return of office workers have given dine-in a boost, especially in malls or in the central part of Singapore, said Mr Pang.
In turn, delivery demand has generally shrunk to levels closer to before the pandemic, he said.
It is now recalibrating strategies, with mid-tier outlets such as French restaurant Bistro Du Vin and Italian restaurant LINO, aiming to "largely focus more of their efforts to woo customers back for dine-in", Mr Pang said.
But delivery will still be available, especially during festive periods.
For other more casual concepts – such as pizza chain Peperoni Pizzeria, congee store Mui Kee and Vietnamese food eatery NamNam – delivery is still a "considerable part" of business, noted Mr Pang.
He added that the group will "continue to optimise it through strong working relationships with our delivery partners".
CONFIDENT IN THE FUTURE OF DELIVERY
Canada-based firm JustKitchen also opened two "ghost kitchens" – which are similar to cloud kitchens – in Telok Ayer and Tampines in April, right before COVID-19 dining restrictions were eased.
Compared to Hong Kong and Taiwan, the two other markets that JustKitchen is in, Singapore has been "the slowest in terms of picking up speed", said its CEO Jason Chen.
But the firm is "very optimistic" about the country's promise, given its diverse cuisine and the fact that delivery is already widely accepted here, he told CNA.
In addition, going by the firm's experience with the lifting of restrictions in Hong Kong and Taiwan, Mr Chen believes "the pendulum does swing to dining in, but then it does come back to delivery".
"People get too used to ordering delivery … I think it's never going to be replacing dining out, but it's a part of life now."
Mr Chen added that the firm hopes to set up six to eight more kitchens in Singapore in the short to medium term, believing that delivery is here to stay.
Likening food delivery to car windows that take a hand crank to roll down, Mr Chen said: "It literally takes less 30 seconds, 15 seconds to do, so it's not that big of a deal. But now, you never see them in cars, right?
"When you get used to that convenience, it's really hard to go back."