Singapore's crowded food delivery scene could see mergers, acquisitions soon: Analysts
Amid rising costs and slowing demand, consolidations – in the form of exits, mergers or acquisitions – could be a viable option for food delivery platforms, academics say.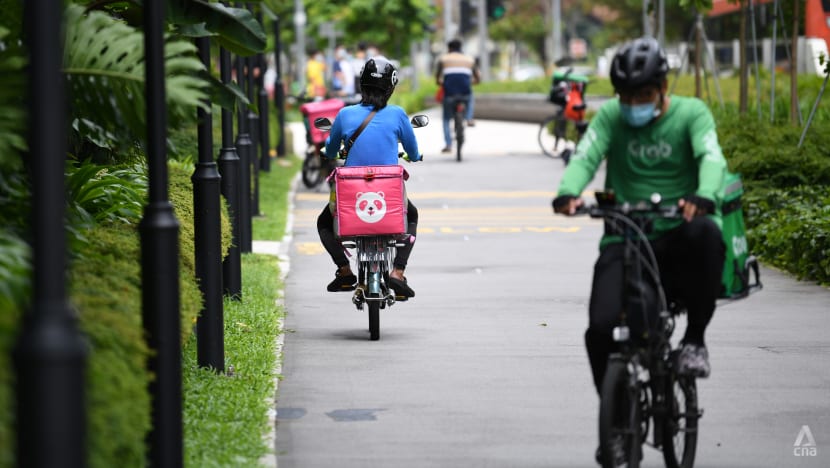 SINGAPORE: Consolidations in Singapore's highly saturated food delivery sector could be on the horizon, though it is unlikely that any one platform will eventually dominate, analysts said. 
The online food delivery market in Singapore is expected to reach US$1.5 billion this year, with 3.69 million users by 2027, according to database company Statista. 
But with rising costs and slowing demand, consolidations – in the form of exits, mergers or acquisitions – could be a viable option for companies, especially those on the fringes, experts told CNA.
Exits by budget carrier AirAsia and grocery delivery startup Honestbee in the past five years underscore the struggles of those vying for a slice of the food delivery pie.  
Of the three main platforms in Singapore, Grab holds the largest share of the market with 56 per cent as of May 2022, according to figures from data platform Measurable AI. In comparison, foodpanda has a 35 per cent market share and Deliveroo 8 per cent. 
Even the three biggest players are slashing costs to stay afloat. Foodpanda held two rounds of layoffs while Deliveroo axed nearly 10 per cent of its global headcount. Grab told its employees that it would freeze salaries for senior managers and cut travel and expense budgets. 
SMALLER PLAYERS MAY BE ACQUIRED
Grab, the biggest player in food delivery in Singapore, was "superbly positioned to benefit from the (COVID-19) crisis on both demand and supply sides", said Dr Seshan Ramaswami, associate professor of marketing education at the Singapore Management University (SMU).
It had a popular app that was easy to use, with a built-in payment system and loyalty programme. It also had an islandwide network of drivers and a database of subscribers, Dr Ramaswami pointed out. 
Such a combination was not easy to compete with, he added.
Deliveroo, as the smallest among the three main platforms, faces some disadvantages, said National University of Singapore (NUS) Business School's Jochen Wirtz.
With fewer orders, this means higher costs and "less synergy for riders" who make one delivery a trip instead of multiple orders, said the marketing professor and vice dean of MBA programmes. 
If the company's margins become too thin, it has "no choice" but to close or merge with a bigger competitor, Prof Wirtz said.
Singapore University of Social Sciences' (SUSS) Guan Chong said food delivery platforms may diversify into new services or expand into new markets as a way forward – both of which can be done through acquisitions. 
"For instance, in 2016, German food delivery company Delivery Hero acquired foodpanda. This acquisition allowed Delivery Hero to expand its operations in the Asia-Pacific region," the director of the Centre for Continuing and Professional Education at SUSS said.
But experts said it was unlikely that a single dominant player would emerge in Singapore's food delivery scene. 
Dr Ramaswami said it would not be easy for a single entity to set prices and dominate given the competition. 
"There will always be niche operators, adjacent players, and as soon as margins become too juicy again, new entrants will be enticed to join," said NUS' Prof Wirtz.
But even with the status quo, competition may come from unseen places, said Dr Ramaswami. 
Others, such as e-commerce companies Amazon or Shopee, potentially have an advantage in entering this business as they have access to large customer databases, sophisticated analytics capabilities and e-commerce frameworks in place, he said.  
Singapore Institute of Technology's (SIT) Ng Lee Keng outlined three main challenges for existing players: Growing the business organically, rising operational costs and increasing pressure for platforms to be more responsible for the welfare of delivery riders.
The associate professor in SIT's business, communication and design cluster said Deliveroo was lacking when it came to significant differentiation in food choices, navigational ease of its app and customer service standards.
"In order to achieve a bigger portion of the pie, there will be required investment in product development and marketing," said Assoc Prof Ng.
But looking at Deliveroo's track record in Singapore and other markets, its future "does not appear too optimistic", she added.
SMU's Dr Ramaswami said the food delivery industry in Singapore is likely reaching a point where there has to be some consolidation and possibly mergers and acquisitions.
Smaller players, such as Oddle and WhyQ, may struggle to keep up and are prime candidates for acquisitions, he added. 
DELIVERY PLATFORMS RESPOND
In response to CNA's queries, a Deliveroo spokesperson said the platform differentiates itself with the only subscription plan in Singapore that "offers truly free delivery on all orders".  
Mr Lawrence Wen, foodpanda's CEO, told CNA that the company has seen its share of players enter and exit over its 10 years of operations in Singapore, and that foodpanda was "here for the long haul". 
He acknowledged that the company's biggest challenge lies in changing consumer behaviours. Pre-pandemic, orders would peak at lunchtime and were concentrated at office areas. 
With more people working from home, orders now come in around the island at different times, making it harder to anticipate demand and to ensure there are enough riders to fulfil orders, he said. 
A Grab spokesperson noted that consumers wanted convenience but were also "increasingly price-conscious". The company has rolled out a saver option where consumers can opt for lower delivery fees with longer delivery times, and a subscription programme with delivery discounts. 
Oddle said it differentiates itself by focusing on the restaurant industry. 
CEO Jonathan Lim described the three main platforms as a "marketplace" that aggregates menus from all the merchants and places them onto their own proprietary platforms. As a result, the platforms own the customer data and the merchants are reliant on them for insights, he said. 
"We help merchants build their digital capabilities and when consumers use Oddle, they are really sent to the merchants' own digital properties, where customer data can be easily assessed by the merchant." 
Restaurants with Oddle use delivery partners or their own delivery fleet for orders.
Mr Lim said Oddle's primary challenge was in educating restaurants about the benefits of having their own platforms, instead of being subject to rising costs when delivery apps raise their fees. 
HOPE FOR POTENTIAL RIVALS?  
Existing competition in the sector makes it hard for new firms to muscle in, said analysts. 
Prof Wirtz said a new player would have to "bribe" restaurants and customers with low fees and a wide array of food choices, and riders with the possibility of good earnings. Even then, simply being cheaper is not enough. 
Established Singapore food delivery players have significant advantages in terms of scale and resources, it is difficult for new entrants to compete on their investments in the technological infrastructure, customer base, and rich past user data for optimal user experience
Key market players have established strong brand recognition and customer loyalty, making it tough to get customers to switch to a new platform, said SUSS' Dr Chong.
"It is difficult for new entrants to compete on their investments in the technological infrastructure, customer base and rich past user data for optimal user experience," she added. 
Despite little room to manoeuvre in the market, new entrants could still carve out competitive advantages in niche areas, such as focusing on halal-certified or vegan diets, or on a specific geographical area, the academics said. 
Assoc Prof Ng suggested returning to the basics – good service. 
"Sometimes, the most obvious success factor is one that is easily overlooked. When we review online comments and research findings, it is apparent that food delivery can be a less-than-stellar experience. 
"The problem points towards the companies' failure to fulfil the basic service promise in a consistent manner," she said, citing delayed deliveries, missing items and poor customer support as examples. 
"If new entrants can reliably help solve consumers' pain points quickly and straightforwardly, they may then win and retain consumer loyalty."
Part-time rider Joshua Lim, who has delivered for the three main platforms but currently uses Grab and Deliveroo, said that he preferred Grab as he is able to cash out the moment his earnings hit S$50. 
Most of his deliveries are via Grab, while he only uses Deliveroo once or twice a week. 
"Grab's orders come faster than Deliveroo for some reason, so I feel that Grab has higher demand for orders ... based on what I see, Grab's orders flow in faster," the 22-year-old said.