These two families are reducing waste by rescuing unwanted food and giving it away
One family goes on food rescue missions almost every day. Another family goes on weekly bread or pastry rescues in an effort to save unwanted food.
SINGAPORE: Despite the heavy rain on a Tuesday evening, more than a dozen people made their way to Ang Mo Kio to collect free food from an "open house". 
At their destination: Dozens of jars of olives, guacamole dips, marinated mushrooms, salsa, cans of kidney beans, packets of coffee beans, quinoa flour, boxes of pudding and containers of flavoured popcorn – all neatly laid out on sheets of newspapers on the front porch of a house.
The only catch is that most of the food is past the best-before date. 
The open house is one example of a food rescue that the Taylor family does. 
Ms Karen Yip and her husband David Taylor drove to a warehouse earlier that day to pick up 160kg of processed food to give away to others in need. 
Last month, CNA tagged along with two families on their food rescue journeys to document the process from collection to listing and distribution, under food rescue group Divert for 2nd Life (D2L). Food rescuing usually involves taking surplus or unwanted food from food businesses such as importers or restaurants and redistributing them to those willing to look past best-before dates. 
CNA also followed the Sik family on one of their weekly bread or pastry rescues.
The mum, Ms Evelyn Loh, goes on these rescues with her children, who help her carry bags and containers while travelling via public transport from their flat in Choa Chu Kang. 
While both families come from different means, they share a common goal of reducing food wastage and want to see edible food put to good use in light of staggering food waste figures. 
According to the National Environment Agency, food waste accounts for around 12 per cent of total waste generated in Singapore. In 2021, the country had 817,000 tonnes of food waste, up from 665,000 tonnes the year before.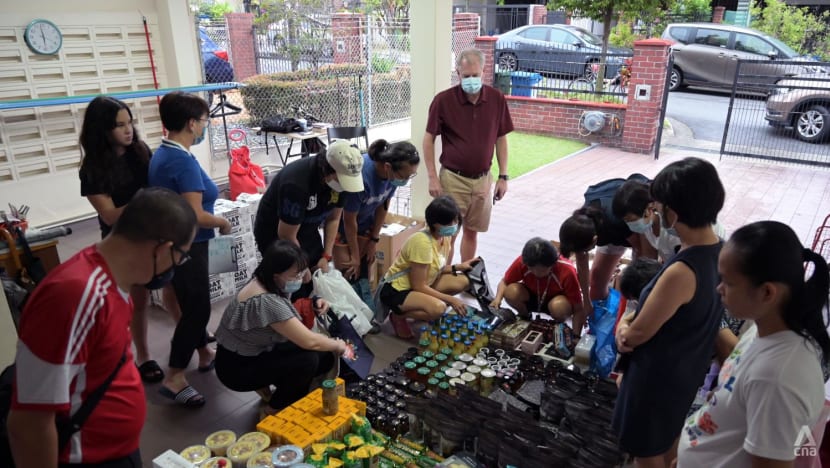 TAYLOR FAMILY: FOOD RESCUES ARE A DAILY AFFAIR
For the Taylor family, food rescue missions are a nearly daily affair. During the festive season in December, the family even did back-to-back trips to save carloads of unwanted food. 
Even before that, Ms Yip had been collecting food around nine times a week – so much so that food rescuing has become a hobby.
A deputy director of trade associations and chamber engagement before she retired in 2021, Ms Yip began saving surplus food in April last year, starting with cooked food from a vegetarian stall. 
"I fell into food rescuing by coincidence," she told CNA at her house in Ang Mo Kio before people arrived to collect food.
She had been doing some decluttering around the house and used an app to give away the things she didn't need anymore. While on the app, she came across someone asking for volunteers to join a food rescue group.
"I took the opportunity to find out a little more because my interest was piqued. I thought 'what is food rescue about', and so I put up my hand."
Her family was initially skeptical about what she was doing and about the safety of the food.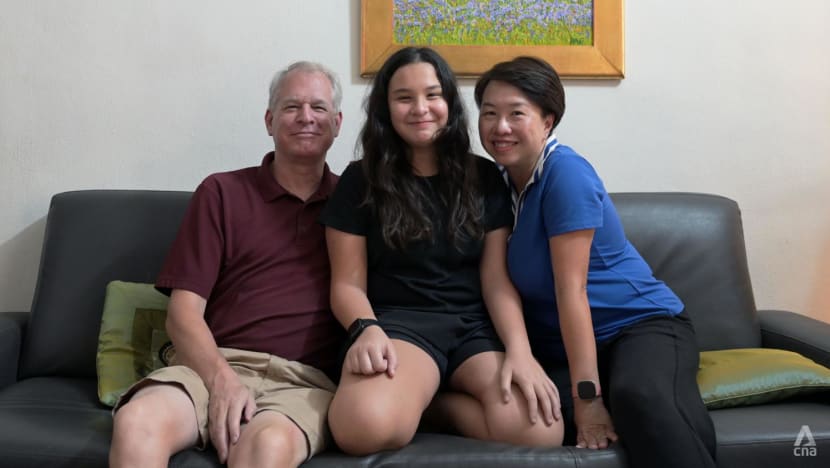 Her family eventually came around to the idea of food rescuing and how it helps to reduce waste, Ms Yip said. Her husband began joining her on her trips.
Mr Taylor is the "muscle" behind the moving, while daughter Emily helps with the logistics. "She loves to do the planning and the organising of the items that are brought home, helping me to count the items to take a look at how many people potentially we might have to give out to and then planning the timing," Ms Yip said of her daughter. 
CNA joined the Taylor family on one of their food rescue trips on Dec 27, which began after another bread distribution that morning.
Ms Yip and Mr Taylor arrived at a Woodlands industrial building before 10am to save two pallets of packaged food from an importer.
Emily could not go as there was no space in their car, Ms Yip said. 
The couple made three trips, pushing one trolley each, to load multiple boxes into their car. This took about half an hour before they headed home.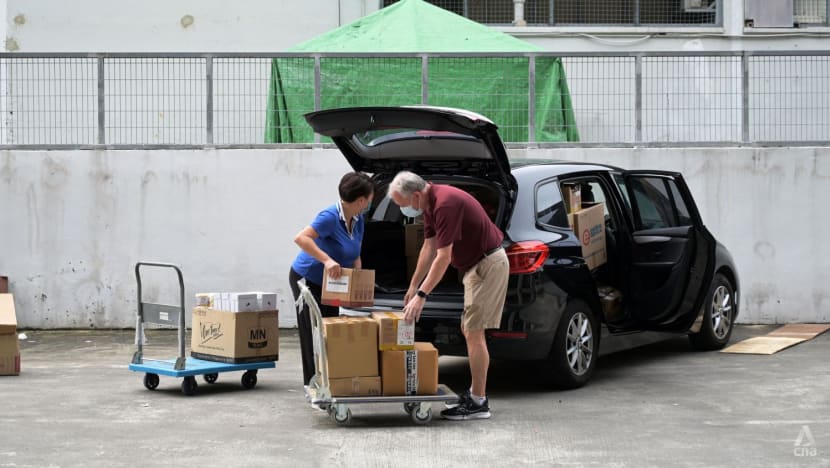 At home, Emily helped to unload and arrange the food items onto newspapers placed on the car porch.  
Less than an hour later, the couple was off again. This time, to a warehouse in Jurong which had 120 cartons of chocolate oat milk past their best-before dates. 
Due to the maximum load the car can take, the couple only managed to pick up 60 cartons.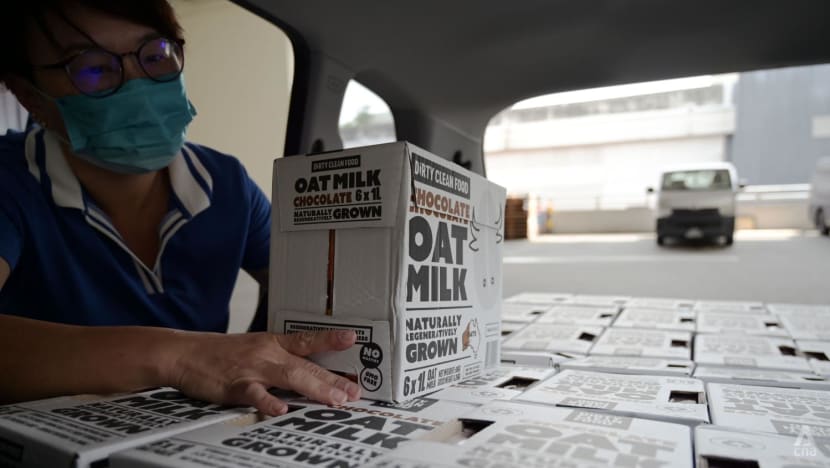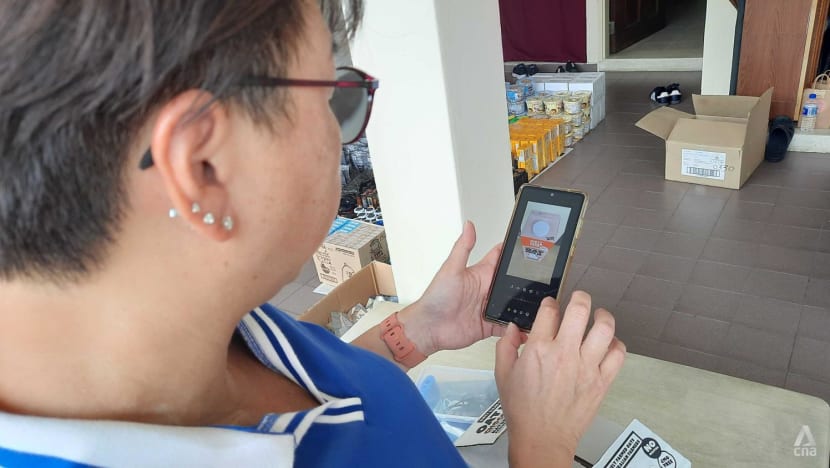 After a quick lunch, Ms Yip listed the items on the GoodHood.SG app – which D2L rescuers usually use to distribute their goods – and waited for requestors to respond. 
Due to the variety of food items rescued, Ms Yip decided to hold an "open house" where those who indicated their interest via the app could come by to take as many items as they could carry, with limits placed on popular items such as coffee powder, popcorn and butter cookies. 
Most of these items were past their best-before dates. The coffee powder had a best-before date that had passed more than a month ago, while the noodles' best-before date was about 10 days earlier. The pickled olives were tagged with a best-before date that was 10 months ago.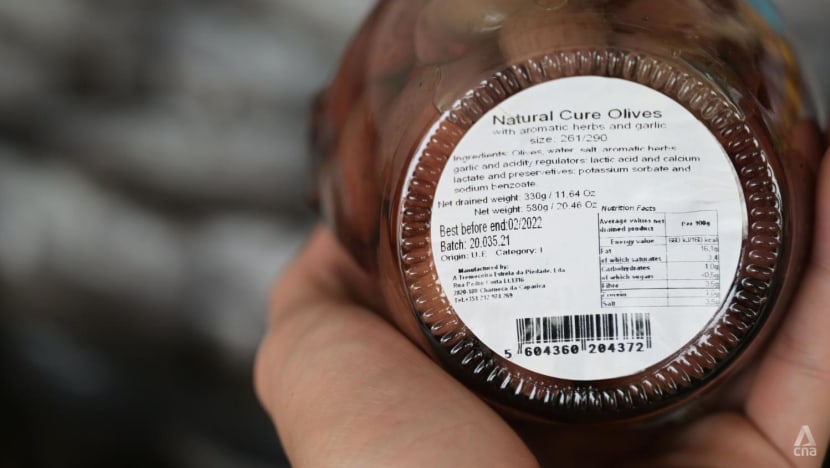 These did not matter to Madam Tan Siew Geck, one of the first to arrive at the house before 6pm. 
She promptly filled a trolley with brownie mix, rice crackers, quinoa flour, avocado dips, noodles and popcorn.
"It's still edible. Why throw away good food? That is the reason why Karen and the family spend so much effort in doing this food rescue," Mdm Tan quipped.  
The 63-year-old homemaker said she would bring the food back to her home in Bishan to redistribute to the elderly, neighbours and friends. 
"The objective of this is not to waste food, right? So we take these to make sure that we consume and those that we cannot consume, we share." 
In total, 17 people turned up for the open house, which stretched to 8pm. But the day did not end then for Ms Yip, who spent 45 minutes cleaning up before she left for her last rescue of the day, this time for bread.
It was 1.45am before she went to bed, after staying up to take requests on the app for the remaining food items.  
SIK FAMILY: CHILDREN PITCH IN
For the Sik family, mum Evelyn Loh goes on three to four rescues each week, where she collects bread and sometimes fruits and vegetables. The homemaker started rescuing food in June last year. 
"It started off with having to put a little bit more food on my table for my family of six. It really does help, in terms of financials, it does stretch the dollar."
It also became a way for her to meet more people without venturing far from their Choa Chu Kang home. Ms Loh has befriended some of her requestors, many of whom live nearby.
"I do make it a point to chat, especially during the period just after (the relaxation of COVID-19 restrictions) which was still a difficult time for many who were retrenched ... So these are actually avenues where (this food) helps. And to me, that was something that I felt good about, helping others."
Food rescuing also gave Ms Loh an opportunity to teach her four children about food waste and what can be done with surplus food. 
Her 10-year-old son was the first to get involved. After following her on one of her food rescue trips, he started asking questions and wanted to know more.
Two of her other children, aged eight and 14, joined their mum and brother for rescues during weekends or school holidays, helping to carry food or list them on the app. 
When Ms Loh is occupied with her youngest child, who is three years old, her three older children will take over by helping to distribute the food.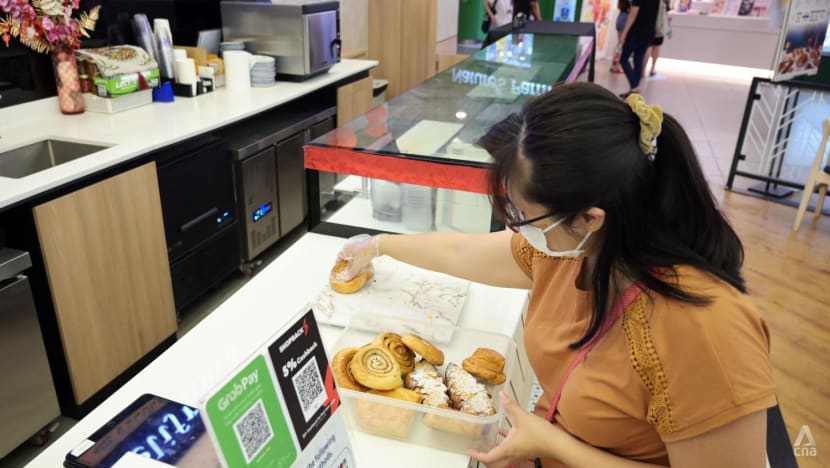 On a Thursday night, Ms Loh and her eldest child Ting En, 14, left their flat after 9pm to collect leftover pastries from a Delifrance outlet in Jurong. 
They took the MRT with a tote bag and a large container to pack the pastries, which staff told them were ready for collection. The mother and daughter were collecting just 12 pastries this trip, but on other trips, they can collect up to 40 pastries at a time. 
Upon reaching Delifrance, Ms Loh put on a pair of disposable gloves and carefully moved the pastries from the store's tray to her container. She signed a receipt that stated the number of items she received, before leaving – all within a minute. 
She returned home via MRT and stopped just outside the gantry at Choa Chu Kang station to take quick photos of the pastries for the GoodHood.SG app. The first request comes in even before she reaches home at around 10pm. 
Back home, Ms Loh divided the pastries into four bags of three and waited for the collectors to arrive. All four bags were picked up by 11pm, with her children helping to pass the pastries to mostly familiar faces.
FOOD RESCUE NOT FOR EVERYONE
Both mothers, Ms Yip and Ms Loh, said they have met their share of demanding people who are choosy about the food they get, or ask for different pick-up locations or timings. These requests would be gently rejected. 
Asked if she would encourage other families to pick up the practice, Ms Yip said: "I want to say yes ... but I would say that food rescue is not for everyone. Because of the time that it takes."
Food rescues are dependent on the hours of a business, and can range from the middle of a workday to late at night, she said. 
"So it really depends on where the person is in their own lives ... And whether they're able to commit the time and to do it regularly."
Personally, Ms Yip sees herself continuing as long as she has the energy and capacity. 
"Yes, it is very tedious at times. Sometimes when you come back from a food rescue, you feel really exhausted and you ask yourself, gosh, what did I get myself into? 
"But you know, at the end of the day, when you look back, you are happy that you did this because you know that this is for the benefit of the future generation."