'I consider this my second life': How a drug addict kicked the habit after jail stints, leg amputation
Mr Aaron Chew became hooked on heroin in secondary school. He tells CNA about the gruelling process of overcoming his addiction, which included multiple stints in prison or drug rehabilitation centres over a decade.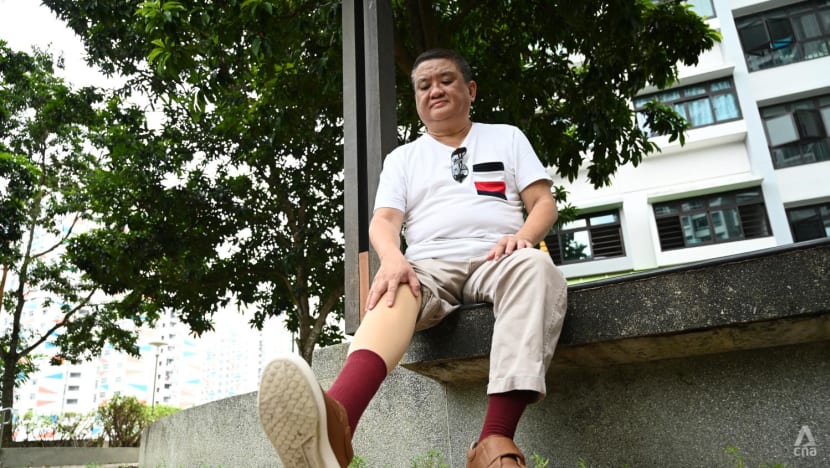 SINGAPORE: Neglected by his parents and six older siblings, Mr Aaron Chew first began smoking cigarettes at the age of 14.
It took the Secondary 2 student no time at all to turn to a controlled drug – heroin.
His adult neighbour, who lived at an opposite Housing Board block, supplied the substance and allowed the teenager to smoke at his place.
Mr Chew soon grew addicted. Taking heroin twice every week turned into four times a week before it became a daily occurrence. He started skipping school and eventually dropped out in the middle of Secondary 3.
Then, came the police. His father had discovered his drug habit and called the authorities.
In 1977, Mr Chew ended up being among the first batch of 7,000 drug users arrested by the Central Narcotics Bureau (CNB), which had just been established a few years earlier.
It took him 11 years, multiple stints in either prison or the army detention barracks, and a leg amputation for him to overcome his addiction. He ended up admitting himself to a halfway house and finding religion, which helped him to see a different path in life.
Mr Chew, who is now the proud father of an 18-year-old daughter, is also an advocate with the Anti-Drug Abuse Advocacy (A3) Network – a volunteer initiative jointly set up by the National Council Against Drug Abuse and CNB.
His story was highlighted in a speech by Minister of State for Home Affairs Muhammad Faishal Ibrahim at an event for A3 partners and volunteers in January.
Speaking to CNA earlier this month, the 61-year-old said that boredom and loneliness first got him into drugs.
When he left the halfway house, he secured a full-time job as an administrative assistant, staying in the same company for 16 years. Meeting his wife during that period and getting married also gave him a new purpose in life.
He now works as an assistant executive at the Economic Development Board – a statutory board under the Ministry of Trade and Industry.
"A drug addict's life can only change when they find love somewhere, they find acceptance within the family, siblings, friends. Otherwise, they will be like a bird kept in a cage," he said.
"The moment you're released, this bird, they don't know how to find food."
"HORRIBLE AND TERRIBLE" INCARCERATION
Mr Chew told CNA that as a teenager, he was "very innocent and ignorant" about the dangers of drugs due to a lack of education in schools.
His neighbourhood was a "very poor, low-income" one, with fights frequently breaking out. His parents did not bother with what he was doing and his siblings were busy with their own lives, with his eldest sister being 20 years his senior.
In 1976 when he was 14, he began patronising a convenience shop that sold individual cigarette sticks in a can. Shortly after, his neighbour introduced him to heroin.
"Every day I felt so relieved, so peaceful … I would 'ponteng' (skip) school. Where would I go? I went to his house to sleep and consume drugs," he said.
This went on for almost a year before his first arrest. He also dropped out of school without telling his parents.
As the fight against drugs was in its infancy, there were no proper drug rehabilitation centres then. Mr Chew, then 15, was sent to an army barracks that had been converted to a makeshift rehab centre.
There, 45 inmates were housed in an L-shaped room. Mr Chew could even recount his inmate number at the time: 5891.
Three months passed before he was transferred to another facility. He was released three months later.
Despite his self-professed "horrible and terrible" time there, he relapsed on his first day back in society, seeking drugs from friends who were more than willing to sell him some.
Barely two weeks later, he went back to jail after failing a supervised urine test.
This second stint – 15 months – was one of Mr Chew's longest in jail. When he was released, his newlywed brother took him into his home to avoid the temptation of drugs.
He secured a part-time job at a hotel and managed to stay away from heroin for a year until he had to enlist in National Service. As he was still under drug supervision, he met fellow addicts who had to report for supervision in the army.
All of them ended up falling back into the habit. Mr Chew went AWOL (absent without official leave) after six months of National Service, and was eventually arrested by military police officers at his home.
He ended up at Tanglin Barracks where he had to perform drills daily.
Due to a growth on his right leg, he managed to get light duties for a while but he was eventually sent to the hospital to get the egg-sized lump removed.
More bad news came after two weeks: His leg had to be amputated because the lump was cancerous.
"I thought this was karma, losing my leg at 18," Mr Chew recounted. "I wanted to quit drugs … Sadly, it became worse because of the pain in my leg."
Medical professionals refused to give him morphine because of his history of drug abuse, leading him to turn to heroin again to ease the pain. He said that his mother even gave him money to get more drugs, which had tripled in price by then.
In 1983, he was arrested once more and sent to Sembawang Drug Rehabilitation Centre.
When he was given an early release due to his physical condition, he no longer just took drugs, instead becoming a "pusher" by selling heroin in his housing estate to earn money.
This led to a three-and-a-half year incarceration in prison in 1986 – his fifth time. He was convicted of drug consumption and possession offences before being sent to a medium-security prison, where he finally took and passed his GCE O-Level examinations.
He was released in 1988 but voluntarily surrendered himself to a halfway house the same year when he found himself returning to drugs once more.
At the halfway house, he finally succeeded in overcoming his addiction. He then worked in the retail industry from 1990 onwards before meeting his Indonesian wife in 1999 through an online penpal site.
"I consider this my second life," Mr Chew said. "In 1986, I already passed away."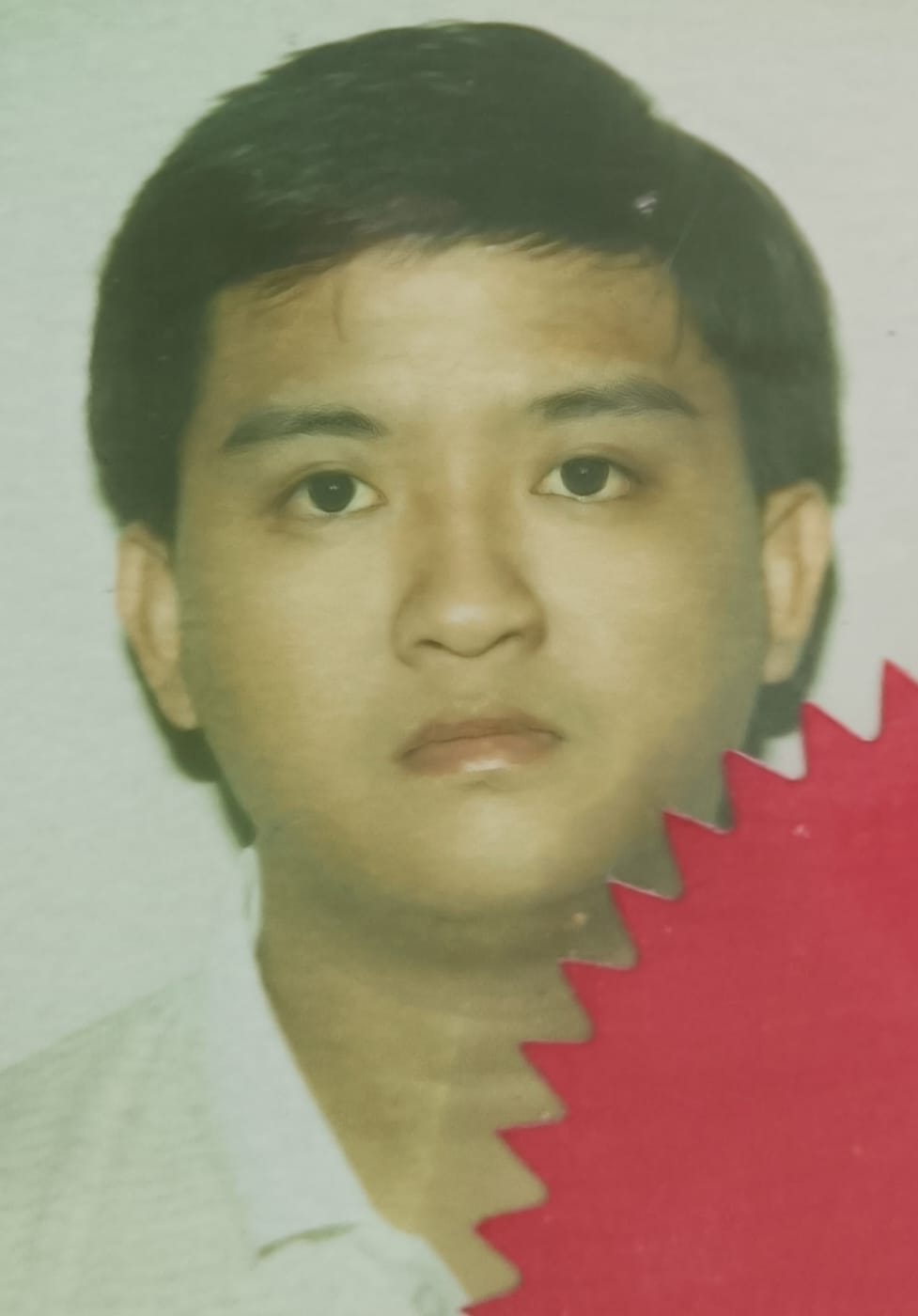 When asked what he has to say to repeat offenders like himself, he replied: "Everybody has to chip in, in terms of time, until that person stabilises in the context of society.
"Ensure he gets employment, upgrade, study, keep him occupied with work or study or (learning) skills. At least the person finds a new beginning … Family members can find time to have dinner every week, sit down and talk."
His own family took more than 20 years to trust him again, he said. It was only when he got married that his siblings were "a bit more positive" and supported him financially.
Mr Chew said that he was honest with his wife about his past from the start. After chatting online for two years, they met in person and eventually got married in 2003, welcoming their daughter two years later.
While Mr Chew has only casually spoken to his daughter about his history of drug use, he said that his wife told her more about it. He also warned her from an early age never to touch cigarettes or electronic vaporisers, which he said are the gateway to drugs.
Schools require good counsellors who can talk to youths, and parents as well as siblings should communicate with youths who are in danger of falling for drugs, Mr Chew noted.
As an advocate with the A3 Network, he said he would like to speak at schools to prevent teenagers like himself from becoming addicted to drugs.
He pointed out that even though CNB has ramped up its enforcement efforts since he was first arrested, the drug population has "remained consistent throughout the years". He has also seen friends take their own lives due to drugs, either out of hopelessness or while under the influence.
Mr Chew likened kicking the habit to "being better than winning a championship".
"I hope to save more young lives – not like me like that, having gone through almost 15 years of bondage since the age of 14," he added.
"I just hope the young will one day find they are not in my shoes."
Editor's note: An earlier version of this article stated Mr Aaron Chew's age as 54. It should be 61. We apologise for the error.