Singaporeans invited to share views on education and lifelong learning in Forward Singapore exercise
The Equip pillar of the Forward Singapore exercise will focus on exploring how to provide every Singaporean with the opportunity to thrive, grow and realise their aspirations regardless of their starting point in life.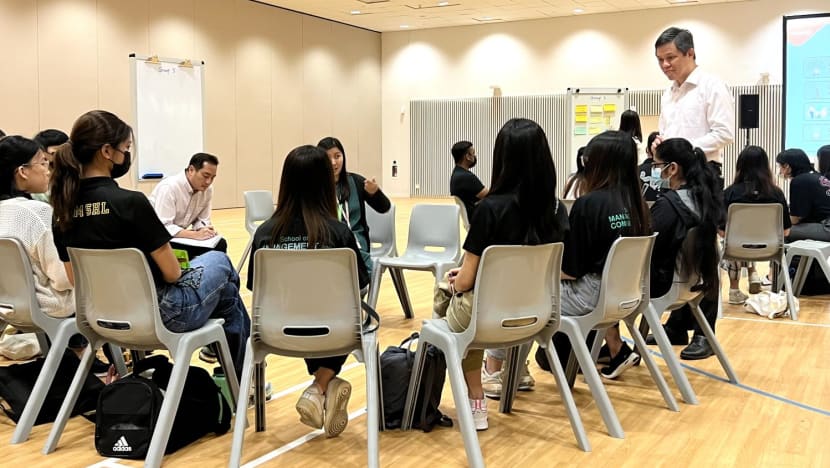 SINGAPORE: Singaporeans are invited to share their views on education and lifelong learning as part of the Forward Singapore exercise.
Minister for Education Chan Chun Sing launched the Forward Singapore Equip pillar microsite on Monday (Sep 5) as he encouraged Singaporeans to give their feedback.
"One of the things that we want to see and have demonstrated here this evening is this. We didn't want this to be an exercise where we tell everyone else what we want to achieve and put a fullstop," said Mr Chan in his closing remarks after an engagement session with 74 students at Republic Polytechnic on Monday afternoon.
"What we want to see is we want an evolving document of what we all want to achieve together in common. And how we, each and every one of us, is going to contribute to that."
The engagements under the Equip pillar will focus on building consensus and fostering collective responsibility on how to equip every Singaporean with the opportunity to "thrive, grow and realise their aspirations", regardless of their starting point in life, said the Ministry of Education (MOE) in a separate press release.
Mr Chan, Senior Minister of State for Defence and Manpower Zaqy Mohamad and Senior Minister of State for Communications and Information and National Development Tan Kiat How will lead the Equip pillar of the Forward Singapore exercise.
The Forward Singapore exercise was launched by Deputy Prime Minister Lawrence Wong in June, with the aim of reviewing and refreshing Singapore's "social compact".
As part of the exercise, MOE will be engaging stakeholders such as leaders in schools and institutes of higher learning, educators, parents and students from August to November.
The engagements will focus on five key areas: A strong foundation for every child, diverse learning models for diverse abilities, multiple pathways of success, caring for students with special educational needs, and lifelong growth for everyone, said the ministry in the press release.
The sessions will conclude with a large-group engagement in mid-November with various stakeholders to consolidate the findings.
Mr Chan, Mr Zaqy and Mr Tan, alongside Minister of State for Education and Manpower Gan Siow Huang, discussed with the students on Monday about what they hope to see in Singapore's education and lifelong learning landscape.
The Equip pillar aims to build consensus and listen to the aspirations of young people in Singapore, said Mr Zaqy, speaking to journalists after the session. 
"It's wonderful today to hear from our polytechnic kids in terms of their aspirations for Singapore ... what their perspectives are with regards to how the Government looks at policies that affect them. At the same time, what they would like to see changed in the future and how things could develop and evolve," he added.
In an interview on News Tonight on Monday, Mr Chan said that students and teachers recognise that academic success is not the only yardstick for success. 
"For example, many of them say that everyone is unique, and everyone has their own unique strengths and weakness," he added. 
"And one of the definitions of success for our education system is for us to be able to help each and everyone to realise their full potential and to do justice to their gifts." 
This means Singapore must have multiple pathways to success, and different systems to "bring out the best in everyone", said the Education Minister. 
The education system will need more resources to support the diverse pathways, he noted. 
"If we take an example of what we call full subject-based banding versus streaming in the past. Streaming in the past wasn't wrong per se, but because it was a much more efficient system, but you may not cater to the diverse needs of all the students because all of them are benchmarked on a single matrix," he added. 
Full subject-based banding means students can take subjects at different levels according to their strengths and weaknesses. This requires more resources in terms of planning their timetables and putting them into appropriate groups, said Mr Chan. 
"But beyond the resources, I think we also need a change in the mindset, and we also need the support of the parents and the community," he added. 
"Because when we say that we recognise people's strengths and weaknesses beyond just the academic grades, then I think the industries need to play a role, the parents need to play a role."