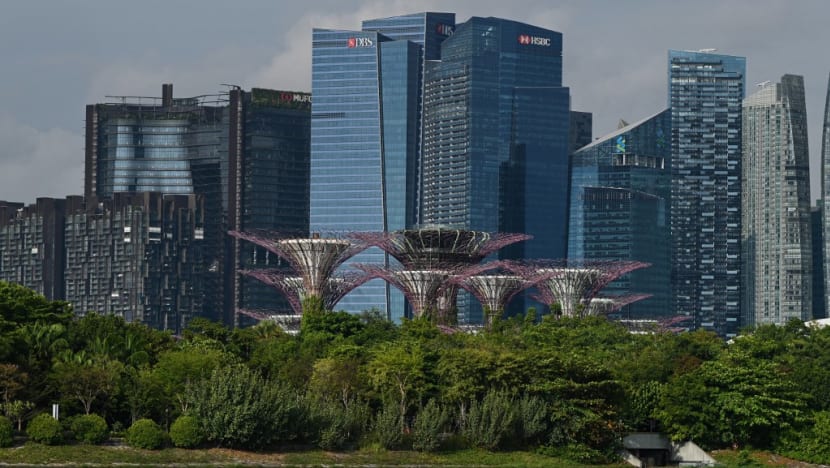 SINGAPORE: The upcoming Bloomberg New Economy Forum is a "vote of confidence" for Singapore and the country's ability to manage COVID-19, said Minister for Trade and Industry Gan Kim Yong on Monday (Oct 25). 
Mr Gan said that the forum, which will be held from Nov 16 to 19, was also critical for Singapore's role as a business hub. 

"Singapore is a hub for business and travel; many people from around the world come here to meet one another, to network, to do business with one another (and) with Singapore companies," he said. 

"(It's) important ... to stay connected to the rest of the world. This will help us preserve our status as a hub city, and this will also in turn, continue to support our economic recovery and create (good jobs) for Singaporeans."
He added: "It's important not just for the MICE industry, but also critical for Singapore's strategic position as a business hub. The Bloomberg forum is a vote of confidence for Singapore, and our ability to manage COVID-19 in our journey to living with COVID-19.
"We will continue to work with the organiser to ensure that it is carried out safely."
Speaking to reporters at the sidelines of an event, Mr Gan also addressed the group size of delegates allowed to dine together, saying that one of the key objectives of events like the Bloomberg forum is business networking. 
"In business networking, you do want to meet as many people as you can," said Mr Gan, who is also co-chair of the COVID-19 multi-ministry task force. 
"In order for the Bloomberg forum and MICE events to be effective, we will need to ensure that they have space to be able to interact with one another, so that they can network," he said. 
Mr Gan added that given the delegates' limited time in Singapore, they would "need to make use of every moment that's available". 
"That's why we also allow them to make use of the time when they have meals, to also continue that business discussion." 
The minister's comments come a day after Government agencies clarified that the protocols for delegates at the forum would be similar to existing arrangements for MICE events and wedding receptions. 
Under such events, meals in groups of five are permitted within the designated event venue with safe distancing in place.
The Bloomberg forum is the first global conference to be held in Singapore this year. More than 300 delegates from 51 different countries are expected to attend the forum, according to Bloomberg.
The Shangri-La Dialogue in June and a special annual meeting of the World Economic Forum in August were both cancelled due to uncertainties over the COVID-19 situation.
SCALE OF RISKS DIFFERENT FOR GENERAL PUBLIC
When asked whether similar concessions can be made for the general public, Mr Gan said that it was "quite different in terms of the scale of the risks". 
"If we were to open up for the general public ... this does not apply just to a limited number of delegates of forum, you must apply to all Singaporeans. That is more than five million people," he said. 
"Those who are affected may bring the virus back home, and there may be seniors at home that will be exposed." 
Mr Gan also said that implementing pre-testing for dining-in was "not a good solution" unlike the Bloomberg forum which is a particular event with a specific amount of days.   
On Sunday, the Economic Development Board and Singapore Tourism Board said that to attend the forum and meals, delegates must obtain a negative result on daily antigen rapid tests. 
All delegates participating in the forum must be fully vaccinated, and foreign visitors must test negative on a polymerase chain reaction test upon arrival in Singapore.
The meals must be held at pre-designated venues or restaurants that are "entirely booked" for the event, according to the agencies. 
Singapore residents who are not delegates of the forum can also attend these meals, but must obtain a negative result on a pre-event test.
Outside of the pre-designated venues or restaurants, the prevailing safe management measures in Singapore will apply to the delegates, including the limit of two for dining-in, said the agencies.