'Every one of us has multiple identities and they're precious': Diversity and identity core themes in George Yeo's new book
Singapore's former Minister for Foreign Affairs, George Yeo, has published a new book comprising reflections on topics from politics to philosophy.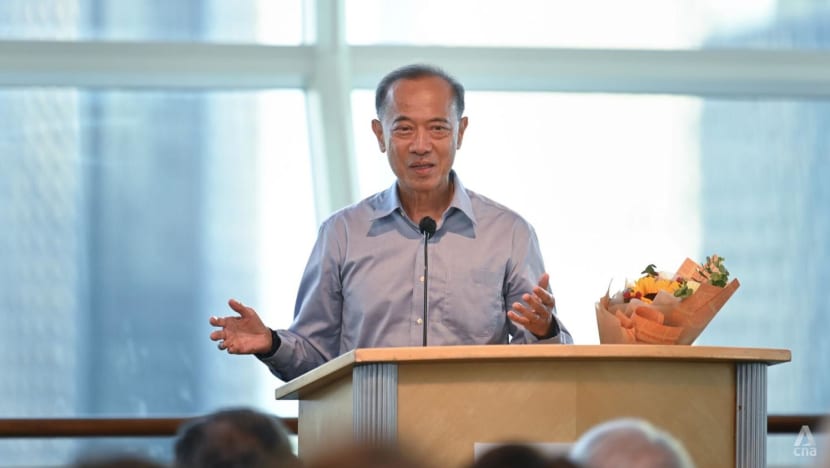 SINGAPORE: While diversity is Singapore's strength, not knowing how to handle the tension created by diversity can divide us, said former foreign minister George Yeo on Wednesday (Aug 31) at the launch of his new book. 
"The diversity of the world is reflected in Singapore and it creates naturally a tension. If we don't manage this tension well, it can divide us," he said. 
Titled George Yeo: Musings – Series One, the themes of diversity and identity heavily underpin the 480-page book containing his personal reflections on a range of topics from politics to philosophy. 
Taking on a conversational and anecdotal style, the book marks the first in a series of three, with the following two to be launched in the coming months. 
Mr Yeo retired from politics after his People's Action Party team at Aljunied GRC lost to the Workers' Party team during the 2011 General Election. He is now a visiting scholar at the Lee Kuan Yew School of Public Policy and the founding patron of its Asia Competitiveness Institute. 
"SINGAPORE MUST NEVER BECOME A HOTEL" 
At the book launch on Wednesday, an audience member highlighted the new Overseas Networks & Expertise Pass aimed to attract top talent. He asked how Singapore could strike a balance between bringing in diverse foreign talent while ensuring those who identify as Singaporeans continue to feel like they belong. 
In response, Mr Yeo admitted he had wrestled with this question across all three series. 
"I don't think the debate will ever cease in Singapore because we live by our connections to the world, and our connections to the world are based upon the world being reflected in us," he said, explaining that this diversity would naturally create tension. 
"Singapore must never become a hotel; Singapore must always be a home. And (even as) we keep our doors open, we should never have it so open that those who are in the home no longer feel like they're living in their own house but living in a hotel. Then we've gone too far. We have to strike a balance," he added. 
"But if we shut the doors and windows … then we kill ourselves. Striking this balance is the Singapore spirit." 
Along the same vein, Mr Yeo had referred to "citizenship tests" in his book, although he clarified that we should not understand this literally. 
"The important thing is, when we accept new citizens, we're accepting them (into) our family ... We must find a way to create a process where Singaporeans are in the loop in accepting those who become citizens. It should not only be done by bureaucrats. It should not only be done according to rules or how much they're prepared to invest," he explained.
"There is an emotional component involved … which is vital. Otherwise we're no longer a home. We must create a process which incorporates this into the citizenship approval process." 
YOUNG SINGAPOREANS SHOULD TRAVEL IN THE REGION 
One way young Singaporeans can foster a greater appreciation for diversity would be to travel in the region, Mr Yeo encouraged. 
In response to a question from a young audience member about how young people could develop greater appreciation for vastly different cultures, Mr Yeo noted the tendency for more young Singaporeans to head to Europe, Japan or Korea. They also tend to prefer learning European languages, Japanese or Korean, as compared to regional languages.  
"It's partly a holdover from the past, because they were dominant so we held them to be higher cultures, higher languages to which we aspire," he said. 
"If we look forward, the region will become much more important to us. And it'll be good if among some students, there are those who show greater interest in the region and all its wonderful diversity, and to recognise these countries as part of who we are and what we are." 
Mr Yeo added that effort and a "certain change in mentality" is required to change this. 
"If we succeed in changing the culture a little bit, the situation will improve. But even if we don't, reality will force us to change, because the region will become more important to us. And by necessity, we'll be forced to learn more about the region. Because if we don't, we'll suffer consequences," he said.
IDENTITY "VERY IMPORTANT AND PRECIOUS" TO EVERY PERSON
Reflections on Mr Yeo's relationship with his personal identity are also scattered throughout the book, put together by writer and veteran media practitioner Woon Tai Ho and research assistant Keith Yap. 
"This first series is about identity. … Our identity as Singaporeans and as Chinese, Indians, Malays, Muslims, Hindus, as Christians. Identity is very important and precious in each and every one of us," said Mr Yeo. 
Explaining the significance of identity in his life, Mr Yeo highlighted a reference made in the second chapter of his book about comments he received from the late Lee Kuan Yew. Mr Lee had been concerned that Mr Yeo was Catholic and Teochew. 
"Maybe too Catholic and too Teochew. ... When he expressed that concern, it bothered me a lot. Because these things are very important to me. And when it bothers you, it bothers me," recalled Mr Yeo. 
"I reflected on this subject over many years, and decided that each and every one of us has multiple identities and they're precious. If they're not important to you, that's fine. But if it's important to you, I respect you – and the more I respect you, the more you respect me. And that's what human society is. Which is why we're created as individuals, not as categories." 
Mr Woon, who was also present at the book launch, understood why many people have said it was a pity that Mr Yeo wasn't in politics anymore – but his involvement in the book helped him see that Mr Yeo was able to contribute in other significant and different ways outside of politics. 
"In this book, the current affairs of Singapore, the region and the world has been made grippingly lucid by the sharp eye of a scholar of history. … And (Mr Yeo's) answers will make you think, reflect, and most importantly, make you more interested in your own life and your own existence," he said. 
George Yeo: Musings – Series One is published by World Scientific, and is sold at all major bookstores including Kinokuniya and Popular.