Commentary: Will new work pass make top talent 'sit up, pay attention' to Singapore?
The new Overseas Networks & Expertise Pass is a strong signal to attract global talent to Singapore. Singaporeans may understand and accept the need for top talent, but they also want assurance of fair opportunities at the workplace, says the Lee Kuan Yew School of Public Policy's Terence Ho.
SINGAPORE: On Monday (Aug 29), Minister for Manpower Tan See Leng announced a new Overseas Networks & Expertise Pass to attract top global talent from any sector to work in Singapore, along with other policy measures to keep the country competitive in the fight for talent.
This comes after Prime Minister Lee Hsien Loong, at the National Day Rally on Aug 21, reiterated the strategic need for Singapore to stay open to the world and to build up a "world-class talent pool".
Turning insular is not an option for Singapore, despite the apparent retreat of globalisation arising from the COVID-19 pandemic, geopolitical tensions and high inflation, all of which have collectively disrupted trade and spurred protectionism across the world.
Our export-oriented economy means we thrive by being relevant to the world. Singapore also owes a large part of its productive capacity to foreign investment and global talent within the ranks of its workforce.
RENEWING FOCUS ON THE CONTEST FOR TALENT
The reality is that advanced and emerging economies are fighting for all the talent they can get. 
From antiquity to the present day, nations have thrived by taking in foreigners and tapping their expertise and innovations. More than half of US start-ups valued at US$1 billion or more were founded by immigrants, according to a 2022 report by the National Foundation for American Policy.
Besides the United Kingdom and Germany, cited in Mr Lee's speech, China launched a Thousand Talents Plan in 2008, recently rebranded as the National High-end Foreign Experts Recruitment Plan. The French Passeport Talent allows employees and self-employed persons to reside in France for up to four years, with their spouses and children entitled to work.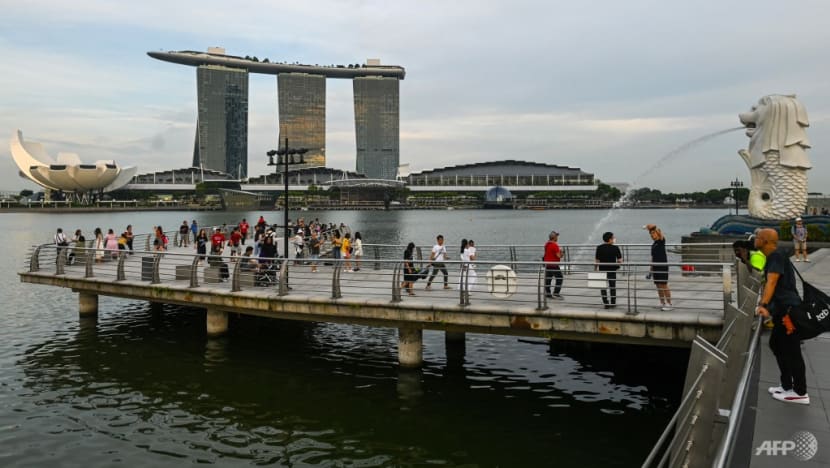 Comparatively, Singapore has in recent years come across as somewhat more diffident - notwithstanding the Tech.Pass introduced in 2021 to attract technology leaders, entrepreneurs and experts.
Still, Singapore has remained attractive for reasons of liveability and connectivity to key regional markets. Many are attracted here by political stability, a reputation for safety, excellent infrastructure as well as entertainment and lifestyle options.
Economic opportunities are plentiful given that many multinational corporations have global or regional headquarters in Singapore. It is easy to conduct business here and most foreigners who come have little difficulty settling in. Relatively low taxes are also a key consideration for high-income earners.
Hence, Singapore has continued to exert a pull on global talent seeking opportunities in this part of the world.
WHY THE NEED FOR NEW MEASURES?
However, Singapore's continued allure should not be taken for granted. The new foreign workforce policy measures are aimed at reducing friction for global talent seeking to live and work in Singapore.
The new Overseas Networks & Expertise Pass will be valid for five years, longer than that for the existing Employment Pass (EP) and the Personalised Employment Pass (PEP). The new pass does not tie talent to a particular employer or job – providing flexibility for those starting up companies and keeping critical skills in Singapore even if people change jobs.
Their spouses will be allowed to work with a letter of consent, instead of having to apply for their own work passes.
The shortening of the Fair Consideration Framework (FCF) advertising period from 28 to 14 days, as well as faster processing of EPs, will allow greater certainty and speed for employers and their foreign hires.
These seemingly small factors may tip the scales for someone considering not just whether to work in Singapore, but also whether to uproot their family and possibly interrupt their spouse's career.
Talent is a magnet for other talent, so even small actions may have cascading effects. It sends a strong signal that Singapore's doors are open to the best.
Introducing this talent pass will not, however, obviate the need to reach out to specific individuals and "rainmakers" in the way former A*STAR Chairman Philip Yeo personally persuaded eminent scientists to relocate to Singapore. Such efforts by public agencies, facilitated by the Economic Development Board (EDB), will need to continue.
WILL LOCALS BE DISADVANTAGED?
Compared with the UK and French talent passes, the Overseas Networks & Expertise Pass is targeted at the narrower apex of high-income earners (benchmarked at the top 5 per cent of EP holders) and those with "outstanding achievements" in various fields, who would have likely qualified for an EP.
The strict selection criteria should minimise concern that the new pass would by itself lead to a large influx of foreign professionals. 
Ultimately, attracting global talent here is meant to grow the collective pie for Singaporeans. Therefore, the new measures must go hand in hand with efforts to develop the local workforce, such as the SkillsFuture Leadership Development Initiative aimed at developing locals for corporate leadership positions.
Spotting and keeping talent - listen to how this company founder does it on CNA's Work It podcast:
Singaporeans may understand and accept the need for top talent, but they also want assurance of fair opportunities at the workplace.
Over the years, there have been murmurings about foreigners with sub-par skills who add little value. The increase in EP and S-Pass qualifying salaries coming into effect on Sep 1 is intended to raise the average quality of foreigners working here.  
Qualifying salaries are an objective benchmark which can be easily understood and applied across sectors, but they are a blunt tool. This was the reason for introducing the Complementarity Assessment Framework (COMPASS), a points-based EP system that favours skills in short supply companies with diverse workforces and those that support local employment.
The qualifying salary for exemption from FCF advertising will be raised from S$20,000 to S$22,500 and henceforth pegged at the top 10 per cent of EP holders. This will ensure that exemption from the requirement will not become progressively broadened as salaries rise over time.
Along with an anti-discrimination law – details of which have yet to be announced – this will provide greater assurance of fair opportunities for local workers.
SINGAPORE ALSO HAS WORLD-CLASS LOCAL TALENT
Some have asked whether Singapore is making enough effort to attract local talent working overseas back home. Besides a scheme to draw outstanding Singaporean researchers home, EDB's Singapore Global Network also helps those working abroad keep abreast of local opportunities.
But the broader point is that Singaporeans will continue to find opportunities abroad, precisely because they are highly valued for their skills and global orientation.
There will always be a circulation of talent, both local and foreign, into and out of Singapore.
The more opportunities there are in Singapore, which international talent here can help to generate, the more locals will find it attractive to come back. Returning Singaporeans can add value through their expertise and networks acquired abroad.
Likewise, foreigners who leave Singapore after working some years here can become part of the network of "family, friends and fans" that keep Singapore plugged into the world economy.
LOCATION AND DEPTH MATTERS
The pandemic has reminded us that the world is not completely borderless. Work can be offshored and business transacted through videoconferencing, but physical location still matters.
Leading companies, professionals and entrepreneurs will continue to congregate in cities where there are already deep pools of talent and capital, entrenching competitive advantage.
Singapore already has much going for it as a talent hub. With the reconfiguration of global supply chains and the resumption of economic activity, there is an opportunity to further increase Singapore's mindshare among the group of highly mobile and sought-after international talent.
The new Overseas Networks & Expertise Pass and accompanying policy measures may be just what Singapore needs to keep pace with the world's most attractive talent destinations.
Terence Ho is Associate Professor in Practice at the Lee Kuan Yew School of Public Policy. He is the author of Refreshing the Singapore System: Recalibrating Socio-Economic Policy for the 21st Century (World Scientific, 2021).