Commentary: Singapore's economy is restructuring. But are firms and workers prepared?
Robust 2021 GDP growth estimates belie the uneven growth prospects for different sectors, businesses and workers in 2022, says OCBC's Selena Ling.
SINGAPORE: The upcoming Singapore Budget to be delivered by Finance Minister Lawrence Wong on Friday (Feb 18) will be watched for three key things.
First, whether the proposed 2 percentage point Goods and Services (GST) hike will materialise and if this will take one or two steps.
Second, whether there will be sufficient offsets to ensure continued support for the vulnerable and the needy.
Third, whether the funding for these assistance programme should come through additional wealth taxes and what form the latter will take, as Singapore begins a gradual process to balance the Budget.
These fresh priorities are a sign that Singapore's economy, on aggregate, has largely rebounded from the 2020 pandemic, with gross domestic product surpassing pre-pandemic levels. The 7.2 per cent rebound in 2021 was the highest since 2010.
ROBUST RECOVERY SO FAR BUT UNEVEN GROWTH PROSPECTS AHEAD
Singapore's recovery has been K-shaped, largely been led by the manufacturing sector, which expanded an impressive 13.2 per cent in 2021 - even more impressive considering the manufacturing sector also expanded at an above-average rate of 7.5 per cent in 2020.
Such was the strength in manufacturing that the sector constituted 23 per cent of Singapore's overall GDP in 2021, compared to about 19 per cent in the five years before the pandemic. With the sharp increase in work-from-home arrangements, global demand for semiconductor chips remain red-hot, exacerbated by supply chain bottlenecks.
But the services sector continues to struggle. Transport, storage, accommodation and food sectors continue to languish despite the arrival of a new normal, remaining about 25 per cent below pre-pandemic levels - a staggering statistic when the manufacturing sector is 25 per cent above pre-pandemic levels.
The risk is a continued divergence, meaning workers who are less mobile and unable to move across sectors may be left further behind.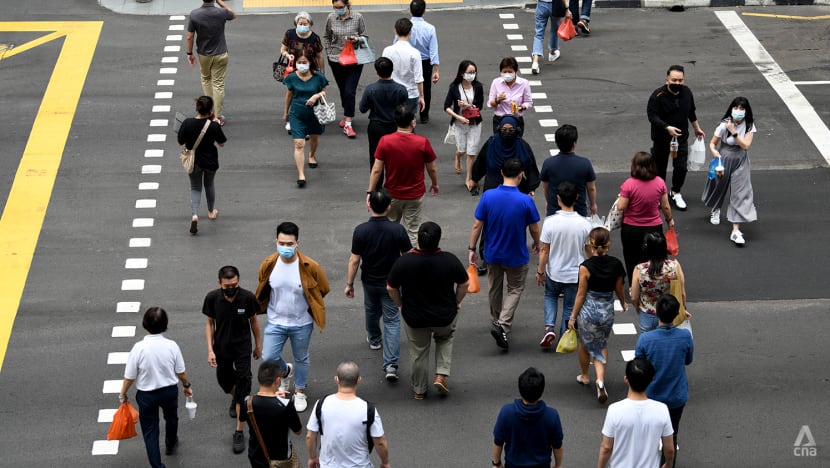 Singapore's financial industry too is about 10 per cent above pre-pandemic levels, and information and communications about 9 per cent above the same benchmark.
But these growth industries may have to grapple with talent shortages and rising business costs due to cybersecurity and other competitive threats. 
CANNOT RELY ON MANUFACTURING FOR SINGAPORE'S GROWTH
Manufacturing cannot be expected to continue its above-average growth rate indefinitely, given the persistent supply bottlenecks and logistic challenges around the world, in particular the semiconductor crunch.
This supply squeeze in semiconductors will begin to result in reduced output from our manufacturing sector at some point this year. Hopefully, the other manufacturing engines, namely the biomedical cluster and transport engineering industries will step up to fill potential gaps.
Fortunately, fixed asset investment commitments into Singapore remain healthy, with 2021 recording S$11.8 billion, of which 42 per cent and 15 per cent going to the electronics and biomedical clusters respectively. This bodes well for the manufacturing sector's growth prospects not only for 2022 but also beyond. 
At some stage, the growth baton would have to be evenly shared among across the sectors. The services sector must readapt and readjust as the economy re-emerges from the pandemic and shifts into growth mode.
More widely, the key challenge for businesses is to continue to navigate the rising cost structure, repeated bouts of tightening and relaxation of restriction measures as new COVID-19 variants potentially emerge, overcome manpower shortages as well as supply chain disruptions due to border measures. Firms must learn to be competitive both online and offline in an increasingly digitalised economy.
Listen to economists and tax experts discuss the implications of various tax hikes that will likely be announced at Budget 2022:
INFLATION RATHER THAN COVID-19 THE TOP CONCERN
In this third year fighting a pandemic after multiple fiscal stimulus packages, inflation has come to the forefront.
We have had a decade of soft inflation, when core inflation averaged 1.4 per cent each year from 2011 to 2020 in Singapore.
But now global and domestic demand recovery, coupled with border restrictions and supply chain bottlenecks, has thrust the world into a near perfect inflation storm that is persistent rather than transitory.
In 2021, Singapore's headline Consumer Price Index (CPI) rose 2.3 per cent. Going into 2022, the concern is that temporary supply chain bottlenecks and recovering labour market conditions may entrench inflation expectations.
Headline inflation is estimated to hit 3.5 per cent and core inflation at 2.5 per cent. If accurate, this will be the highest inflation Singapore has seen since 2012.
Such is the concern that the Monetary Authority of Singapore performed an off-cycle monetary policy tightening move in January this year, so a stronger Singapore dollar can alleviate import price pressures. More monetary policy tightening may also be on the cards at the scheduled April and October 2022 policy meetings.
However, as global inflationary forces gain momentum – led largely by increases in energy and food prices – we must expect that high prices may be here to stay for a while, at least through this first half of the year.
Typically, higher prices tend to hurt the middle- and lower-income classes the most, as these groups consume a larger proportion of their income. If income does not rise in tandem with prices, these workers will see a lower real income and lower purchasing power parity.
In the Singapore context, however, the significant fiscal transfers aid in alleviating the impact of elevated inflation on the lower-income households. Lower-income households may also be less impacted given that some of the domestic headline inflation arises from the uptick in private transport prices, namely Certificate of Entitlement (COE) premiums.
SINGAPORE WORKERS MUST FOCUS ON RETRAINING
For low-income workers, the key challenge is more the risk of job displacement or the obsolescence of their skills which impacts their job, income and career mobility. 
The priority then is to ensure they are adequately cushioned from the impact of rising prices in the short run, perhaps through through fiscal transfers, and additional skills training to ensure their real incomes continue to grow through increased labour productivity over the long run.
The expansion of the Progressive Wage Model to reach eight in 10 lower-wage workers by 2023, for instance, could help. 
The key challenge for the broader labour market in the new normal given the focus on growth and economic restructuring this year is to facilitate adequate and appropriate labour churn as well as ensure workers can adapt and learn new skills as the economy evolves.
Continued upskilling must be emphasised as it is key to minimise friction as people search for new jobs within the labour market.
Skills mismatch has been flagged previously as a challenge for older PMETs and targeted policy attention has been forthcoming with the SkillsFuture schemes, Professional Conversion Programmes and the Company Training Committees involving tripartite partners. 
An adaptable and well skilled labour force, particularly in the ways of digital innovation, will also help to raise the labour productivity in Singapore which is key to overcoming our long-term ageing population challenge.
DOUBLE TIGHTENING FOR SINGAPORE
As Singapore emerges from the pandemic and economic activity largely returns to pre-pandemic levels, fiscal support is expected to gradually tighten. The Government will attempt to rebalance the Budget, bearing in mind the need to balance the books over this term of government, which extends to 2025.
This comes after two years of unprecedented spending, when past reserves were tapped on multiple occasions, with this draw expected to total S$53.7 billion.
With the return to more prudent fiscal policy settings, there may not be further extensions on broad-based industry-wide support measures for both SMEs and individuals.
For instance, the restructuring of loans for small- and medium-sized enterprises (SMEs) under the Extended Support Scheme ended on Dec 31, 2021 and there have been no further announcements on any extension of moratoriums. The Jobs Growth Incentive programme and the Temporary Bridging Loan Programme also ends in March this year.
Things are definitely looking up for SMEs in this first quarter, according to the OCBC SME Index which marked four straight quarters of expansion at 52.6 last quarter, albeit challenges remaining in the F&B and building and construction sectors. The resumption of entry approvals for fully vaccinated migrant workers from early November has not fully offset the drop in the first three quarters of 2021.
The return of the Formula 1 Grand Prix race to local shores after a two-year hiatus may usher in greater numbers of international visitors and reignite the entertainment scene. 
Looking ahead, the local labour market may gradually improve as COVID-19 restrictions ease and international travel resumes, with an accompanying recovery in the non-resident numbers after two years of sharp declines.
The local unemployment rate should continue to come down steadily. However, we are not completely out of the woods yet as the recovery to a pre-coronavirus state continues to be uneven across sectors.
While affected industries and individuals have largely regained their footing and are expected to wean off their reliance on continued fiscal support, a balance will have to be struck to ensure that Singapore exits its pandemic-related fiscal support in an orderly manner.
Selena Ling is Head of Treasury Research and Strategy at OCBC Bank.