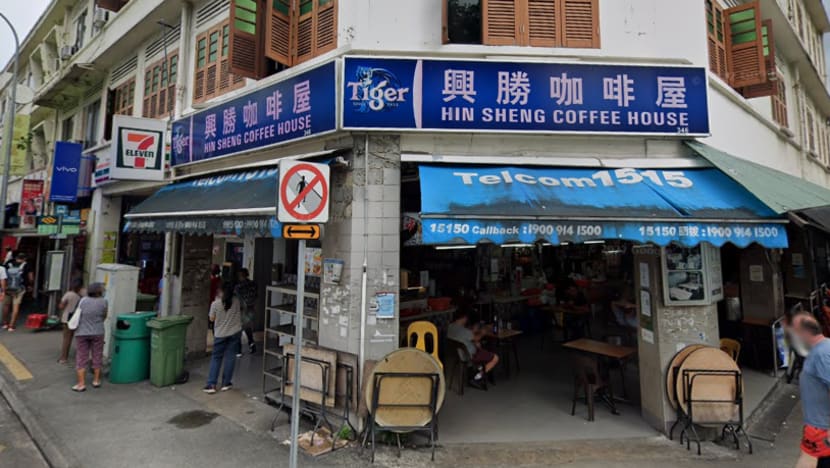 SINGAPORE: A man has been jailed for half a year for slashing another man at a Geylang coffee shop after an argument.
Lee Han Leng, 45, pleaded guilty on Monday (Aug 8) to one charge of voluntarily causing hurt with a dangerous weapon.
The incident took place at Hin Sheng Coffee House at 346 Geylang Road on Jun 1 this year, with Lee fleeing the scene after.
Officers who responded to calls about the attack tracked Lee down through police camera footage and witness interviews.
The court heard that on Apr 21, more than a month before the attack, Lee went to an area near the coffee shop to buy sleeping pills from the victim.
Lee placed S$15 on the table but the victim, 21-year-old Koh Hee Yang, told him that the pills cost S$17. Lee paid the remaining S$2.
"The victim felt that the manner in which (Lee) threw the S$2 on the table was rude," said Deputy Public Prosecutor Teo Lu Jia.
Both men argued and got into a scuffle. Lee remained angry with Mr Koh and bought his sleeping pills from other sellers after that.
On Jun 1, Lee was at home when he felt frustrated about his argument with Mr Koh and decided to take revenge.
He took a knife with a blade of about 8cm to 10cm with him, left his house and boarded a bus to the coffee shop.
Lee arrived at about 4.40pm and saw Mr Koh seated with three friends.
"When (Lee) saw the victim, he felt even more angry, as he felt that the victim was seated in an arrogant manner," said Ms Teo.
He took the knife from his bag, went up to Mr Koh and without saying anything, suddenly started slashing wildly at his head and neck.
The victim used his hands to block the blows while retreating from Lee, and his friends also helped to pull him away from his assailant.
After slashing the victim, Lee ran away from the scene. The victim was taken to the hospital by paramedics.
Mr Koh suffered lacerations on his scalp, neck and hand, which required stitches, and decreased feeling in his thumb. He was given painkillers and three days' medical leave.
He racked up a medical bill of about S$156, for which Lee was also ordered to compensate him.
Police officers established that Lee had gone home after the attack. When the authorities went to his place, Lee initially refused to surrender but eventually unlocked the gate.
According to an Institute of Mental Health report, Lee was found to have a substance use disorder, but this did not cause or contribute to the offence.
The prosecutor argued for five-and-a-half months to six-and-a-half months' jail for Lee, who did not have a lawyer.
Ms Teo highlighted that the attack was unprovoked, happened in a public place causing alarm to others, and that Lee fled the scene.
She also said that Lee previously committed a similar offence in 2015, after getting into a dispute with someone about whether he had any drugs.
Lee could have been jailed for up to seven years, fined, caned or any combination of these punishments for the offence.