In Geylang, illegal sex drugs keep popping up
Despite numerous attempts by authorities to curb the trade, these bogus drugs always make a comeback. Channel NewsAsia's Aqil Haziq Mahmud finds out why sellers are so persistent, and how they might be stopped.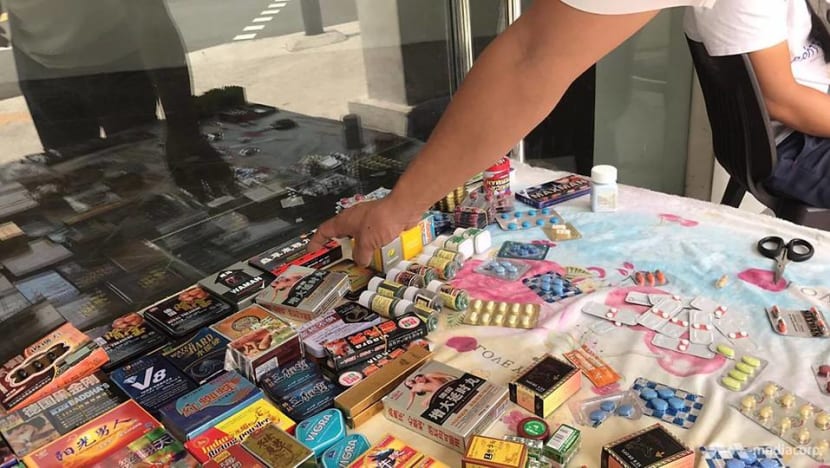 SINGAPORE: During most of the day and night, there is a non-stop flurry of activity at the junction of Geylang Road and Aljunied Road.
Bank ATMs and the 24-hour minimart there see a constant stream of patrons, and the scent of durians from adjacent Sims Avenue is never too far away.
But some visit the bustling intersection for another purpose: To purchase illegal sexual enhancement drugs from sellers who blatantly peddle these products.
The drugs carry names like India Flirting Powder and Super Magic Man, and according to one of the sellers, they promise "power and enjoyment" during sex.
When Channel NewsAsia visited the junction on the afternoon of Sep 28, there were at least three sellers hawking illicit sex drugs on makeshift tables made up of nothing more than a wooden plank propped up by white Styrofoam boxes.
"For boy or girl?" the seller asked in halting English, before recommending a Baolong brand pill. "This one made in Hong Kong." On the silver packaging, some instructions: "One time, one pill."
When asked if it was safe for use, the seller simply said yes. It goes for S$8 a pop, he said. He makes S$50 a day, he added, and business has been fine.
Such drugs remain prevalent despite attempts by the authorities to clamp down on the illicit trade.

On Sep 27, the Health Sciences Authority (HSA) announced that it had seized about 300,000 units of illegal sexual enhancement drugs from an apartment in Geylang. The haul, worth a street value of S$700,000, was the largest seizure in five years, it said.
When Channel NewsAsia visited the junction on that same evening, there were five men openly selling sex drugs. Business seemed slow, however, with only two people stopping by at their tables in the space of 45 minutes.
On the next day, business was brisker, with at least 10 people dropping by within an hour to purchase or enquire about the drugs. Most of them looked to be at least 40 years of age.
Another seller, who claimed to be from China, offered a pill called Golden Gun for S$10. "This one good," he said, before pointing to his chest and indicating that there would be no health complications.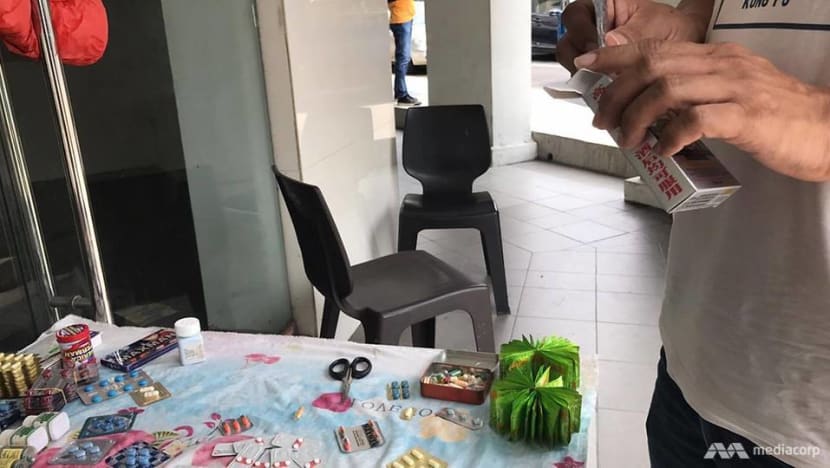 The HSA told Channel NewsAsia on Monday that such products could "potentially be counterfeits or adulterated with undeclared potent or banned ingredients". "As they are manufactured under unknown conditions, they may not contain the correct ingredients, or the right dosages."
In 2008, 10 people died after using illegal products for sexual enhancement, it said. Checks conducted found that the products were adulterated with a medicine used to treat diabetes.
"This resulted in many consumers experiencing symptoms associated with low blood sugar, such as dizziness, cold sweat, anxiety and loss of consciousness," it added.
HSA said the products also contain anti-impotency compounds that, if taken without medical supervision, might cause a loss of vision and hearing, strokes and priapism, which is a painful and exceedingly long erection.
"If priapism is not treated immediately, it may lead to permanent impotence," it added.
WHY THE DEMAND?
Despite the health risks, HSA said some continue to buy such drugs because of the anonymity it affords, and the social stigma attached to medical conditions like erectile dysfunction (ED).
"In Singapore, medicines approved to treat erectile dysfunction currently require a doctor's prescription," it explained.
But Dr Winston Ho, medical director of Parkway Shenton, said skipping a doctor's consultation might mean missing out on "diagnosing a potentially fatal heart condition".
"It is important to understand that erectile dysfunction may be caused by older age as well as by diseases like diabetes, obesity, hypertension and sometimes medication," he added.
"It is also important to know that one cannot take an ED drug if he has a heart disease and is taking a form of medication called nitrates. This combination can and will trigger a heart attack."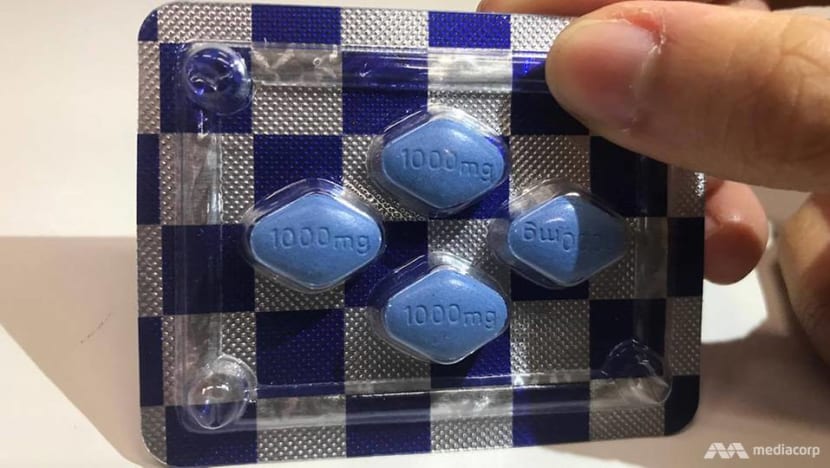 Besides the anonymity, HSA said, some opt for banned products because they are cheaper.
Dr Philip Koh, who runs a clinic in Tampines, said it costs about S$80 on average to get a box of four Viagra tablets from a general practitioner. This includes consultation fees. In comparison, one seller in Geylang was offering a vial containing what looked like 10 Viagra pills for S$25.
"The price difference between seeing a doctor plus taking the original medicine versus going to the streets to buy is very great," he said.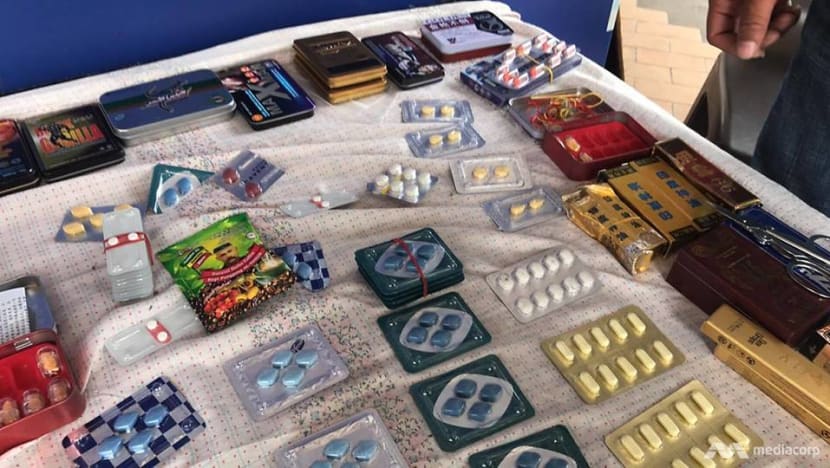 Noting that some of the packaging on the illicit drugs make them look "like the original", Dr Koh said their use might spread through word-of-mouth when others vouch for their safety and effectiveness.
"Nothing might happen to their friends, but something might happen to them because everybody has a different body," he added.
SOLVING THE PROBLEM
The HSA said there have been 17 cases in the past five years of people "suffering adverse effects" due to illegal sexual enhancement drugs, as it highlighted the difficulties of stopping them from entering Singapore completely.
"As the products are illegal, it is difficult to track where the products are manufactured," it said.
"It could involve multiple sites. For example, the pills are manufactured in one place, and packing and label printing are done in other places. Even if the manufacturing details are on the labels, such information could be falsified."
Those convicted of selling these illegal health products containing potent medicinal ingredients could face imprisonment of up to two years and/or a fine of up to S$10,000 under the Poisons Act.

Under the Medicines Act, they could also be slapped with an additional fine of up to S$5,000 and/or imprisonment of up to two years.
The agency added that it will continue to work closely with the Immigration and Checkpoints Authority to "detect these parcels containing illegal health products".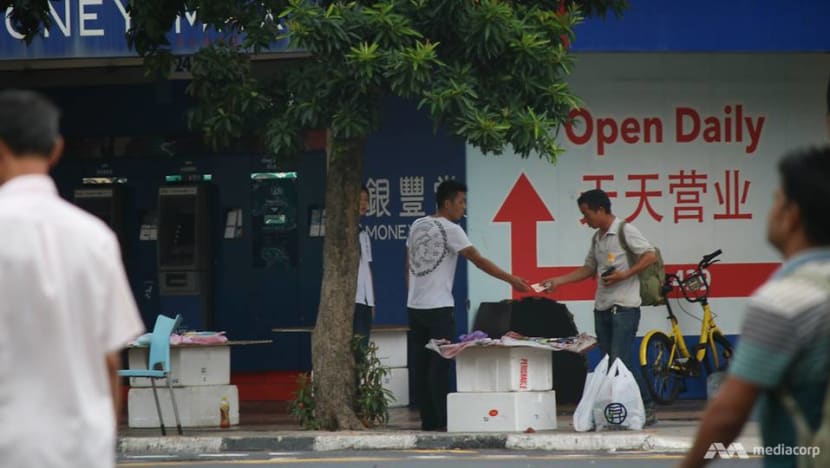 To deter the sellers, Dr Koh wants authorities to ramp up surveillance on the streets, especially in Geylang, where he said had been casually offered a sex drug on a Sunday morning.
"It's so open and they are so daringly selling these counterfeit medicine," he said. "So if there's no surveillance from the authorities … not everybody knows that these are supposed to be prescription medicine."
Other countries are looking at alternative solutions. The Daily Mail reported in March that Viagra could soon be made available over the counter in the United Kingdom.
According to the report, the UK's National Pharmacy Association said it is better for users to have access to a pharmacy than to buy such drugs online, where there are fewer safeguards against inappropriate use and the "legitimacy of the supplier is harder to establish".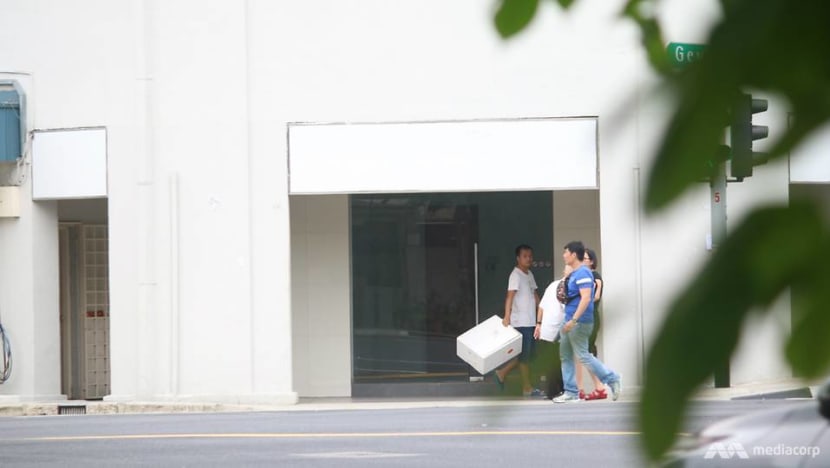 When asked about the possibility of Singapore going down the same route, HSA said it is monitoring developments in the UK.
"HSA facilitates consumer access to safe and effective treatments through the reclassification of suitable medicines from prescription to non-prescription control," it added.
"In selecting a candidate for reclassification, HSA takes into consideration various factors, including whether the medicine can be safely used by consumers without a doctor's supervision, whether the disease or condition can be self-diagnosed by the patient, as well as public interests and social implications."
However, doctors here said Singapore is not ready for such a move.
Dr Koh said it could encourage promiscuity, and suggested that the pharmaceutical industry pull together to reduce the price of Viagra and make it more affordable instead.

Dr Ho said sex drugs should not be prescribed if "there is no valid medical reason for its use".
"Excessive recreational use of ED drugs can lead to psychological dependence whereby the person is unable to have an erection without first consuming the drug, unsafe sex practices as well as potential fatal drug interactions should they also consume other stimulants like Ketamine," he added.
READ MORE: 5 reasons why you shouldn't buy illegal sex drugs