High rent, stiff competition: Geylang Serai Ramadan bazaar stallholders struggling to turn a profit
Stallholders said there are too many competing bazaars in other parts of Singapore this year.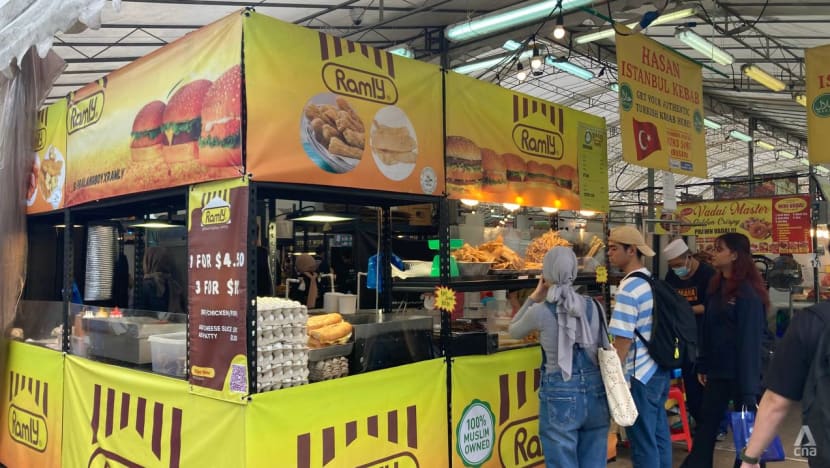 SINGAPORE: Kebab seller Mr Hasan said on Wednesday (Apr 5) that he regrets taking up a stall at the Geylang Serai Ramadan bazaar this year. 
Pointing to the stalls next to his, the owner of Hasan Istanbul Kebab told CNA: "We're all losing money. (We) cannot cover costs, cannot even cover rent."
Over at the neighbouring stall selling Ramly burgers, a worker who declined to be named echoed that sentiment. 
"We regret taking it this year," he said. "It was okay in previous years."
Mr Hasan is forking out about S$25,000 (US$18,860) in rent, while his neighbour is paying S$20,000.
There have been complaints about high rental costs at the Geylang Serai Ramadan bazaar since it started on Mar 17.
Besides the cost of renting a stall at the bazaar, multiple stallholders said there seemed to be fewer visitors this year, attributing it to ongoing bazaars across Singapore.
Mr Muhd Ridzuan, who runs a stall selling burgers and fried snacks, said that at the 2019 bazaar, he saw snaking queues starting from about 4pm.
When CNA spoke to him at about 6pm on Tuesday, there were no queues at most stalls in the vicinity.
In the past, only three or four bazaars were held during Ramadan, he said. This year, he estimated that there are at least eight or nine. According to social media posts by bazaar organizers, there are pasar malams – night markets – in Bedok, Jurong East, Tampines, Punggol and other locations during this period.
Mr Ridzuan said he hopes that more customers will come after the bazaar in Kampong Glam ends on Apr 16.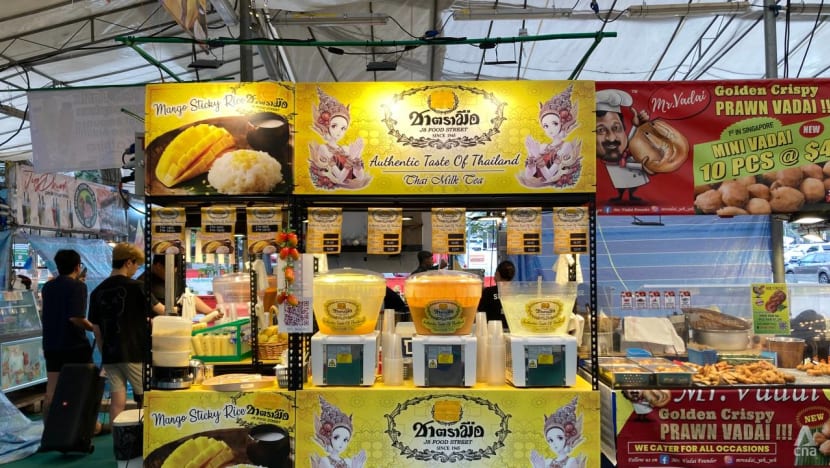 Owner of J8 Food Street, Mr Max Tan, also said too many bazaars were set up this year.
"Everyone is very spread out," he said, referring to the customers. "Footfall was higher in the past, pre-COVID."
Associate Professor Muhammad Faishal Ibrahim, lead adviser of Wisma Geylang Serai, wrote in an Instagram post on Tuesday that more than 2 million visitors have visited the bazaar.
"We are already on set to be on record of having the largest number of people coming to a Ramadan bazaar in Singapore," said Assoc Prof Faishal, who is also Minister of State for Home Affairs and National Development​​​​​​.
There are 700 stalls available for rent at the Geylang bazaar this year, but nearly 200 were empty as of Mar 21. Wisma Geylang Serai later said in a Mar 24 press release that the take-up rate was 95 per cent for food and beverage booths, and 80 per cent for retail stalls.
"IDENTICAL" STALLS
The bazaar's organisers – S-Lite Event Support, Enniche Global Trading, and TLK Trade Fair and Events, – said they limited the number of popular Ramly burger and kebab stalls and spread them out in the bazaar.
The organisers said on Tuesday there were 20 stalls selling "premium products" under the food and beverage category, out of 150 stalls.
"In the event if, there are too many stalls selling the same food/product in the same zone, it may lead to price wars which would be highly detrimental for the stall holders. Too many similar food/products will also limit variety and options for visitors," said the organisers.
They added that despite the limits and the stalls being spread out, there could be more than one stall selling Ramly burgers and kebabs within a specified zone.
The statement added that vendors who wanted to sell Ramly burgers and kebabs at the bazaar would have been told about this.
But some stallholders felt that the organisers did not do enough.
"There are a lot of repeat stalls, identical stalls," said Mr Tan, whose stall sells Thai milk tea and snacks. There were at least two other Thai milk tea stalls in the same area that CNA visited.
Stallholders selling Ramly burgers also said repeat stalls could make it difficult to cover operational costs.
Asked if he would be able to break even, Mr Ridzuan said: "I think so, but can only earn a bit, maybe 10 per cent."
Some sellers questioned why the stalls selling Ramly burgers and kebabs were singled out, although the stallholders said it was standard practice in the industry for such stalls to be charged more.
"Other stalls have more customers but pay less rent," said Mr Essam Ezz, who estimates that 85 per cent of his earnings will go towards paying the rent for his kebabs stall.
HIGH RENT
Stallholders that CNA spoke to were split on whether rent at the bazaar was expensive. Mr Essam is paying about S$30,000 – three times what he would pay at other night markets, he said.
But others said rents are increasing at all bazaars in Singapore, and what they were paying for a stall at the Geylang bazaar is comparable or slightly more expensive than other bazaars.
Mr Mohamad Hussin, the owner of MangoBossku, said he is paying about S$15,000 per stall, compared with S$13,000 for a bazaar stall in Woodlands.
Organisers of the Geylang bazaar said rents range between S$14,000 and S$25,000 per month for F&B stalls.
"The rental costs of the stalls for Bazaar Raya Geylang Serai are within the market rental rate," they said in the statement.
Mdm Nisha Samsudeen of a fried snacks stall said her family paid S$16,000 in rent and was not sure if they can turn a profit.
"Maybe we can pay for supplies, workers and rent, but (my family) may not draw a salary," she said. "We're hoping the last two weeks will be better."
Two stallholders told CNA that the bazaar is going well for them, and attributed it to their marketing efforts.
Mr Bob Senget of The Messy Bros has earned about 80 per cent of the S$38,000 in rent that he paid for two stalls.
"Marketing must play (a) part," he said. When asked if he uses social media to promote his stall, he said he also uses a microphone and speakers to attract attention at the bazaar.
Mr Hussin of MangoBossku said he uses TikTok to keep his customers updated. He has more than 52,000 followers on TikTok and about 21,000 followers on Instagram.
"I post on social media and they come," he said.